I think we can all agree letterpress fits the dictionary definition of niche (a specialized segment of the market for a particular kind of product or service), but when we gather as a community as we love to do, we feel dynamic, vibrant, and that we are at the peak of the printing heap.
To start, our presses are beautiful and have stood the test of time, our printing papers are luxurious and rainbow gorgeous, and our type options number in the thousands. We can carve a lino block or make a polymer plate or handset some letters and in relatively little time, make a beautiful print or a thought-provoking broadside. Is it any wonder we feel a little heady when we can print?
Now, put one or more of us together in the same place and we can get giddy. Boxcar Press was a vendor at the Lancaster .918 Club Printer's Fair in Lancaster, Pennsylvania this past weekend. We brought our wares to showcase and sell, however, we really love the conversations, the demonstrations, and finding a tool and printed piece we need in our own collection. We joke as we leave that we may be going home with more than we brought. And we are happy about it.
This is the way of "our kind" at our Conferences, our Wayzgoose's, print demonstrations and field trips. I personally enjoy the people interactions and hearing their stories. Just a sampling form this weekend:
The Amish printer who works for a group that prints Russian books that go to the Ukraine. There are 11 million ethnic Russians who live in the Ukraine.  His group is still shipping books despite the war and, as you can imagine, those books are moving about the country as the people are moving around.
A long time customer from North Carolina, Brian closed his shop and moved up to Philly in 2019.  Cue the pandemic and he laid low.  Now he is helping a community print shop with letterpress and press instruction.
Some beginner printers looking for the supplies for their new love of letterpress. They pick up a few items and tips and leave us with their enthusiasm.  Always get revved up for the new printers.

Putting a face to customers who were names and voices for over a decade. It is so good to really meet them and connect.
Visiting with other vendors with their new wares and new projects – yes, we will buy that calendar and that print and those cards, thank you very much.   
Marveling over the long rows of printing presses like soldiers and the type drawers and impressive equipment at the Ken Kulakowsky Center for Letterpress and Book Arts. And talking with Ken himself.
Being pleasantly surprised by visitors who aren't printers and may have a vague connection to print (publishing, marketing, artists) but thought this Fair sounded intriguing. We hope we passed on some of our passion and introduced them to a new artisan craft. Thanks for letting us talk on and on.
Welcoming fellow Boxcar employees who drove the 8 hour round trip to surprise and support us and get their own firsthand taste of the letterpress printing fair experience. What a blast!
Chatting with everyone's favorite supplier, John Barrett of Letterpress Things . What an impressive array of table top presses. If you are looking, check with John.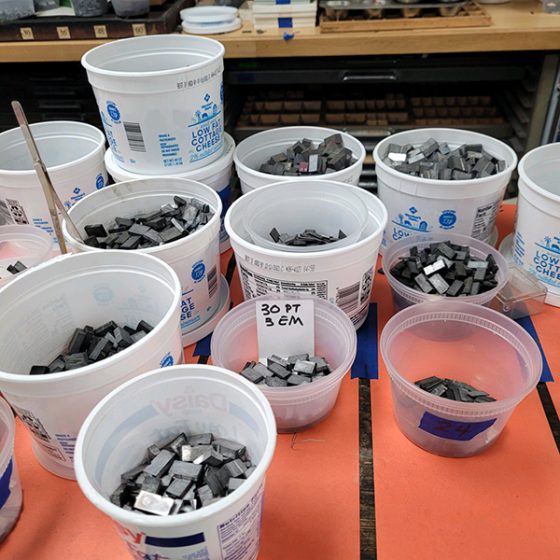 We can't encourage you enough to attend a printers fair or a Letterpress Conference (shout out to the Ladies of Letterpress this week for their conference). There is so much to catch your eye and to marvel over if your heart is in letterpress printing. Look for a chapter of the American Printing History Association near you and join and go to their events. Visit the various printing museums around the country and the world or a Book Arts Center. Take or teach a workshop so the teaching and learning go on. And thanks for bringing Boxcar Press along on your letterpress journey.