For this edition of our City Series, from the tides & (wooden) type to the colorful scenes of beaches and Everglades, the Extra Virgin Press owner shares his multicultural community of Miami, Florida. The people and the history continually inspire Tom Virgin in his printing as he works to grow letterpress and the Book Arts, particularly with kids. He was gracious to give the inside scoop on favorite creative places and eclectic hang-outs in the city that brings the heat.
HOME SWEET HOME This is kind of a tricky question. I spent my first two childhoods (decades) in the suburbs of Detroit. After two years in college, I dropped out, traveled the West with friends, and rejoined my family when they moved to South Florida. I lived in Boca Raton, Florida for the next two childhoods, eventually earning a BFA in Printmaking and a Florida teaching certificate, one or two classes at a time. I also worked as a gardener in the family business.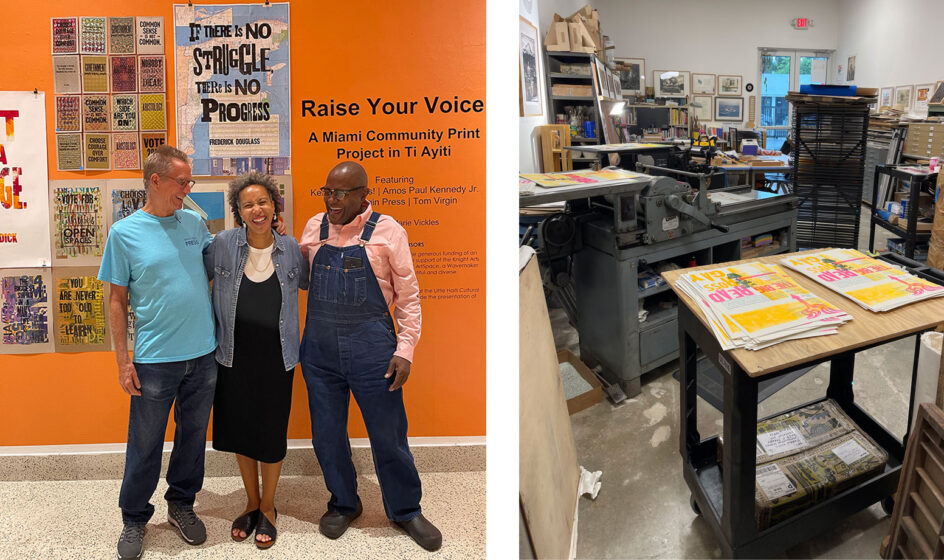 (All photography courtesy of Tom Virgin unless otherwise notated.)
In 1992 I moved to Miami, on the heels of Hurricane Andrew, to begin an MFA in Printmaking at the University of Miami. Remarkably, I found a tiny apartment in Coconut Grove. It turns out that finding a place to live in a disaster area is easier than I thought. I have lived in Coconut Grove ever since, moving to West Grove for the last ten years.
NEVER THE SAME DAY TWICE Miami is like going around the world on any given day. Almost thirty years of teaching in Title I Public Schools introduced me to the children of all the cultures that make up our city. They were generous to this gringo who grew up in the Midwest. I wake up each day in West Coconut Grove, the original historic Bahamian settlement that became the Black Grove. Think peacocks, huge Banyan and Tropical Almond trees, and a short walk to Biscayne Bay. My pre-WW2 apartment is around the corner and down the street from the Coconut Grove Playhouse, built in the 1920's. This part of the Grove has many humble and historic Shotgun homes and is one of the oldest parts of the city.
(Top: miamidadearts.org; bottom: coconutgrove.com)
Most days I drive twenty minutes north on I-95 through Downtown to Little Haiti. This was one of the original bedroom communities of the city. Much of the population is made up of Haitian immigrants. I am four blocks west of Little Haiti Cultural Center, Sweat Records, Laundromat Art Space and Carl Juste's IPC Art Space. The City of Miami named a street after Carl's parents, who were remarkable community builders and early immigrants to Miami from Haiti.
(Top: Little Haiti Cultural Center; middle: Laundromat Art Space: bottom left: IPC Art Space; bottom right: Sweat Records)
In the same neighborhood two blocks away is what used to be the Cuban Embassy pre-Castro. My shop is in a building (that used to be a grocery store) with Emerson Dorsch Gallery and Exile Books. Across the street is a lovely cafe named Sur. The family that runs it comes from Buenos Aires… Pastries, empanadas, sandwiches and family love daily. Did I mention the Mango Mint Lemonade? On either side of me are Panther Coffee and Clives Cafe, from Brazil and Jamaica respectively. Family is key around here. In the local Haitian grocery, you can buy Haitian peanut butter that includes scotch bonnet peppers as an ingredient. It was an epiphany for me.
(Top: Emerson Dorsch Gallery; bottom left: Panther Coffee; bottom right: Exile Books)
BEAUTIFUL BEGINNINGS Since there are only two letterpress shops (that I know of) in Miami, and no strictly letterpress programs in any of the colleges or universities here, we can only work to raise more printers. Both Extra Virgin Press and my neighbors, IS Projects/Nocturnal Press, teach these lost skills in Miami.
(Credit: IS Projects)
My love of letterpress came from the many communities that have established printing and book arts cultures. I was in artists residencies each summer between school years for almost twenty years. NYC, San Francisco, the Twin Cities, Portland, and also a few National Parks.
We are printing and making a difference.
BOOK & PRINT CONNECTIONS A few months ago, Tropic Bound Book Fair debuted in Miami's posh Design District. We are hoping that it will run in years opposite Codex as a biennial event. This fine press event brought many of my friends and teachers from around the US, to my neighborhood. The Fair organizers even brought a group to my little shop for a tour. Tropic Bound's catalog for the show is coming out soon with all the participants. Hopefully, Boxcar Press will be here in February 2025. The event was supported by a Knight Foundation grant and organized by Ingrid Schindall of IS Projects, Cristina Favretto Director of the University of Miami Special Collections Library, and arts professional Sarah Michelle Rupert.
(Credit: O Miami Poetry Festival)
The O, Miami Poetry Festival has been bringing poetry to virtually everyone in Miami for over a decade. I have always worked to funnel some of that exquisite magic into my classrooms. Now that I am out of the classroom, they have welcomed me to their programs as an artist who works for kids. The most rewarding job I have ever taken on is making letterpress illustrations from one-word prompts, using wood type to "draw," to accompany elementary school students' poetry on postcards, mailed to the entire zip code of the elementary school that was home to the student poets.
This year we are planning to teach book arts to kids, to contain that poetry, and to disperse it into Miami. The poem on the roof of a parking lot submitted by artist/ designer Randy Burman is in the flight path of the Miami International Airport. It is memorable. Check out this video because, yes, a kid wrote that.
ONLY IN DADE (COUNTY) Miami has everything, everywhere, all the time, all at once…Always! However, there is not enough letterpress, yet. We are doing our best to make that Miami look. The whole world lives in this one city. For references go to @onlyindade. You will be shocked, delighted, and amazed. You may never drive in Miami again (hahaha).
ARTISTIC COMMUNITY SHOUT OUTS Miami is just beginning to develop a books arts/ letterpress community. Paper from Announcement Converters and French Paper has lifted my practice. Shell Lumber in the Grove has the best art supplies that a printer could ask for.
HISTORY MEETS PRESENT After 1513, when Florida was "discovered," the native Tequesta Indians of the Calusa Nation carried on much as they did for thousands of years, according to recent discoveries by the mouth of the Miami River. Roughly three hundred years later Key Biscayne and Florida became a US territory. The Key Biscayne Lighthouse was built in 1825.
(Bottom credit: Key Biscayne Park)
The causeway from the mainland to Key Biscayne was finished in 1947. When my friends from other places come to visit, I always take them to Bill Baggs Cape Florida State Park to see what Old Florida really looked like. The State Park faces the ocean on the East, Stiltsville to the South, and Coconut Grove on the West.
(credit: Bill Baggs State Park)
The ocean is full of life, Stiltsville is a historic part of another National Park- homes on stilts in the Bay that used to sell liquor during prohibition and allowed gambling, and Coconut Grove on the bay is for the rich, historically or otherwise.
EAT, DRINK, BE MERRY I would be remiss if I did not mention Harry's in Coconut Grove. Harry was my student. His dad, of Michael's Genuine fame, has several excellent restaurants in the city. I am now putting Harry through college one pizza at a time.
(Left: Harry's Pizzeria ; right: Garcia's Seafood)
Garcia's Seafood on the Miami River just west of Downtown is a family restaurant with excellent views of a working river, Miami's culture, and the sounds of a city 24/7.
IN THE NEIGHBORHOOD Books and Books has been a cultural icon and gathering place for almost forty years. Mitchell Kaplan's regularly scheduled readings by locals and international authors plus the outdoor patio restaurant with a banned books mural keeps me coming back. Poets are a printer's best friends.
(Credit: Miami Critical Mass bike ride)
Everything in Miami is a cultural attraction. However, on the last Friday of every month, Miami's Critical Mass Bike Ride often travels through several of the less affluent neighborhoods. The cheering kids, smells of food cooking, variety of musical joy, and direct exposure to our varied population give me hope that we can all unite over shared changes in this city that include everyone.
EVOLVING CITYSCAPE There is rampant gentrification in Miami, especially in Little Haiti and West Coconut Grove. This threatens the places that I love the most, and many of the people, especially teachers. I have made three books and several prints since 2005 that reference these ongoing changes.
NOT TO BE MISSED Our Sunday Tai Class has recently moved south to Larry and Penny Thompson Memorial Park and Campground. This gem in South Dade, just past Zoo Miami, looks like Boca Raton did when I moved there in 1974. Slash pines, Saw Palmetto, big sky, exposed oolitic limestone, and freshwater lakes. Under the trees overlooking the lake, we forget everything but Tai Chi… And alligators.
(Top: Larry and Penny Thompson Memorial Park; middle: Fairchild Tropical Botanical Gardens; bottom: Pinecrest Gardens)
LAST THING TO SAY Miami is so close to the United States, and will welcome you in whatever language you choose.
LETTERPRESS STUDIOS IN SOUTHERN FLORIDA
OTHER MUST-SEE STOPS & (BIG!) SHOUT-OUTS