build yourself the ideal letterpress shop: what supplies and equipment you'll need
We all know letterpress printers. Letterpress printers can never have enough tools. There is never enough space in any letterpress shop for all the tools that a printer wants. But, there are a few essentials that you really can't do without. If you're just setting up a shop, here's a list of the bare minimum to get started—you can branch out into other equipment afterwards.
Printing Press – You're not going to get very far printing without a printing press! Check out how to acquire a press on Letterpress Commons.
Ink Knife – This is a tool with a wooden handle that fits in your palm.  It has a 2″ wide flexible, straight, ground metal "blade" that is used for mixing inks.  The blade transfers the ink from the can to a mixing surface or to the ink disk.  When mixing inks, the blade is repeatedly drawn through the ink, lifts, stirs, and blends until the ink is completely mixed.  The motion is similar to scrambling eggs. When cleaning, remember that an ink knife has five sides, the two flat surfaces and the three edges, that need to be scrubbed thoroughly.
Line Gauge – Printers work in fine measurements where the units of measure are the pica and the point.  The line gauge is the printer's ruler, usually metal, that marks off inches, picas, points and possibly metric.
Roller Gauge – Affectionately known as the silver lollipop because of it's long handle and round head, this tool measures the height of your rollers so the correct distance between the form and the rollers is accurately set. Instructions for use are available in our BITS video.
Gauge Pins for holding paper
Henry Gage Pins – Very handy and inexpensive aid for securing your paper on hand fed platen letterpresses. These small foam strips have a plastic overlay lip that holds the paper in place and are placed on the tympan. They are removable for easy adjustments and compatible with the Boxcar Base so they won't damage the base when the platen closes.
Windmill Lay Gauge Pin -Paper registration with a Windmill press is easy to master with lay gauge pins. Lay Gauge Pins will secure and hold the paper on your Windmill press. These 75mm length pins fit into the right hand brass guide. Best when used with paper that will be trimmed to a smaller final size.
Kort Gauge Pins – A favorite for many years in Pressrooms, three of these gauge pins (two on the bottom, one to the left) hold the paper on the tympan of hand fed platen presses. They are sturdy, easily adjusted, and accurate. They slide into slits cut into the tympan and the tongue holds the paper. These must be placed outside the space taken up by the Boxcar Base, usually over the furniture, or the base and gauge pins can cause damage to each other.
Letterpress Inks – rubber based or oil based – Printers prefer one of these two types for letterpress printing because they dry quickly on uncoated paper stock and are an wonderful consistency for all rollers, letterpress type and photopolymer plates. Letterpress inks are translucent. We prefer Van Son Rubber Base at Boxcar Press because the ink doesn't dry on the press or skin over in the can while printing.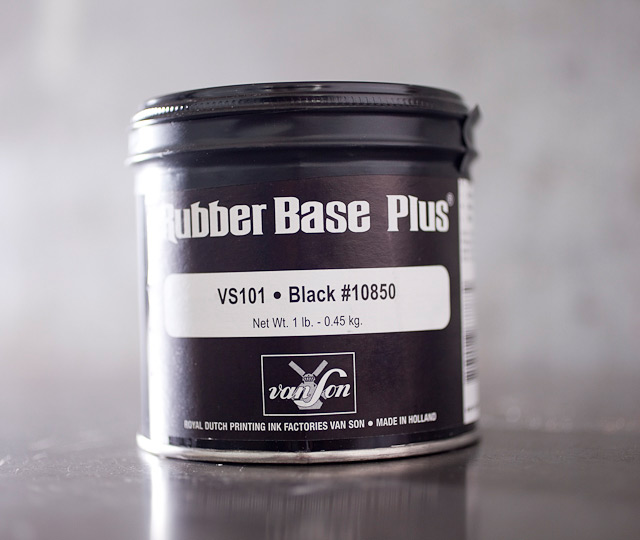 Boxcar Base – one or many for different projects. The Boxcar Base, part of the Boxcar Base system, is a gridded aluminum block that locks up in your press bed or chase. It is paired with a photopolymer printing plate that is mounted on the base and together they measure type high (.918), making for a very cool way to print with letterpress printing presses. The Boxcar Base can be ordered in a size to match all chases. Additional bases can be ordered to outfit each new press (who stops at just one press?).  Or consider multiple sizes of bases based on your project, (ie. smaller for coasters or business cards, pair up plate images on a small base surrounded with letterpress type, larger for broadsides, etc.)
Library of Printing Books – start your library of letterpress books with these. There are so many great ones so ask other printers for their suggestions too.
Pantone Formula Guide Uncoated – The best source for color matching on uncoated letterpress papers. Invaluable for the formulas for mixing ink
Boxcar Press apron – Fashionable and functional, these aprons are perfect for all pressrooms. They have multiple pockets and adjustable straps and  a vibrant design.
The press of your dreams (or at least a starter press) with chase and new rollers.
Tympan Paper – a paper manufactured to cover the cylinder or platen. Usually treated and can be made of mylar – available from NA Graphics, Letterpress Things, Bar-Plate, Badger Graphics, Sterlingtype.
Pressroom Wash and dispenser – solvent to clean your press rollers, ink disk, bases, letterpress type and Boxcar base. (we use Varn California Wash at Boxcar Press but choosing a pressroom wash from all the options is a decision based on many factors so we encourage you to ask others and do research) – available from NA Graphics, Valley Litho, GWJ Company, Xpedx
Tape for the rails – on platen presses, the rails have experienced years of wear and may need some tape layers to replace the metal worn away and bring them back to their proper type height – package strapping tape from office supply store
Press Oil for lubrication
Furniture – wooden or metal blocks in various sizes that are used as spacers and placed around the base or type form – available from Letterpress Things, NA Graphics, Don Black Linecasting
Quoins and quoin key– there are various versions of quoins. They are used to lock up all the elements in your chase by expanding and exerting pressure with a turn of the quoin key – available from NA Graphics, Letterpress Things, Bar-Plate, Badger Graphics, Don Black Linecasting
Reglets and Leading – reglets are used similar to furniture but smaller to fill in the gaps in your chase for tight lockup.  Leading is placed between lines of type for spacing – available from NA Graphics, Letterpress Things, Don Black Linecasting.
Scotch tape to use in makeready. The process of readying your press for printing is called makeready. It includes setting up your print surface and adjusting paper pressure so all parts of your plate or type form print properly.
Imposing stone – the name for the flat surface you use to layout your base or type for lockup, or mixing ink – many options are available for this. Visit briarpress.org and search discussion board for suggestions of low cost materials. Check with Letterpress Things.
Makeready supplies – packing and pressboard – available from NA Graphics, Letterpress Things, GWJ Company vellum paper
Paper Cutter – You could get by with any shear-style paper cutter, such as a Kutrimmer, but after a while you're probably going to want to buy an actual paper guillotine cutter. These are available at graphic arts equipment dealers.
Loupe or Linen Tester – magnifying device for up close inspection of printing and type – available from Boxcar Press and Valley Litho, Badger Graphics, Precision Graphic Instruments.
Micrometer for measuring packing – Precision Graphic Instruments, General Graphic. Packing is what covers the cylinder or platen of the press.  It includes the tympan paper and any other paper stock inserted behind the tympan. Packing adjustments are made by adding or removing sheets based on whether you want a hard or soft pack. Your press manual will suggest a recommended packing and a micrometer will help with the accuracy of this.
Scissors or Craft Knife
Paper – there are so many wonderful papers for printing including some gorgeous handmade papers. Most papers will come in a shade or two of white and an ecru or ivory. We offer just a few suggestions here – Legion Papers, Crane's Lettra, Rives BFK; Reich Savoy; Arturo Papers; Revere; and Somerset. Matching envelopes are available for most of these.
Tool box for working on your equipment
And lastly, proper lighting, comfortable matting for your floor, and good ventilation.
For more printer to printer advice on creating a great print shop space, check out on our blog:
workspaces: printers talk about how the spaces they print in
printer profiles: we pick the brains of up and coming and also established printers about their work, their presses, and why they letterpress
letterpress roundtables: very smart printers talk about things like essential printing tools, favorite presses, the best printing books, and tattoos.
View FAQs