When planning her wedding three years ago, Sarah Meyer Walsh couldn't find anyone who could customize her wedding invitations, which ultimately served as her inspiration in launching Haute Papier. Her business partner Erin Miller joined her about a year later and they've teamed up in creating a stationery business that places equal value on high design and top notch printing. With two locations, Haute Papier is a luxury letterpress studio dedicated to couture letterpress, specializing in high end custom wedding invitations and stationery, including a selection of custom designs, fine stationery and gift items. Their stationery is available in more than 80 stores across the US and Canada. With their two locations and expanding retail collection, they managed to squeeze in some time for a little Boxcar Talk:
How did each of you first get into letterpress?
Of course, any stationery designer certainly loves the look of letterpress. Prior to doing our own printing we would farm out the work to local printers – printers who we are proud to still call friends (and who we call on when we have a question about our presses!) We really really loved when our clients chose letterpress for their invitations and thought the one thing missing was knowing how to print ourselves. So we took a one day class in the basement of a letterpress hobbyist in Alexandria, Virginia. He was a super nice guy, but here we are two young ladies in a dingy basement hand cranking a tabletop press and just thinking we were so cool to be setting type and mixing ink and having a blast. To this day I'm not too sure what our instructor thought of us or our enthusiasm for letterpress. I think we quite overwhelmed him! Well, at the end of our class he handed us a copy of a newspaper dedicated to the letterpress community and in the back was a classified section. We honed in on our press, called the owner and purchased the press within 20 minutes of leaving our workshop. Now mind you, the press we bought was in Pittsburgh. We would go up and officially adopt her a few weeks later. And that is another the story in of itself. A story for another time perhaps!
What was your very first press (and are you using it still)?
A Golding Pearl 7×11. You may call her Pearl (we call her the gobbler)! She is semi-retired but still does a mean job on our envelopes!
What medium do you usually print (lead/wood type, photopolymer, lino, etc.)?
Photopolymer plates from Boxcar (specifically KF152)
What's your process from sketch to press?
We love to draw! Our hand drawings and sketches form the foundation of our new designs. We also LOVE vintage images and sometimes incorporate those into our designs as well. So, from our doodling, we turn the designs into reality in CS4 and CS5 (depending on which computer we're working on). Then we order plates from Boxcar and the rest, as they say, is history.
What other print shops do you admire?
We've always admired Studio on Fire for their ability to print anything!
What do you love about working with Boxcar Press?
Cathy Smith, of course! (read: wonderful customer service.) Of course, the quality plates keep us coming back for more!
Any neat tricks you can share?
I don't know if we have any neat tricks, but I will say a deep breath goes a long way at times.
Who or what inspires you the most?
We find inspiration in so many different things. Right now, we're in love with a bunch of photos that Sarah took of the amazing architecture in Argentina this past spring!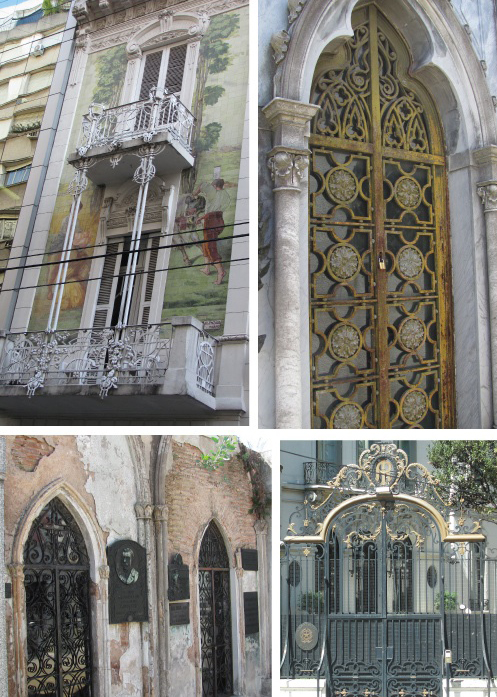 What's next for Haute Papier?
We're in the process of expanding our cash and carry lines and look forward to introducing it to our retailers!
What was the experience like for you at the National Stationery Show? Do you have any suggestions for people hoping to exhibit?
We love NSS! We're going on exhibiting for our third year and love meeting new dealers and reconnecting with our current dealers. It's also a nice time to meet fellow printers. As we all know, NSS is a costly undertaking so we really try and kill it! We are excited to be there and ready to talk everyone's ear off who will listen to us about Haute Papier! It's really about making the most of our week.
Thanks so much, ladies, for sharing a little insight about Haute Papier! For more about Sarah, Erin, and Haute Papier visit their website.