One of the most enjoyable aspects of working with so many talented printers and designers who make their photopolymer plates with us is coming across some truly inspiring design work. Designs that make you stop and wonder just what color ink they'll be running or what the print is for. It's even better when you get a chance to catch up with the printer behind the design. We chatted with the outrageously gifted tattoo artist, John Reardon of Greenpoint Tattoo Co. in Brooklyn, New York, when his plate came through our doors. We'll let John take it from here.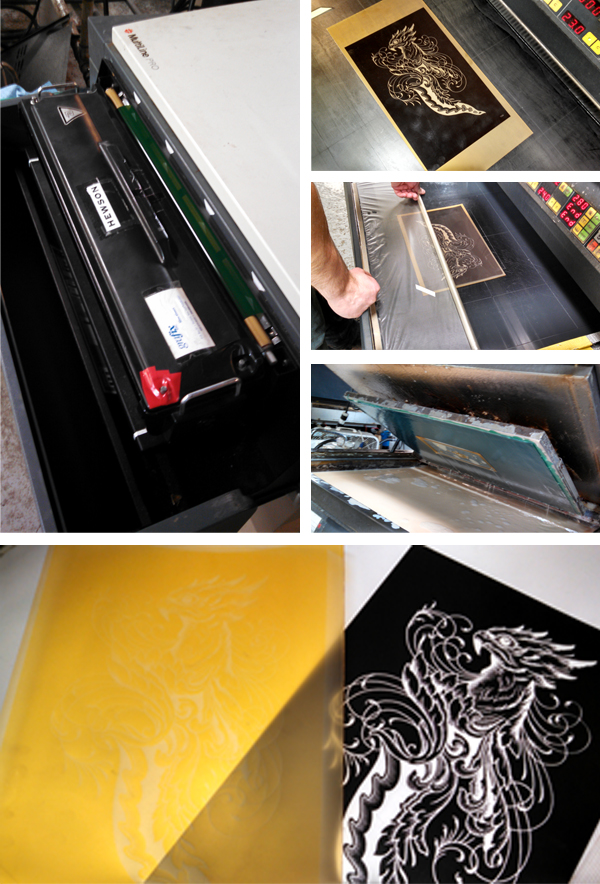 The project came about by running into Dan Morris (of The Arm in Brooklyn) on the streets. This was the second time I printed at The Arm (the first was back in 2010). I also have a tattoo shop down the street from Earl Kallemeyn (Kallemeyn Press). I've drawn stuff for him. He comes by the shop to hang out occasionally.
Dan told me I needed to make another print and I agreed. I've been drawing and tattooing daggers like this for about 7 years now. The first one I drew I tattooed on Othello Garcia when we both worked for Scott Campbell at Saved Tattoo. When I find the time I have four more to finish drawing and print. The difference between my drawing for printing vs tattooing is that I can put in more detail in a print. Also I have to make tones by stippling or cross hatching. It's fun. I printed with my buddy Jordan Haley and two bottles of red.. Been on a Spanish Rioja kick this winter…(it's how I survived).
Huge round of thanks out to John for letting us take a peek at his cool printing project!