When we received Kamikin's first order for plates, we had to get the back story – we loved their dynamic artwork and had to learn more. This family owned operation has quickly transformed from a pet project to a full fledged printmaking business. Marvel at their artwork while we tell you the rest of their tale.
A quick history: Kamikin is the dream child of three sisters, Karen, Betsy and Susan, of Sedalia, Colorado.  Betsy and her husband acquired a 12×18 1920 C&P platen in 2012 with a goal of entering the fine art market with unique and affordable prints. The business plan revolves around the beautiful pen and ink drawings of both Betsy and Susan, and is driven forward by the go-getter business savvy of their older sister Karen.
The artwork came together during the fall of 2014 with a western theme. This particular "Zen Doodle" series is western/folk art with a modern twist. Zen doodling consists of decorative lines that can have beautiful results when printed on a letterpress. Kamikin didn't hesitate to shoot for a very competitive show for their first foray into selling, the 2015 National Western Stock Show, in their backyard of Denver. Betsy readily admits they were not actually prepared for a 16-day show. "Because of this, when we got accepted, our studio burst into a flurry of activity! We had to finalize our art, order plates for the letterpress, purchase loads of paper and packaging, and build a booth! It was a quick learning curve for all three of us as we cranked up the press for mass production."
"During this whole process, one of the most exciting steps was when our first order of polymer plates from Boxcar arrived," says Betsy. "At that moment, it seemed that everything we had planned was now possible. With the artwork for this series done, the paper cut, and a printing schedule on the calendar, it was time to buckle down and get our hands dirty. With 8-10 hour printing sessions, we learned so much so fast! Like it's a good idea to tag team the chase to save on your shoulder muscles."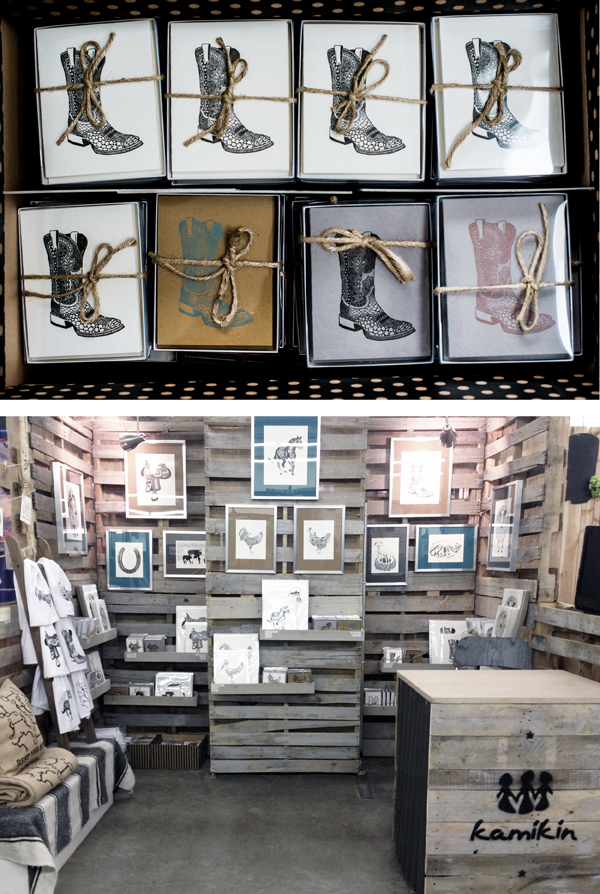 In the 6 week timeline, they fell in love with the process. In one month, they went from having zero inventory to 2,700 packaged pieces of beautiful art to sell.  Over the 16 days at the show, they loved talking with people about letterpress and screen-printing. The prints and stationery were very well received. They even had a little movie playing in the booth to show the customers what a letterpress looks like and how it works. Overall, their debut at the National Western Stock show was a success.
Since January, the trio has put together a website and an Etsy shop. They have enjoyed donating several prints for various auctions to help support their community. And with more plates on the way, the team will be busy building up their inventory for the summer art shows and festivals.