Here at Boxcar Press, we look at many, many files every week that are submitted for platemaking. Wedding invitations, greeting cards, text for fine press books and even the occasional unidentifiable piece (translation: large blobs and sketchy lines). More than a few of these files make us wonder what they will look like in their final printed form. So, we decided not to wonder anymore and will be periodically following up with customers to satisfy our inquiring minds and to get the full story on neat projects. For added interest, we will be following the process of the plate through our shop and pick up with the printer on press.
We saw this letterpress poster file and admired the boldness of the design. It also appealed to us because it was for a musical festival put on by Adirondack Sustainable Communities Inc, an organization whose vision statement is empowering communities to care for the people, the land and the future of the Adirondacks.  The Adirondack Region is a six million acre region of endless lakes and wild mountains in Northern New York. With the assistance of Peter Seward, one of the organizers of this weekend's event, we were able to get the rest of the story on this letterpress poster
Todd Smith and I, Peter Seward, organize and host a free all-day music festival called Hobofest – now in its sixth year – in the small mountain village of Saranac Lake. Part of our collaboration is designing a new graphic each year, which serves to brand the event, featured as posters, flyers and on T-shirts. From the beginning our primary means of funding the event was through T-shirt sales, and we often marvel at how many of these shirts are out there.
In addition to printing on shirts, the graphic is also printed as a fine art print edition. This year was the first time that we printed the design using a polymer plate. We wanted the precision that this process offered and to take advantage of Bluseed Studios' Vandercook press. In years past, I actually used the Vandercook as a solid base to silkscreen on!
Bluseed Studios is an inclusive community art center offering studio space for printing, paper making, and ceramics, and a gallery and performance space upstairs. We printed with burlap paper made at Bluseed Studios, donated by Drew Mattot and Maraget Mahan, who travel the world with a portable pulp beater as the Peace Paper Project. Drew and Margaret were the ones who recommended that we use Boxcar Press to create a polymer plate!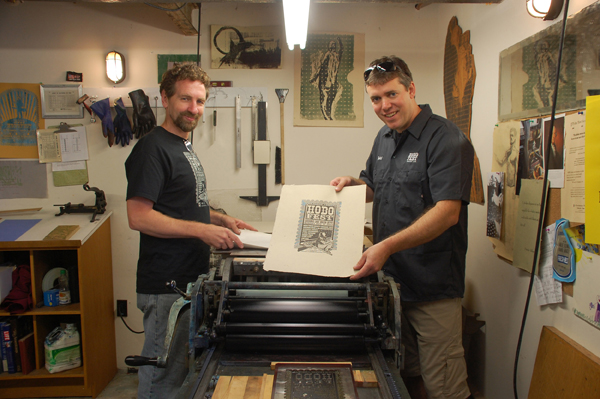 We've always limited the design as one color and strive for impact and clarity, and an aesthetic informed by earlier printing technologies. We're very happy with the prints which we'll vend alongside our other merchandise on event day.
Our thanks to ADKSC.org and Blueseed Studios for letting us see their project!