Armed with a Chandler & Price 12×18, Alissa Bell flexes her creative muscles by balancing both business sense and creative aspirations. The cheery, go get-em gal has been in love with letterpress since she took her first class at the San Francisco Center for the Book, and has flourished as the Artist in Residence at the Kit and Ace Pasadena store, an iconic staple of creativity in Los Angeles. We caught up with Alissa between ink runs to catch up on her beautiful letterpress greeting card line and how her children are growing up with letterpress all around them.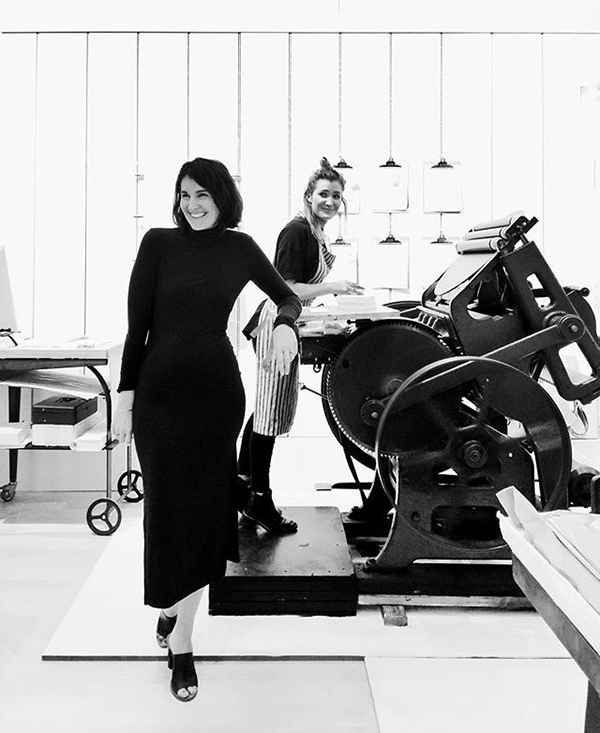 CREATING BALANCE WITH LETTERPRESS I run a letterpress and design studio in Los Angeles with two girls, Hanna and Audra, and my dog Henry. Before I got into letterpress, I worked in public accounting for 4 years. I'm naturally a classic, type A person, but also love exercising my creativity. Creating my business gave me a perfect balance of both.
LOVE AT FIRST SIGHT I first took a class in San Francisco at The Center for the Book. That's where I got hooked.
LIVE IN CALIFORNIA Currently we are the Artist in Residence at the Kit and Ace Pasadena store. It's definitely a unique opportunity to be doing our thing inside the shop while people browse the clothing and wander the neighborhood. My favorite thing about the space is that, compared to any of our previous locations, it's the shiniest. Also, for this season, we are able to give people access to watch letterpress live, which is rare.
THE DESIGNER & THE PRINTER We do a little bit of both. I'm lucky to have a nice balance in our work that allows us to both flex our creative muscles, as well as execute another business or designer's vision. I have been running the business for four years, three of which were full time.
THE CREATIVE PROCESS Giving my brain clear space to create is most important. So, cleaning my home or studio are musts, and sometimes getting out of my normal environment, either a coffee shop, or lately, RVCC in Downtown LA. The actual inception of an idea comes differently for me each time. Sometimes I have to just put a lot of things down on a page and see what I can pull from. Other times I'll have a quick flash of an idea, in the shower or wherever, which are the easiest to materialize.
PRINTING FEATS I'm proud of my team. I'm proud that we're working in Kit and Ace. I'm also excited we have grown, and are able to make creating our own collections of greeting cards a priority.
PRESS HISTORY A Chandler and Price, 12" x 18" was my first and my last.
BOXCAR'S ROLE Boxcar has been an amazing resource since the beginning. Even when I didn't know what I was doing, Rebecca sat with me on the phone and talked me through what kind of base I would need and what kind of plates to order. Since then, I've used them for all of my plates. They always catch my errors, show me grace in the ordering process, and present a great product. I love them.
SHOP TIPS This may not be new to many people, but this year we got to experiment with ombré ink on a platen press. We were able to tie back the part of the press that rotates the ink disc so the color was applied unevenly, allowing us to create both color ombré and a black and white gradient.
WHAT'S NEXT For the next year, we're working on finding a new location after our residency at Kit and Ace, focusing on continuing to teach Hanna how to print, and having a good time. Last year we launched our ready to order stationery collection, and in 2016 we hope to build our collection of ready to order wedding invitations on our site.
A huge appreciative round of applause (and thanks!) out to Alissa for letting us get a glimpse of her wonderful printing world out in sunny California!