Patricia Barron of One At a Time Press lives life to the fullest daily in her garage-turned-studio in the picturesque Sierra Madre mountain range of sunny California. Her ambitions to pursue her passions in letterpress have been fostered by exceptional printing mentors and the thrill of the creative challenge. We caught up with Patricia to see how her part-time printing adventure is treating her.
THE JOY OF CREATING I am a born and raised, Southern California lady through and through. I live in Sierra Madre with my husband, Jeff. I went to college at UC Santa Barbara in 1969 and then transferred as a junior to UC Berkeley, where I graduated with a B.A. in psychology.
I began my business on my 60th birthday in 2011, after having raised two boys to men as a stay at home mom. I was lucky to be able to take art classes at Pasadena City College, the local junior college. These included drawing, life drawing, painting, ceramics, sculpture and photography. I love the challenge and joy of creating, and am inspired by nature, people, places, music, books and life. Sierra Madre has beautiful views, mountains, and green spaces so there is much to inspire.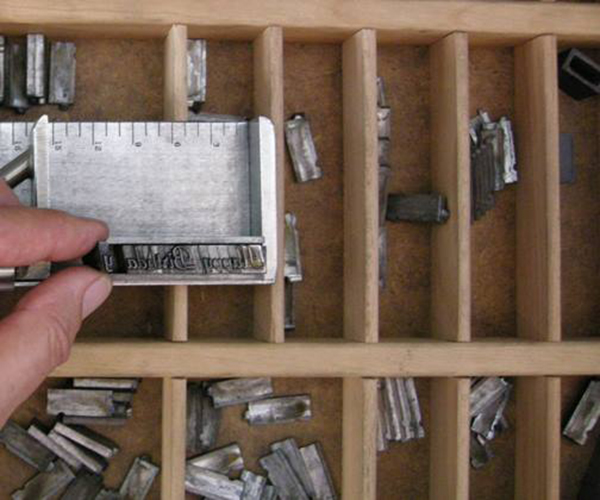 LETTERPRESS LOVE AT FIRST SIGHT My first exposure to letterpress began at the Armory Center for the Arts in Pasadena. I immediately became enthralled with the process, from imagining what to print to making it a finished product. At first, I though I'd have trouble thinking of enough ideas of what to do, but I'm way over that!
MEET THE FAMILY My first press was a 1950's Chandler & Price Pilot Tabletop Press that I bought in 2011. In 2015, I was very lucky to buy a Vandercook SP-20 press that I had shipped out from Chicago.
SERENDIPITY IN SIERRA MADRE My studio is in our garage. We have two garage doors, a double and a single. The one car garage is my studio. My favorite thing about my studio is that I can open the garage door and get lots of fresh air, light and a view of the mountains. 
While it's cold in winter, I can use a space heater. In the summer, I am up very early or very late, printing in the cooler part of the day.  I am very proud of having my own business and the quality of my work.
PRINTING MENTORS Denise El-Hoss is my teacher and mentor, and I have been taking classes from her at the Armory for almost five years. Through her encouragement, I began my business. She is totally awesome as a teacher and friend. In fact, I bought my first press from her.
THE CREATIVE PROCESS I design my work using old blocks, my linoleum carvings, designs I create on Adobe Illustrator and have made into blocks, as well as images I find that are copyright free. I also use wood type and metal type that I either have or can use at the Armory. Lastly, I use Illustrator to create words or sentences that I need to be made into a block.
PART TIME PRINTER, FULL TIME FUN I do not print full time, but do print as much as I can. My goal is to do more custom work and larger scale prints. I love to experiment to create original work. My process is often a combination of planning and serendipity. I often begin without knowing exactly what will come next. I love the challenge of solving for the answer! I sometimes begin with an image I like and then bring it to life with words. Or I'll find a poem or saying that I like and come up with a background.
PRINTING FEATS My art prints, Fauve Look I & II, make me proud, having hand-carved three different linoleum blocks (one for each color) and succeeding in printing them to my satisfaction. I love the way they turned out. The image is based on a textile design from France, 1925. 

I also printed a 2016 letterpress calendar which turned out to be worth all the work involved! I was very happy with the result.
SHOP TIPS Use AlignMate! Their product helps in making sure your text is straight and centered.
WHAT'S NEXT I have been accepted into various shows, including the Patchwork show in Long Beach in June and a show in Claremont. I also have my work in Lulu Mae's in Pasadena and at Creative Arts Group in Sierra Madre.
A huge round of thanks to Patricia for letting us take a sneak peek at her creative world at One At a Time Press!