A mindful approach to letterpress (and life) is the buzz behind Amy Redmond of Amada Press. When we last caught up with Amy, she had a ball visiting & touring the Boxcar Press press floor. Now, the Seattle-based printer, visual artist, and instructor for Seattle's School of Visual Concepts is blending a sense of creative well-being into her craft while nurturing a closely-knit community of printers. Between collaborating on her next project, keeping the fire lit under her fingertips, and happily giving back to the community with her involvement with the SVC Childrens Broadsides project year-after-year, Amy lives up to her press' Spanish name origins: beloved.
RENAISSANCE WOMAN + PRINTER I'm a self-employed visual designer and artist, and teach beginning and advanced letterpress classes at Seattle's School of Visual Concepts. In my private studio, Amada Press, I work with metal and wood type, fabricating stories inspired by my collection of old ad cuts and
half-tones, and adding linocuts when inspired. In recent years, I've been incorporating collographs and pressure printing into my work. I primarily print on a Colt's Armory 13×19 platen press, but also work on a Vandercook 4.
This is the form for the keepsake from my first studio tour under the name Amada Press. All photos courtesy of Amy Redmond unless otherwise indicated.
My Colt's Armory Press has a long history of fine press book work for me to live up to; years before Stern & Faye acquired it, our friend Clifford Burke used it to produce his book "Printing Poetry." 
View of the Amada Press studio from behind the Vandercook 4, which also came from Stern & Faye Printers.
THE LURE OF LETTERPRESS My first job out of college was as a book designer, and it turned into a quest to learn more about the finer points of typography. I was also feeling the loss of not working with my hands — computer design time had been balanced by working with tangible materials while earning my BFA. Although gainfully employed in the creative field, I was effectively starving myself creatively.
That changed when a friend saw a listing for a weekend workshop with Seattle artist Bonnie Thompson Norman (Windowpane Press), and I thought letterpress would be the perfect remedy for me. It was, and still is. Halfway through the first day, I was hooked on setting type by hand, so much that Bonnie had to politely kick me out of her studio so that she could go have dinner — promising that the type would still be waiting for me in the morning.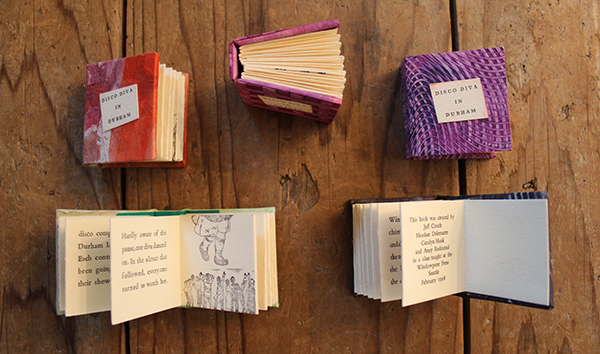 These accordion books were the first letterpress project I ever typeset and printed, in collaboration with 3 other students. Bonnie runs an admirably tight ship: we wrote, printed, and bound these in just 2 days! 
Six months later, in October of 1998, I met Chris Stern and Jules Faye (Stern & Faye, Printers) at a Seattle Literary event called Northwest Bookfest, and fell in love with their work. The following week I drove up to their Print Farm in Sedro-Woolley, Washington to share my portfolio. The interview turned into dinner, and soon after I began apprenticing one day a week in their shop, doing whatever was needed in exchange for learning. A few years later, I put all of my things in storage, moved into a small corner of the upstairs bindery in the print barn, and worked in exchange for rent.
This was Stern & Faye Printer's "print barn" in Sedro-Woolley, WA. The concord grapes would hang heavy on the barn, and it was impossible to resist snacking off the vine every time you entered the shop. 
Here I am mixing ink at Stern & Faye Printers, sometime around 2002. This may have been taken during the 6 months I was living at the print farm. Credit: Jules Faye
The 180-mile round-trip drive up to the Skagit Valley each week was well worth it. It's hard to believe it's been 19 years since then; it was such a pivotal moment for me. It not only instilled a sense of creative well-being and fine craftsmanship, it also introduced me to an amazing community of artists, designers, and printers that have become dear friends.
Pictured left to right: Rebecca Gilbert, Jules Faye, Brian Bagdonas, Amy Redmond. Rebecca & Brian, of Stumptown Printers & C.C. Stern Type Foundry, recently visited me and Jules Faye at her home in the Skagit Valley. Getting together with them is always a fabulous family reunion, and never without homemade pie. Credit: Stumptown Printers
NORTH SEATTLE'S BEST KEPT SECRET My private studio, Amada Press, is just steps from my back door in a quiet neighborhood in north Seattle. I describe it as a garage with a detached house — because that's exactly how I went about looking for space: the studio came first. When Jules Faye approached me in 2008 about becoming the next steward of Stern & Faye's Colt's Armory 13×19 Press, I knew it was time to get serious about buying a place. I'd been in Seattle long enough to know that I couldn't own a press that big and be at the whim of a landlord. The stars happened to align at the right time with both work and the burst of Seattle's real estate market, making it all possible.
Inking up the Colt's Armory Press. Cleaning up the press, and all 8 of its rollers, takes me about 30 minutes. 
Close-up of the badge on my Colt's Armory Press. 
In spite of being large enough for 3 cars, my shop has never had one in it — the previous owners were also artists, and built it as their painting studio. It has flat, alley access with high overhead clearance for big trucks, smooth cement floors and plenty of outlets. What really charmed me was its wood stove — that's exactly how we heated the Print Barn at Stern & Faye. I took all of those things, along with the apple tree (Stern & Faye also had a tiny orchard), as signs that this was the right place for me. The press was the first thing that got moved onto the property — it took another week for me to move my personal things into the house. So you can see where my priorities lay.
My shop's sunny location makes it the perfect spot to grow tomatoes. A little bit of Seattle history lives in this photo: those red bleacher chairs are from the Kingdome, saved before it was blown up to make way for a new stadium. 
What truly makes my shop special is what's inside of it — it has all come from local printer pals, many of whom have since passed. Most of it, like my presses and type, is from Stern & Faye and Byron Scott — but I also have a cabinet and slant top from Jim Rimmer (Pie Tree Press), and a handful of choice cuts from Maura Shapely (Day Moon Press). It's all very beloved to me… which is how I came to choose "Amada" as my press name, the Spanish word for beloved. It also happens to be the meaning of my first name.
Upper lefthand photo: Everything in my studio is up on 4×4's so that it can be easily moved with a pallet jack.  |  Upper righthand photo: Thanks to the careful curation of past printers, I have many lovely typefaces — but Spartan (ATF's version of Futura) claims most of the space in this row of cabinets. |  Lower righthand photo: These are my two main work surfaces: the cabinet in the foreground is a staging ground for my notes, and the larger work table in the background holds my stone.  |  Lower lefthand photo:  This photos is the view when you walk into my studio — the cabinet on the far right is the very first one I got (complete with the obligatory case of Copperplate).
PRINTING MENTORS AND INSPIRATION Chris Stern & Jules Faye will always be my number one mentors; even though Chris passed away in 2006 and the context of my work with Jules has evolved, I consider my apprenticeship to be lifelong. They have given me so much of their time and talent, and never restrained their passion for print & typography. When the two of them collaborated on personal projects, the final print was always a tapestry of fantastic stories and captivating imagery. Their print, "The Typographic Horse," exemplifies the "love at first sight" effect their work had on me.
Shortly after Chris Stern passed away, I wrote an article about the passionate process of artwork for the Society of Typographic Aficionados . You can view more work by Chris Stern & Jules Faye on SternAndFaye.com. 
I also find inspiration from my ever-growing network of printer pals and students — they all keep a fire lit under my fingertips, and Instagram has played a big role these past few years with feeding me a steady drip of amazing work. Those who really stand out are the ones with determination and a clear vision in their work as a whole; I really admire that — it's not something I come by easily.
From an aesthetic standpoint, I'm drawn to the graphic design work that took place between the 1910's and the 1950's. As a design student I didn't understand how the work I admired by Fortunato Depero, Piet Zwart, El Lissitzky, H.N. Werkman, and Jan Tschichold was produced — becoming a letterpress printer who works with handset type brought a whole new appreciation to it. It's like I found a missing piece to the puzzle that is myself.
DESIGNER + PRINTER I fall into the designer/printer category; they are very intricately related and it can be hard to tear one apart from the other. Design is what led me to letterpress, but letterpress is what reinforces my attention to detail and ability to think about how a design will be produced — whether it's a website or a printed piece. When you're printing your own work, you're the one that pays the price when you design something that's hard to pull off. And so you learn how to plan.
I find the mindful approach that letterpress requires to be blissfully consuming; it's a nice contrarian lifestyle to the on-demand parts of life. As I browse my collection of metal type and ornaments, I slow down, I notice, I contemplate, I dream, and I plan. I form connections with things I've seen or heard. Stories materialize as excerpts from imagined conversations.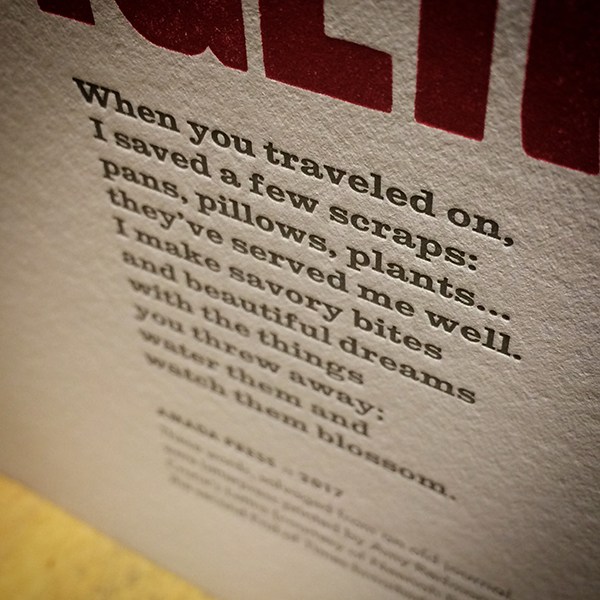 This text, from my print "Scavenger," was taken from a scrap of paper I've been carrying around in a sketchbook since 2006. 
The computer has no place here — pencils, scissors, Xacto blades, and glues sticks are crucial to my work's development; the tangible trace of my hand is evident yet invisible. Ideas become sketches, ink is drawn, mock-ups take shape. Text is set, one letter at a time. Images may be old ad cuts, or created with collographs, pressure printing, or carved linoleum.
A snapshot of the design process for the broadside for "The Thirst of Things" by poet Alberto Ríos, for Copper Canyon Press. See the finished print here. 
Precision on press requires planning, but with my art I allow room for migration once ink hits paper: colors may shift, misfeeds inspire new compositions. The process of acting/reacting is cathartic; committing an idea to paper simultaneously invites resolution to old problems and invites opportunity for new ones.
In the dead of winter this mindfulness is emphasized even more: my shop is heated primarily by a wood stove, and I can't just start printing without some planning. The night before, I bring the inks and photopolymer base into the house to warm up; I check to make sure an air quality burn ban hasn't been triggered by a stretch of cold, windless days; I prep a pot of homemade soup for lunch. On press day I get up early and get the studio's wood stove started so that it can pick up the electric heater's slack, and simmer the soup on the wood stove next to my coffee. Once I get going, I hate having to stop to make lunch… and it makes for the most delicious-smelling print shop.
PART TIME PRINTER, FULL TIME FUN There are days when I think I could be a printer full time, but I don't think I really want that — it's having variety in my work that keeps me sane. I currently set up my work week so that I work Monday–Thursday for my design clients (web & print), and spend Fridays in my studio. Anyway you slice it I'm just a one-woman shop, so there's a lot of pressure to stay profitable and still be able to invest in my retirement.
If I could spend my days playing on press, making art without a care for income, then yes I'd do it in a heartbeat. But if I have to take on a job printing what someone else has designed, then no — I'd rather that time be spent doing digital design, so that my print studio remains a stress-free place to be creative. There's enough separation between how I think about the two different types of work that they fuel, rather than drain, my energy for them.
PRINTING FEATS I consider it a great honor to have been teaching letterpress at the School of Visual Concepts for the past 14 years, and to play a part in building our program. I was cautious when Jenny Wilkson first invited me, as my mentors Chris Stern & Jules Faye were also teaching there — and who was I, with just a few years at the press under my belt, to be teaching? Upon hearing my concerns, Chris and Jules invited me to assist in their class — and gave me their encouragement to accept Jenny's offer. This wasn't an issue of confidence; it was about respect for all the years Chris and Jules had spent in front of presses.
top photo: We have a well-appointed shop at the School of Visual Concepts, and our volunteer Teaching Assistants do their part (and then some) to making sure it remains a gem. Credit: Radford Creative. |  bottom photo: Elizabeth Mullaly (right) is one of my current Teaching Assistants. The way she quietly jumps right in when she sees something or someone that needs attention is a work ethic I admire. Credit: Sukhie Patel.
PRESS HISTORY I was about to say it was a Pilot Tabletop Press — but truly, it was a toy press given to me in elementary school, the Fisher Price Arts & Craft "Printer's Kit". I'm really hoping it's still stashed in my parent's basement, as I'd love to get it back and play around with it.
But as far as "real" presses go, the Pilot really was my first. In June of 1999, I went to Bellingham, WA with Chris Stern & Jules Faye to visit their friend Rob. We were talking about printing and I was admiring his 7×9 Pilot Press sitting in the corner on its original stand. After a while Chris turned and said, "Well Amy, you can have it if you can pick it up." I laughed and then saw Rob nod his head — Chris was actually serious, and Jules confirmed it. Together we moved it out that day.
My first studio was efficiently tucked into a tiny breakfast nook in a shared house. We didn't use the dishwasher, so it became my ink table— I kept ink and tools on its racks. 
Chris and Jules then helped me put together a cabinet of type from their collection, and Scotty (Byron Scott, their adopted grandfather and avid letterpress collector) contributed some things as well. I still have that cabinet today; on the back, scrawled in chalk, it says "Scotty," and I love that. Also in that cabinet is a 50-pound case of figures from various typefaces, all displayed face-up. It had been sitting in a stack of cases in the print barn & I remembering cooing over it with Chris when he said, "Yeah it's purdy, but ya don't ever wanna buy a case of junk like that." He then turned to me with a sly grin. "Ya want it?"
I lovingly refer to this 50-pound case of figures as one my apprenticeship "hazing" moments. 
I had the Pilot for 2 years, and when I moved into the bindery loft of Stern & Faye's Print Barn, they convinced me that it was time to move on to a bigger press. To this day, the Pilot still lives in Seattle with John Marshall, former owner of Seattle's Open Books Poetry Shop in Seattle. It's nice to know it's still in our Pacific Northwest literary letterpress family.
BOXCAR'S ROLE Boxcar has been making my photopolymer plates since — I think — 2003 or 2004. At that time there weren't many options, and most required faxing in a proof of the artwork — which was a royal pain. But Boxcar spoke my design language and accepted PDF proofs (revolutionary!) and that was the hook that got me in the door.
But the real reason I keep coming back is the people — everyone is so helpful and accountable to doing good work, and I appreciate the time spent helping me troubleshoot. As an instructor I know I can direct my students to Boxcar and that they'll be well-taken care of. And as a participant in SVC's Poetry Broadside project with Seattle Children's Hospital and Seattle Arts & Lectures, I know that the project would not be financially possible without plate donations from Boxcar and paper donations from Neenah. On behalf of the printers at the School of Visual Concepts, thank you!
PRINTING TIPS Roller bearers are my best friends — I never lock up a form in a chase without them. Also, always use protection: slipsheet your prints. These two simple things can prevent so many problems.
Wide, type-high rule placed on the inside edges of the chase act as roller bearers, preventing ink slur as the rollers roll on/off the form. 
Document your work. David Black, another letterpress instructor at SVC, once advised starting a shop log to keep track of press maintenance. I do, and it has become so much more than just a record of press oiling. I document ideas, typeface choices, and archive my mockups. These logs are valuable resources that I refer to often.
I currently have 4 studio logs, and added a fifth just for the projects I do for APA (Amalgamated Printers Association), of which I'm a member. 
And finally, when it comes to buying equipment, be patient. The right press, the right type, it will come along. Talk to people, get to know them… there's an underground current of dedicated printers that offer a far more rewarding experience than a whirlwind bidding session on Ebay will, and you'll meet people genuinely interested in your success if you take the time to invest in your local community.
WHAT'S NEXT I'm finally — finally!— going to set up an online store for Amada Press. I've been in several group and solo shows over the years, but the positive response my work received in the 2017 "Pressing On" Exhibition at Hatch Show Print really highlighted the importance of investing time into making my work more accessible.
I also have several ideas on my perpetual project list in different stages of production, including two book concepts and a long-form broadside. The more I cross off, the more room I have for new ideas. My work is fueled by motion.
The red and blue flags in my studio logs mark ideas that have not yet been printed. I'm happy to say it's a never-ending list. 
Immensely huge round of applause & thanks out to Amy for the gorgeous peek into the printing realm of Amada Press. Keep up the beautiful work and we look forward to seeing more of your printing adventures unfold. Find her on Instagram too (@AmadaPress)!