From luxury letterpress printing to honing their newest & hottest bespoke design trend, Publicide Printing breaks barriers and redefines artisan printing with fleet-footed service. The New York City-based print shop celebrates 11 wonderful years of printing excellence (and counting!), while sharing with us what's in store for them next–from taking fresh inspiration from the bustling city around them to honoring the addictive craft that is letterpress printing and beyond.
IN THE HEART OF THE BIG APPLE Publicide Printing is located in the Historical Times Square District–rife with the filth & fury New York should still be known for. At our NYC Print Shop we find the clamor of trucks, buses, freaks, geeks, tourists, and morning-shift strippers to be suitably inspiring matches to the clamor of our Heidelberg Presses and Kluge Machines. To the clamor's credit, the racket brings a paradoxical equal/opposite effect to the print jobs rolling through our sleepless workshop. There's nothing like broken-glass glitter, flashing signs, and non-stop commotion to provide a super-neat registration. We can fathom few other explanations for the continued presence of Holographic Foil Stamping in our personal and Commercial Printing.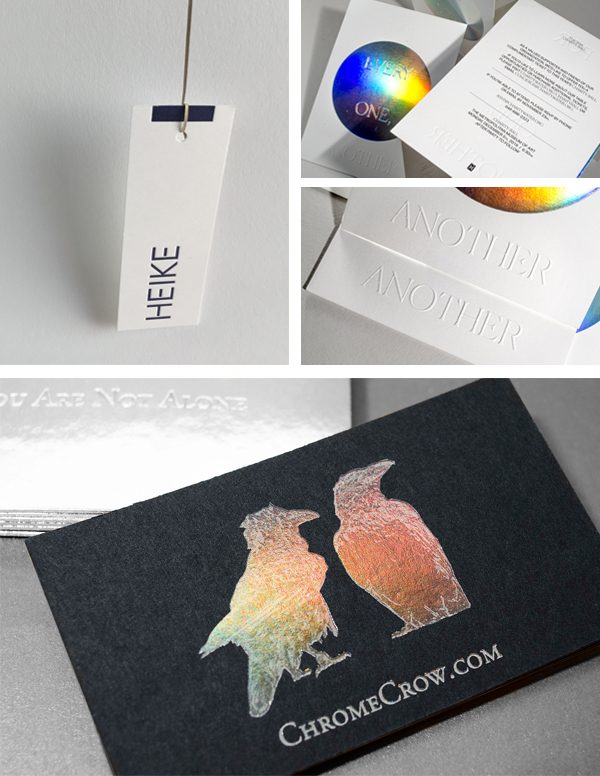 THE PRINTING DRIVE We attribute much of our success to situational circumstances. When we set up shop 11 years ago, we kept our techniques traditional, providing letterpress services to a totalitarian degree. Devoted to pushing the letterpress "bite," we'd like to think we became the go-to printer for deep impression, dimensional prints. Naturally, we credit the influence of our original Hudson Square locale–the mid-century's center of book printing & publishing–for giving us the proper juju to succeed. Speaking of books, we first began branching beyond our love for Letterpress Business Cards & Stationery as requests for unique, custom Lookbooks made their way through the door. Lookbooks & Hanging Tags have become a shop specialty as of late, prompting us to include High Quality Digital commercial printing to our cabal of custom services.
EXPONENTIAL GROWTH As the fashion world kept calling, we found our lease terminated: a gift that took us to our current post in midtown Manhattan, while honing our expertise in Corporate Stationery Printing, Brochure Printing, Spot UV Gloss & high-shine Glossy Lamination Services, Asset Management, Real Estate Printing, Emboss & Deboss, and–as the nearby ghosts of Studio 54 would have it–unlimited Event Printing.
LOOKING TO THE HORIZON The future is truly unknowable. Come 2049, we know we will still be at it, no matter what form the printing arts take. We go to sleep hoping for the following: (1) the advent of 3D-printed Pantone Color & Color-Matching; (2) to find the majesty of Foil Stamping integrated into respectable Letterpress Studies; last but not least, (3) a global craving for gigantic solid color by way of oversized, overprinted Offset Floods, with boundless room to create melting duo-tones and tri-tones.
An immensely huge round of thanks to Publicide for letting us have a sneak peek into their fantastic and inspiring printing world!