A myriad of eye-catching and pop-culture surreal characters snagged our attention when printer Bryan Baker and artist Jasper Wong's fun order passed through our custom-made photopolymer platemaking service department. So much that we couldn't resist the urge to reach out and get the scoop on such a brilliant and wild project!
The ever-wonderful Bryan helped illuminate how such an bright, hypnotic printing project came to be.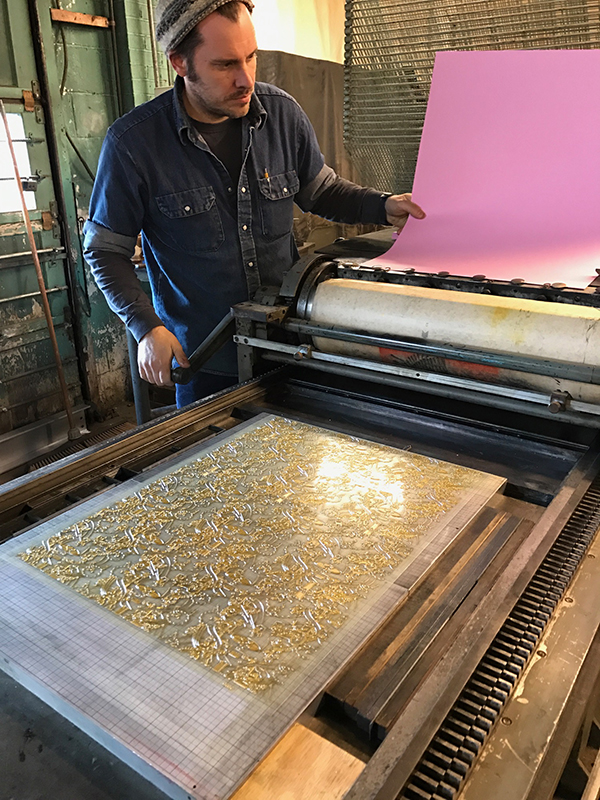 This project was printed at Striped Light in Knoxville Tennessee, by Bryan Baker. The artist who did the design is Jasper Wong. It is the second time that Striped Light made an edition of his work through an ongoing collaboration with a Detroit publishing company called 1xRun.  
This particular piece was printed to coincide with a rather large street art event call "Pow Pow" in Hawaii. The print was run in four color ways: Trans on Pink, Trans on Teal, Black on Black, and Green and Black on Teal.  All finished with hand torn edges.
Striped Light is often commissioned by 1xRun to do limited edition letterpress prints for the artists that they represent. It it a pretty exciting relationship, because they work with artists from all over the world, and are now in their fourth year of working together. It first began while Bryan was up in Detroit running a shop called Stukenborg Press, and has continued with his new community letterpress shop that he opened with his partners Sarah Shebaro, and Jason Boardman.