Available in several paper weights, our 100% post-consumer recycled chipboard is a popular paper choice for letterpress printing. Thick and textured, chipboard is kraft brown and completely utilitarian: we've printed wedding invitations, business cards, letterpress broadsides, and more on this versatile stock. Today we're sharing a few tips from designer Angelena Bruesewitz on how to design for chipboard, along with some of our favorite examples of letterpress printing on this popular paper.
Dark colors + bold lines are a great starting point.
Darker colors tend to be the easiest to work with when it comes to printing on chipboard – you're sure to have contrast and legibility as long as your line weights are thick enough to be readable.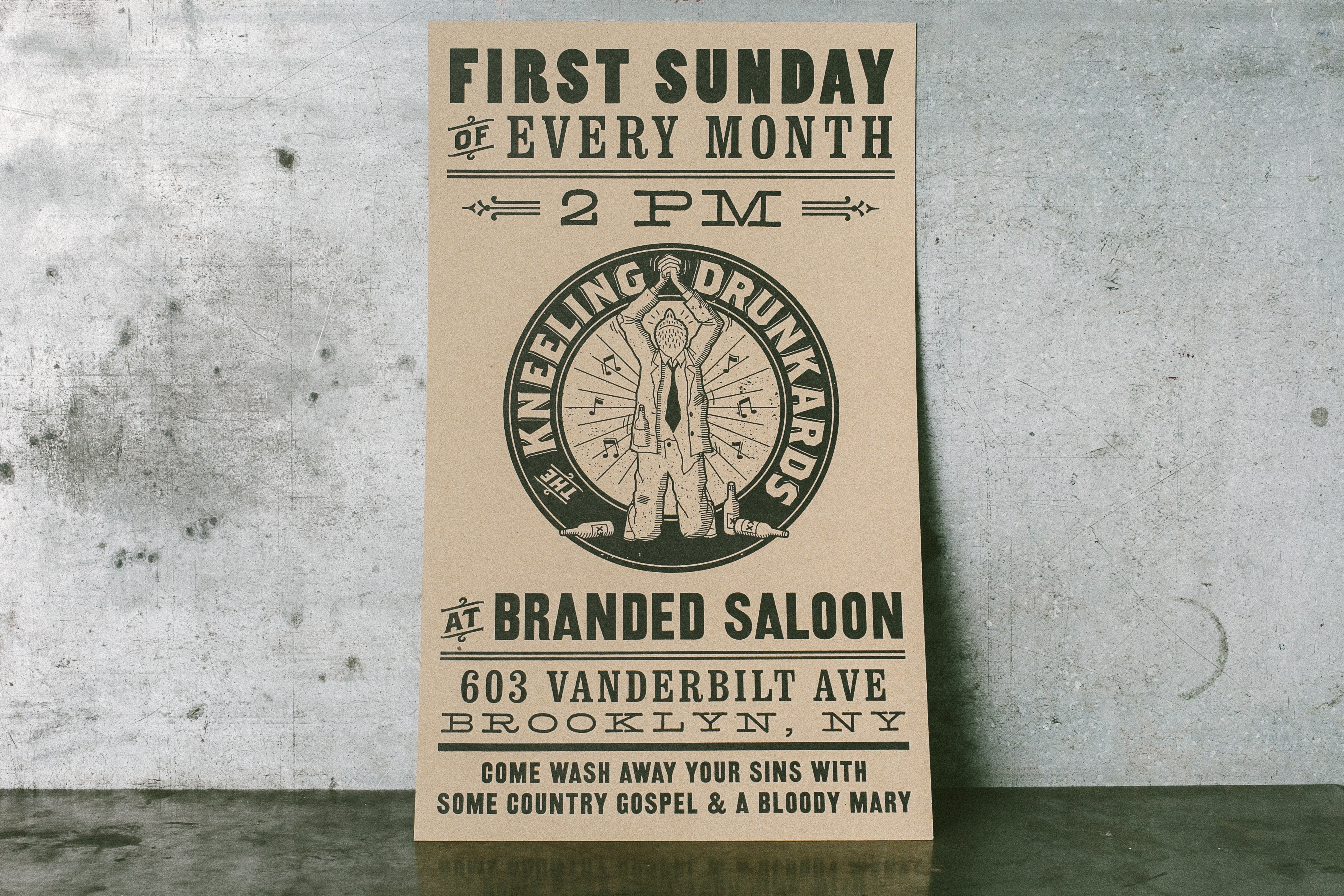 Kneeling Drunkards 12″ x 20″ poster, job #25934. Designed by Jarrod Taylor, printed in black ink on 28 pt chipboard on our Cylinder Press. 
UXA Lab 3.5" x 2″ business cards, job #26428 for UXA Lab. Printed in Pantone 185U on 60pt chipboard on our Heidelberg Windmill Press. 
Tips for designing a low contrast piece.
If you're looking to create a low-contrast piece, make sure your line weights are thick enough to be legible. We recently worked with Angelena to create the identity suite below, which included a double-sided gift card with metallic gold ink on the back. The piece required a second run on press to achieve the desired look, but the end result was a subtle bamboo forest with lots of intricate details.
Identity suite for The Wellness Tree, jobs #26310 + 24962, designed by Angelena Bruesewitz at the Dandelion Shoppe. 2.5″ x 3.5″ business cards and 5.5″ x 4.25″ note cards, printed in Pantone 1805U on 28pt chipboard. 5″ x 5″ double-sided gift certificates, printed on 60pt chipboard in Pantone 1805U on the front, with a double hit of 874U on the back.
Keep the end use in mind.
When it comes to designing for chipboard and selecting colors and fonts to work with, keep your customer and the end result in mind. If you're going for something rustic, Angelena recommends tone-on-tone. More fun and playful? Opt for lighter shades with more vibrancy to achieve the look. The earth tones used on the Bedford 234 business cards below matched the restaurant's rustic, farm to table vibe perfectly.
Bedford 234 3.5" x 2″ business cards, job #26802. Designed by Sol Shim, printed in Pantone 161U + 021U on 28 pt chipboard. 
If color accuracy is a priority, consider drawdowns or foil.
Just like printing on any other colored paper, color does shift on chipboard. If color accuracy is of the utmost importance for your clients, foil stamping may be a better choice than letterpress.  Alternatively, we offer a drawdown service for $50 per color if you'd like a test run to see how your color would look on our chipboard.

Faith Neidig 3.5" x 2″ business cards, job #24666. Designed by Kelly Moses Design, printed in black ink + gold shine foil on 28pt chipboard on our Heidelberg Windmill + Kluge presses. 
Custom 4.25″  x 5.5″ holiday cards, job #25576. Designed by Jenny C Design, printed in red shine foil on 28pt chipboard on our Kluge.
Go a shade brighter to achieve richer colors.
Because ink colors may appear more dull or muted on chipboard, we recommend going a shade brighter in order to compensate for the difference.
Yo Amo 305 1.69″ x 4.25″ product tags, job #25740. Designed by Wynwood Letterpress, printed in Pantone 806U on 28pt chipboard on our Heidelberg Windmill.
Keep size and paper weight in mind.
When it comes to working with chipboard (or any thicker papers), be sure to check your margins when you're designing – you'll want to make sure your cards fit in your envelopes! Additionally, postage weights may increase when it comes to heavier paper stocks, so make sure your client is comfortable with any added costs. Lastly, when it comes to sizes and shapes: we've found that 60pt chipboard is too thick for die cutting (though we have had success with 40pt chipboard). If creating a unique shape is important, consider straight cuts – the save the date pictured below was trimmed on a regular cutter, but has the look of a die-cut shape.
Custom save the dates 3.25″ x 5.5″ luggage tag style, job #241166. Designed by Kristin at Reverie Made, printed in black ink on 28pt chipboard. 
---
Our final piece of advice? Don't be afraid! Experiment and have fun.