We sat down with vibrant Amy Lesniewicz-Arndt — the printing powerhouse behind Ohio-based Alice-Louise Press — to talk shop about her first jobs, how her father (and printing mentors) influenced her, and why she won't give up her cowboy boots without a fight.
MIDWESTERN MAGIC I grew up in a very artistic family who owns a graphic design agency and I worked there for 12 years or so, but fell in love with letterpress and left the family business to start something of my own. Lived in Bay Area, Chicago, but my heart has always been in the Midwest, especially Northern Lower Michigan. I religiously wear my cowboy boots until the bottoms are completely worn through and I won't often be seen without my chai tea or dogs.
LOVE AT FIRST SIGHT Alice-Louise Press is named after my Grandmother, who ran a small offset print shop in the 1940s and '50s from the basement of her home in Toledo. She was one of the few woman printers back in her day and a super hard working woman. I'd say my mentor for letterpress is Alan Runfeldt from Excelsior Press in Frenchtown, New Jersey. He's always been there to help me along the way and he's really the first person that helped me get started.
BEAUTY IN THE BUCKEYE STATE Years ago I put my first real press in the basement of my house, and it sits there still. Maneuvering it down there was such a bear that I didn't bother bringing it back up when I moved my shop downtown, and I swore I would never again move a press up and down stairs.  The space I had in downtown Toledo was cool, but quite isolated, so a year ago I moved my business back into my house, in a quiet neighborhood with lots of trees and squirrels and a big back yard where our dogs Ben and Emma can run around.
My presses are set up in the garage, which we plan on expanding to twice its size in Spring 2013. My husband Todd has been very understanding as the business takes over more and more of the house. My friend/employee Jeff Nelson (Dischord Records/Minor Threat) has been a great asset this past year. Along with printing on all the presses, he's crucial to the daily operations in getting orders out the door.
PRINTING MENTORS Aside from receiving some very helpful early tips from Alan Runfeldt, I've had to learn to operate my presses myself. It would help if Alan didn't live in NJ, but the next best thing to being a phone call away from help is my Heidelberg Windmill Manual. I've read it cover to cover so many times. I never knew I could know so much about a hunk of metal!
THE CREATIVE PROCESS It has taken 6 years to build up Alice-Louise Press into a full-time job.  As recently as last year I worked as a designer at my father's ad agency, Lesniewicz Associates, but it got to be too much, and now I can focus all my energies on coming up with new designs, building relationships with stationers across the country, and helping them satisfy the last-minute and often irrational demands of frantic brides.
PRESS HISTORY I started out with a tabletop Kelsey that I drove out to New Jersey to pick up, and I ended up spending the day with Alan at Excelsior Press who taught me the ins and outs of letterpress. I don't think he realized how motivated I was or how hard I planned on working. It only took about 2 weeks for me to realize that the Kelsey was more suited for people doing it as a hobby. I then purchased a larger 8×12 C&P New Style in Kalamazoo and it finally felt like I was getting the outcome I was looking for. Since then, I have added a 10×15 C&P and 10×15 Heidelberg Windmill, and am looking to eventually add a couple more Windmills.
PRINTING FEATS When I was still working at the ad agency, I earned my share of design awards which was certainly fulfilling, but I'm proudest of having created a small, successful business where I'm able to do what I love.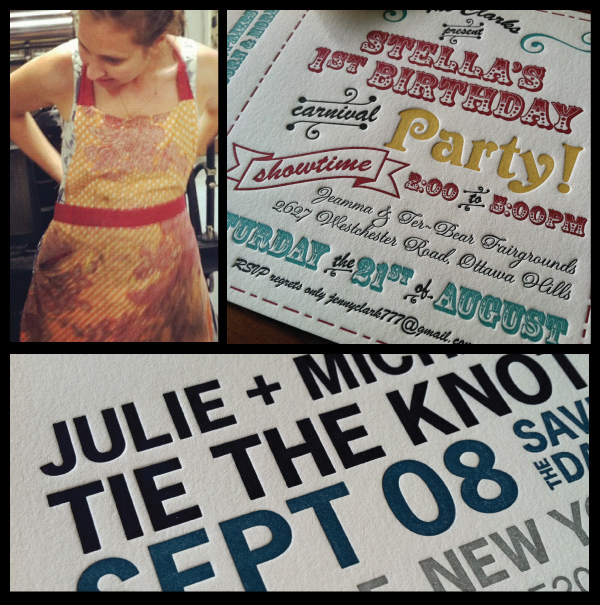 PRINTING ADVICE Phase out at least one bad working relationship that you have with a store every year. That energy you end up spending with a business that hardly yields anything is worth getting rid of and focusing your energies on the people you love to work with.
WHAT'S NEXT Coming out with a new album to replace all of our existing albums and doubling our space this spring!
Big round of thanks out to Amy for letting us get the full scoop on Alice-Louise Press!