Richard Ardagh of New North Press pushes printing boundaries by uniting technology and old-world printing traditions. The UK-based letterpress printer melds his traditional printing background, his reverence for type (and boy does New North Press have a few fonts… 700+(!) typefaces), and his love for technology. We caught up with Richard about how working with the 3-D printed typeface A23D (a first of its kind) continues to inspire him on a daily basis.
LETTERPRESS IN LONDON My name is Richard Ardagh, I'm a partner of New North Press letterpress studio in London, UK. I studied graphic design at Central St. Martins and that's where I was first got a flavour for letterpress. A few years after graduating, around 2008, I met Graham Bignell (who had founded NNP in 1986) and we began working together producing posters. In 2010, with the help of Beatrice Bless, we held an exhibition called Reverting to Type, showcasing contemporary letterpress from all over the world. New North Press is now run as a partnership, focusing on keeping the craft alive through teaching, working on commissions, and producing our own work.
SHOP STORIES The building we're in is an old shoe factory on a cobbled street in Hoxton, a previously industrial and now increasingly gentrified area of East London. The press shop is full to the rafters of type treasure. I love seeing people's expressions when they visit for the first time. We have over 700 wood and metal fonts and three large cast iron hand-pull presses – two Albions and a Columbian – plus two proofing presses and an Adana.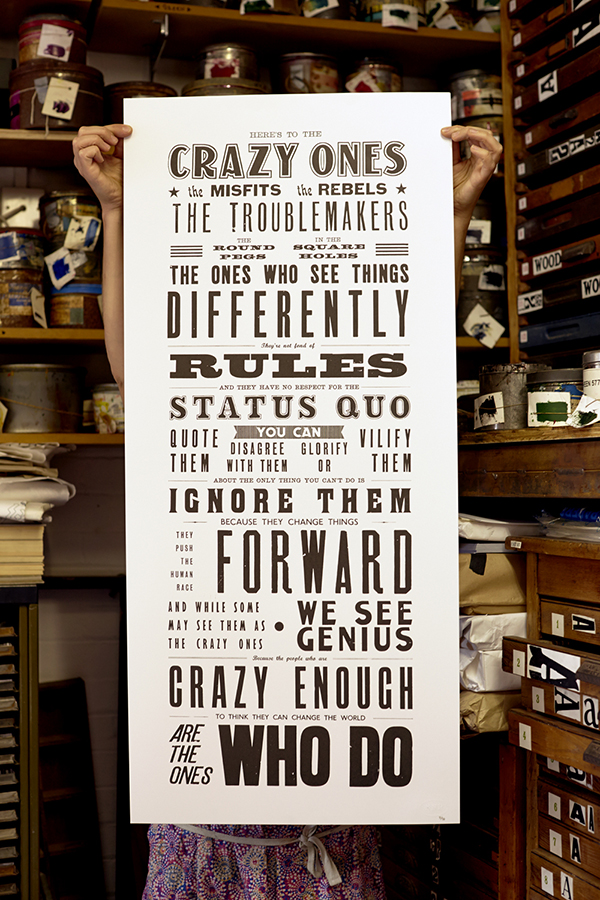 PRINTING MENTORS Beatrice and I are hugely fortunate to benefit from Graham's 30 years of experience and enthusiasm.
DESIGNED FOR PRINT We set type by hand, so design is an integral part of what we do. We're lucky to have clients who appreciate that and want to work with us because of it. It's also an important part of our teaching to help people understand how to best communicate their intended message.
THE CREATIVE PROCESS Personally I start with a pencil and paper, getting ideas down and thinking through how to order the information. I prefer to start with a fairly clear vision, but have learnt to accept and work with the quirks of the process.
PRINTING FEATS In 2015 I ran a project to produce a 3D-printed letterpress font, with the idea of making a prototype that connected the newest and oldest forms of print technology. Thanks to an Arts Council grant I was able to commission the best people I could think of to work with: A2-Type to design the font and Chalk studios to fabricate it. The result, called A23D, is a font like no other; a wireframe design with each character made up of 0.3mm lines giving them a 3-dimensional appearance similar to an architectural plan. I'm very proud of it and hope it inspires the next generation to keep evolving what letterpress is and can be.
PRESS HISTORY Graham's first press was the Albion and this was the press I learnt on too.
PRINTING TIPS Pressmanship is a complex art, I seem to learn something on each job I print.  There are a million little tricks with hand-presses, ways of using the tympan for makeready and masking using the frisket.
WHAT'S NEXT We've been invited to be part of some exciting projects and also hope to attend the International Letterpress Workers Summit in Milan again.
A huge round of thanks to Richard of New North Press for letting us catch up with the delights of his printing abode.