To come full circle as a letterpress printer is a feat that is by no means easy, but it satisfies that creative itch deep down. Karen Dufour, of Presse Dufour, is a printing maven who has connected and entwined progress, adaptability, and design consciousness as showcased in her astounding command over the letterpress art. We sat down with Karen in between ink runs to find that over the years, letterpress will find a way.
CRESCENT CITY CREATIVE  I am from New Orleans, Louisiana and I have a degree in Visual Art and Graphic Design from Southeastern Louisiana University in Hammond, LA. I consider myself a very happy wife, mom, and artist. During my career I've worked in Hammond and New Orleans, and in London, England for many years. My husband and I eventually settled back here in New Orleans, only to be forced to relocate a few days after Hurricane Katrina. And after seven years in Austin, we're back home again! Presse Dufour is run within Bayou St. John, one of my favorite neighborhoods in the Crescent City. We are thrilled to be back home and watch the progress our city has made in so many positive ways since the flood.
IN LOVE WITH LETTERPRESS  I'm a graphic designer by trade. My career has come full circle, really. In college, my first design job was working in a 2-color print shop. I loved burning film, collating, designing and taking in the smell of ink and the sounds of the presses. Over the years, I designed wedding invitations and other paper goods for friends and family. I always loved working with my hands best.
A serendipitous introduction to letterpress happened when I was looking to print our daughter's birth announcement, which was letterpress printed. I researched the art of letterpress for nearly a year, took a workshop, and found my press. From then on, I'm self-taught, like most other letterpress printers I would imagine.
DOWN ON THE BAYOU  My shop is inside our 110-year-old "shotgun" style Victorian home…in the living room! When you walk through our front door, my press is the first thing you see. I have an amazing drafting desk, which was custom made from reclaimed wood, and a table to mix my ink. It's very pared down, as I don't have a lot of room. I love printing from my home though, in the neighborhood which gives me so much inspiration.
PRINTING MENTORS  My first introduction to letterpress was through Bethany with Thistleberry Press, who printed our birth announcements. Meredith with Punch Press runs workshops in Austin, Texas, where I was able to create my first print. There are many printers who have offered me countless advice, like Casey with Inky Lips, and Barbara with Lunada Bay. Thank you so much!
Oh, and recently I was fortunate enough to have Paul Moxon pay a visit to my studio to instruct me on how to keep my press in top shape and how to make a few repairs.
THE CREATIVE PROCESS I am both a designer & printer, and I find that most of my final designs start out as my first idea. I'll have an idea, and then have a long think about it over days, weeks, or months. I think about my design ideas almost all day…when I'm walking around the bayou, driving, etc. Once I feel strong enough about the design I move forward. Some designs are hand drawn with ink, and some start out digitally. I prefer to hand draw my designs.
FULL TIME FUN It seems that I run Presse Dufour full time, but realistically it's a part-time business. My first priority is raising our daughter and making our home a happy place. I've managed to balance my day pretty well at this point. Presse Dufour has been official since 2010.
LETTERPRESS VIBES  In the short time that I've been printing I feel proud to have such positive feedback from my customers. Making my customers happy is most important to me. Whether or not my goods sell, I am most happy during the process of creating artwork, using my hands, or printing on my press. When my goods are selling well, it makes my job even more fun.
PRESS HISTORY The one and only press I have is my 1965 Vandercoook SP15 proof press.
BOXCAR'S ROLE I have used Boxcar exclusively for platemaking. You all make it easy and efficient, and your customer service always exceeds my expectations.
PRINTING FEATS I have a few. I laser print some designs on transparencies to help guide my plates with tight registration and multi-colors. I lay these on top of my base and slip the plates underneath. Also, I discovered that baby wipes clean ink off my inking surface better than any rag. I use them constantly to keep my hands ink-free while printing.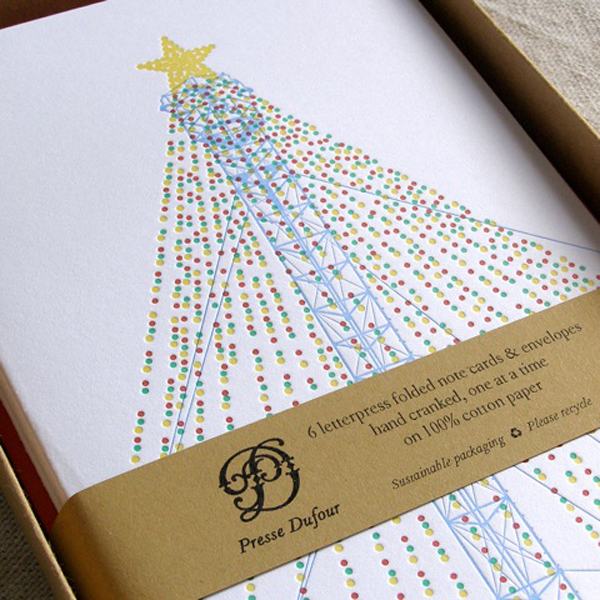 LETTERPRESS COMMUNITY I've been blessed to be a part of a very exciting creative project that I've been working on diligently for the past month. I've partnered with MESA Production Company, here in New Orleans, to design and sell note cards and limited-edition prints related to 33 VARIATIONS, a 5-time Tony Award Nominated play written by Moisés Kaufman. The story is about a modern-day music scholar driven to solve one of classical music's enduring riddles – the mystery behind Beethoven's Diabelli Variations. A story about familial love, romantic desire, and artistic obsession, this extraordinary play examines what it means to lose the things that define us, and what we end up gaining in their stead. The play will run here in New Orleans September 11-29 at The Contemporary Arts Center.
My Etsy shop will carry the note cards and prints throughout the month of September and proceeds from those sales will go to benefit The ALS Association Louisiana-Mississippi Chapter and Team Gleason in helping to create a world without ALS!  Details and tickets for 33 VARIATIONS can be found here.
WHAT'S NEXT  I have many designs in the works that express my love of the Gulf South. Watch this space!
A heaping round of thanks out to Karen Dufour for letting us get the skinny on Presse Dufour!