When you tour the sunny and smooth streets of Oakland, California, one spot in particular pops out at you in the fresh and thriving neighborhood: the hidden gem that is Press 65. Tucked away in the impeccably shabby-chic home of the husband-and-wife team, Paola Hurtado, the letterpress printing maven of the creative husband-and-wife duo, sat down with us to blur the lines between design and the art of letterpress.
IMPRESSIVE PRINTS I was born in Curitiba, Parana, in the south of Brazil. I moved to the States with my family when I was seven and have lived in various parts of California since. While in high school, I discovered my passion for art; and during my senior year I decided that if I passed the AP Studio Art Portfolio Review, I would take it as a sign that I should apply to art school.
With a passing score, I applied to the Academy of Art University in San Francisco and began studying Fine Art. In 2010 I married a painter/photographer, Marlon of MH6 Photography, and in 2011 we founded Press 65, a husband-and-wife custom design and letterpress studio.
ARTISTIC CALLING When I started at AAU, I declared Fine Art Painting as my major, assuming this was the logical course for me. However, during my first painting class, the instructor constantly told me I was "rendering" instead of "painting"! This was a huge contrast with my Intro to Printmaking class, during which I found my artistic calling. Once I changed my Fine Art emphasis from Painting to Printmaking, I was introduced to letterpress by Megan Adie of Aviary Press. Megan was my first and only letterpress instructor, as I took her class 4 times!
CALIFORNIA CREATIVE Six months ago, Marlon and I moved out of San Francisco and into great Hoover/Foster neighborhood of Oakland, California, where we now run Press 65 out of our bright, shabby chic home. In the Press 65 space you'll find what inspires us and what makes us smile: vintage books, mini succulents, Brazilian instruments, a His Master's Voice gramophone, and our two adorable cats, Cezanne and Michelle Pfeiffer.
PRINTING MENTORS Megan Adie of Aviary Press will always hold the role of being the first person to teach me the art of letterpress printing. Currently, however, I look to the lovely Macy Chadwick of In Cahoots Press for inspiration, motivation, and mentoring. With a beautiful personality, as well as gorgeous letterpress and artist's books that speak to my inner person, Macy plays a part in my drive to continue printing. I admire Macy more than she knows.
DESIGNED FOR PRINT For my prints and artist's books, I design in the sense that I create compositions and book structures. However, I often tell people that I am an artist, not a graphic designer, because for me there is a clear distinction between art and design. With the bulk of Press 65's business being wedding invitations, though, I am forced to blur the lines a bit and play the part of co-designer, along with my husband. At the end of the day, though, printing – with its complexities, difficulties, and ultimate beauty – will always be my favorite part of the job.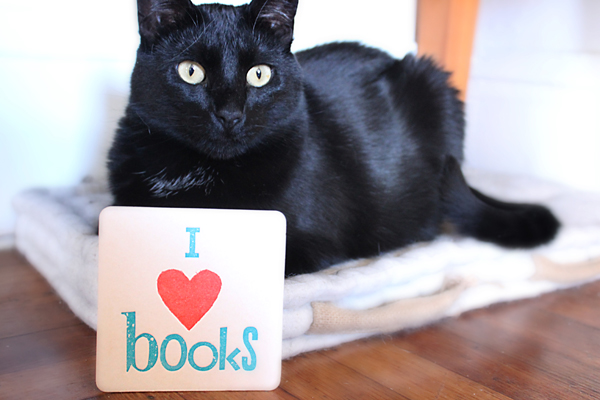 THE CREATIVE PROCESS In my personal work, design is a very introspective, quiet process that mirrors my introverted personality. I allow concept to inspire form. In Press 65's commercial work, where Marlon and I share the role of designer, form often comes first, because that's the way Marlon's mind works. He is frequently very taken by a grandiose idea, as his imagination holds no bounds; and I tend to come in at a later stage to bring the concept and design back down to earth. It's really a perfect design duo situation: he has the imagination to think up the big picture and I have the attention to detail to perfect it.
FULL TIME FUN Yes and no. I print full-time because I am lucky enough to print part-time for my mentor, Macy Chadwick, while Press 65 is currently run as a side business.
PRINTING FEATS I am incredibly proud to have had the opportunity to show my work in printmaking and book arts at various exhibits, both in the States and internationally. I remember my first purchase prize (into the University of Florida Book Arts Collection) as if it were yesterday; and most recently, I am proud and grateful to have had two of my letterpress artist's books exhibited during the SGCI 2014 Conference. It is also an honor to have designed and printed wedding invitations for my little sister who is getting married this month.
PRESS HISTORY I learned to letterpress print on a Vandercook No. 4, and for that reason Vandercook cylinder presses will always be my equipment of choice. In the past couple years, I have grown more accustomed to the Vandercook Universal 1 than to the Vandercook No. 4, as I appreciate one less metal roller, as well as the efficiency of switching from Trip to Print with a simple tap on the gripper pedal. I'm happy to be on my way to acquiring a Hohner Model D platen.
BOXCAR'S ROLE Since the start of my letterpress career, Boxcar has been a go-to resource for letterpress. Boxcar has everything a letterpress studio could need; and most recently, Letterpress Commons has been added to the mix as a wonderful way to connect printers all around the country.
SHOP TIPS Always "measure twice, cut once." Letterpress can be tricky business so it's important to take your time. I've found that sometimes, if something strange is happening on the press and I've used all my problem-solving juices in vain, it works perfectly the next morning. So don't be afraid to step away for a bit and come back to a project later. Also, make sure that you love your space: surround yourself with things that inspire you, and always have your favorite music on. Being in an enjoyable printing space allows you to fully delight in the letterpress process.
WHAT'S NEXT We have lots of exciting little plans for the coming year. One that we're happy to share is a collaboration between Marlon and me. While we run Press 65 together, we have never joined our personal art forces before. We're thrilled to start a project involving Marlon's photography and my letterpress.
Big round of thanks out to Paola & Marlon of Press 65 for letting us take a look around!