Most letterpress printers find a sense of home in the happy clinking & whirling of the press. Danny Rhoades of Creative Beasties Workshop is no exception. The IT-by-day and printer-by-night found the letterpress bug bit hard after planning his own wedding. Turning part of his garage into his printing mecca, Danny finds inspiration in exploring creative options with his clients, his supportive family, and letting the press provide valuable teaching moments. Since our last visit with Danny, he caught us up on new printing tricks, the feeling when registration is spot on, and the wonderful rhythms printing has played in his life.
PRINTING JAM SESSIONS + FAMILY LIFE I'm a 37 year old married father of 2 adorable twin girls (age 2). It's mostly me by myself printing since my wife is usually dealing with the kids. I sometimes have creative friends come over for printing sessions but other than that it's just me.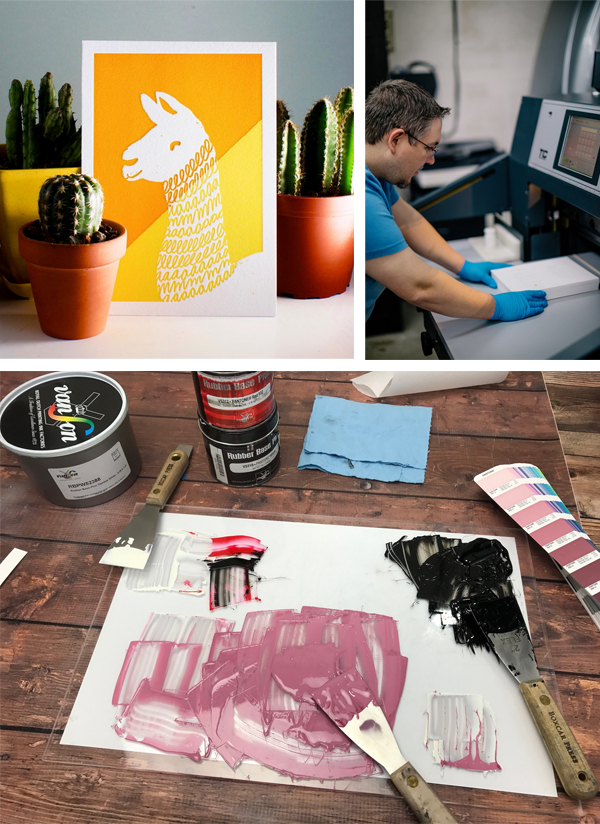 BLOSSOMING PRINTING LOVE When my wife and I were planning our own wedding we both got super interested in the invitation options out there and came across letterpress. I instantly fell in love and that eventually blossomed into Creative Beasties Workshop.
PRINTSHOP EFFICIENCY Our workshop is in the tandem portion of our garage. It's only about 288 sq ft so it's very limited. My favorite thing about it is the Heidelberg Windmill 10×15 press that brings it all together.
AT HOME PRINTING  We're in a pretty new constructed suburban neighborhood. The most interesting thing about our home is that it backs up to a 20 ft. sound wall for Highway 65.
PRINTING MENTORS One of the first people to teach me about letterpress was a gentleman I met on the Briarpress.org forums who goes by the handle, Inky. He taught both my wife and I the basics and helped us really understand the foundations of the process. I owe him a lot.
PART TIME PRINTING, FULL TIME FUN I wish I could print full time, but with a mortgage and budding family, I can't afford to do that just yet. I work in IT and my day job pretty much supplements our workshop quite a bit.
DESIGN BROUGHT TO LIFE I don't design as much as I'd like mostly due to time constraints, but when I do it's usually after a lengthy conversation/meeting with the client to fully understand their motivation and inspiration so I can bring it to life and elevate it the best I can. One of my weaknesses is not knowing when to stop. This is something I am working on, and think I'm getting better … but I know it's a flaw of mine.
PRINTING FEATS One of my proudest moments occurred when I was able to produce a 3 color work, shortly after having trained only for three days on the press. The registration was perfect and the colors were spot on.
PRESS HISTORY I learned on a C&P old style, but when I bought my own I went straight for the kill and got a Heidelberg Windmill 10×15. I didn't even know how to use it! I was super scared at first and had to take a three day training to understand how to work it.
BOXCAR'S ROLE Anytime I need any advice … or help with a job I can always count on Boxcar to be there to walk me through it.
PRINTING TIPS For just starting out, don't blame yourself too much. I blamed my inexperience a lot before I realized there was an actual problem with the press that needed to be fixed. The same thing happened with rollers. Once I changed to a different supplier things worked out much better. Sometimes, it is actually the equipment.
WHAT'S NEXT I hope to continue printing and eventually build a client base that can support me printing full time.
A big, huge Windmill-size round of thanks out to Danny of Creative Beasties Press! We look forward to seeing what cool, new projects come his way.