As a full-time mom and part-time printer, naturalist Mirka Hokkanen exemplifies the can-do printing spirit. The fine arts printer has enjoyed the challenges and joys that also come with relocation as her wonderful husband is active in the Army. The results are astounding and show the love she has for the printing tradition as seen in her beautifully detailed nature-themed linocuts and letterpress print work. We sat down with Mirka to talk shop, what it's like to catch up with letterpress after all these years, and of course her upcoming wood engraving teaching position in Finland next summer.
THE TRAVELED PRINTER I'm a printmaker, mom, army wife, Finn, and an animal and nature lover. I was born and raised in Finland and came to the US after high school to go to college as an international student. I took a printmaking class my first semester and have been printing ever since. After my MFA, I got married to an Army guy, and we have been traveling the US (and Europe) since. Our family now consists of my husband and I, two kids, a doggie and fish.
The kids are finally old enough to be at a part time day care, and I am starting to work in the studio more efficiently. I feel like there is so much work to catch up with after being a full(er) time mom for several years. We love spending time outside (as much as the Texas heat will let us). The kids are just as interested in exploring nature as I am.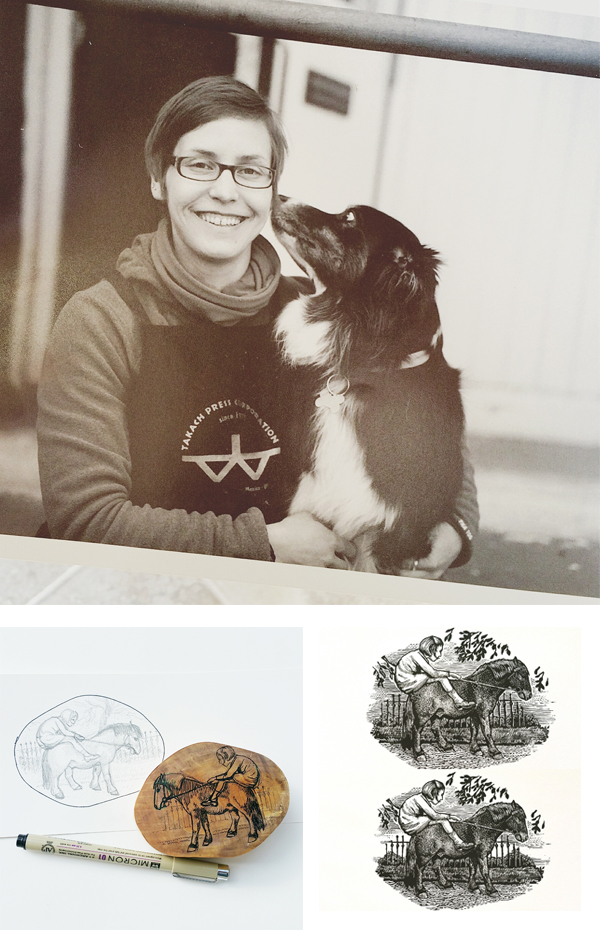 FOR THE LOVE OF LETTERPRESS There were some awesome letterpresses at the University of Dallas, where I got my MFA from. No one knew how to use them, so for my graduate work, I set some type on my own, and did embossing for a book project I had. The experiment was fun, and as a printmaker, I love all presses, no matter how they print. The seeds of letterpress were sown and I went on my way with etchings. Fast forward about six years, and several state-to-state moves. I was trying to look for a medium that was easier to move than etching equipment, but something I could get high detail in. I exposed polymer plates at home for intaglio, and was getting into color reduction linocuts. Letterpress drew me in, because of the ease of registering multiple plates. I proceeded to drive an hour and a half to take letterpress classes at SVC in Seattle and met Carl Montford who then taught and got me involved with wood engraving.   
PRESS HISTORY My very first press was a blue Dick Blick etching press. I used it quite a lot, but when I started getting into letterpress, I first got a tiny Sigwalt from eBay for almost nothing (because it was in horrible shape). Obviously that did not take me too far after fixing it up (I don't think I ever printed anything with it) and within a couple years, my studio had an assortment of about 5 letterpresses in all shapes and sizes. 
PRINTER ON THE MOVE Wherever we move, we do our best to get a house with enough room to have a studio in it. That way I can be at home and pop to work in the studio as much as possible. Compared to most other printers, my shop needs to pick up and move every three years, which limits the amount of things I can accumulate. I barely have any type for that reason or huge presses, and use polymer plates or carve linoleum if I need text in my work. My current studio is tiny, I can't teach classes in it, but the best part about it is that it is right here, and I can go in there whenever I have a spare moment.
If I had to pick one thing to save in case of a fire, I'd grab my Morgan Lin-o-scribe press. I think everything else I could bare to part with or could replace. It's like a loyal old dog: he follows me around everywhere we move, is a little shaggy and rough around the edges, waits for me patiently when I can't get to printing for months, and makes a great impression whenever I need to get work done quickly.      
THE PRINTER AND DESIGNER I've always considered myself a printmaker, but recently I've been becoming more of a proper business owner too. I come from a fine art background, so I've always done everything from designing the images, and carving the plates, to hands-on printing and then photographing and marketing to sell the finished product and sending them off to their new homes. 
THE CREATIVE PROCESS I usually have a mix of ideas in my head for new prints. I think it kind of looks like alphabet soup in there. Over time, I might sketch things on paper and let them marinate some more. Sometimes things will mull for over a year before the time is right to start working on them. When I finally have the finished idea of what I want to do, the execution goes pretty fast.
I often don't sketch things too much. Many times it's just one drawing that I might work over and over, which gets transferred onto a block and then carved. It's fairly mechanical after the idea is complete. For multiple plate blocks, with several colors, I might do thumbnail sketches with watercolors, or scan my drawing and play with color options in Photoshop.

PART TIME PRINTING, FULLTIME FUN I'd say I work as an art business as close to full time as I get from the kids. I've done my fair share of odd jobs over the years, from adjunct teaching, to volunteering and then staying at home with kids. With the moving, my studio is the only thing that travels with me and that I can work on consistently. My dream one day is to make prints full time and have an assistant who would do some of the business end of things. It won't be until after we settle down one day, though. It's fun to dream in the meantime, though.
PRINTING FEATS I'm proud that I'm still printing with passion after all these years. I have more confidence than ever in my work, and have figured out how to challenge myself and grow without the consistent support of a local artist/printer/gallery community that many others have. My friends live far and wide, and the peer community who I rely on offers support through emails, phone calls, and social media groups.
On the flip-side; picking up every three years, has forced me (a sworn introvert) to become super fast at networking every time we land in a new town.  
BOXCAR'S ROLE I've been ordering unexposed plates from Boxcar for about 5 years now, and the service has always been flawless. I've even ordered a couple ready made plates, when I wanted something to turn out perfect or needed lots of detail that I didn't want to risk exposing myself. I have some ideas for prints with larger plates, that I care not to carve as engravings, and Boxcar will be my go-to plate source at that point.
PRINTING TIPS I usually print linocuts and engravings, which in some ways is different than type. I've got a lot of tricks up my sleeve to get things to print right. First, I almost always prefer to ink by hand, which gives me more leverage on ink coverage, and how the paper lays on the plate while printing.
In this video, you can see I use pieces of foam on big prints to keep paper off the plate until the press rolls over it. It keeps the ink from making stretch marks in solid areas. If you use a different system, like a Vandercook or an iron hand press where the paper meets the plate differently, this wouldn't make a difference.
Really, the biggest advice I can share is: have lots of patience and have a group of people who you can call on for advice. The best way to learn is just to do lots of it. You will have a different problem with each edition to solve, so you become really smart by the time you're a seasoned printer. LOL! I try to keep up with a blog of tips and tricks. It's a record for myself to remember the things I've done with editions and hope it's something for students to reference also. You can find it here!
WHAT'S NEXT At this point it looks like we will be moving overseas in the middle of 2017. Packing and unpacking will take up most of the year, so I am working really hard to build up a mailing list now, and release a collection of prints in March-April before we pack up. Join the mailing list here!
Secondly, I am also really excited to be teaching a wood engraving beginners class in Finland next summer. The technique is all but died out there, so I hope to invigorate and inject some enthusiasm about engraving into graphic artists there.  
A big round of thanks out to Mirka for letting us get a sneak peak at her beautiful printing world!