Newly fledged full-time architect-turned printer, Lauren Ralph of Helen Edna letterpress shares with us her printing journey so far. From being inspired by the vivid color palettes of Van Gogh and Kandinsky to taking up printing lessons at the International Printing Museum in Carson, CA, Lauren's bright and clean designs reflect her dedication to the printing tradition.
TACTILE ARTIST
I began my career as an architect. Shortly thereafter, I came to the realization I missed working with my hands. The summer of 2018, I embarked on a new journey and opened my letterpress stationery studio, Helen Edna.
I took printing lessons at the International Printing Museum in Carson. My favorite part was learning the printing process and being able to print my hand-drawn designs and turning them into cards. As a result of the printing lessons, I bought a Golding Pearl. Next, I made the leap to start Helen Edna!
LOVE AT FIRST PRINT
Letterpress cards in boutiques are something that I have admired. Being able to design and print my own cards for people to enjoy is something that brings me great joy.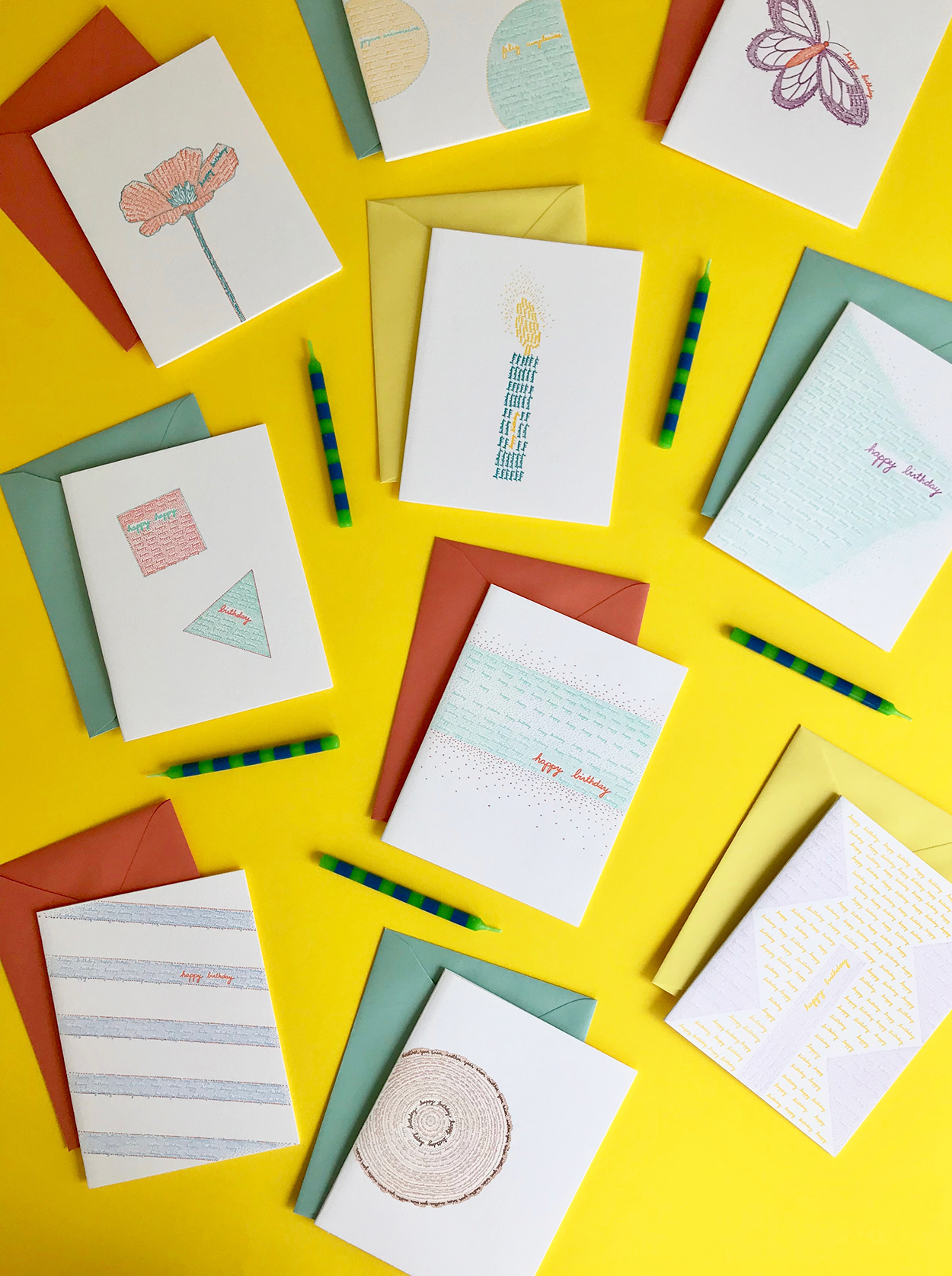 CALIFORNIA COOL
I live a really neat area in California that is close to just about everything. My house is near the Headlands Conservation Area, Dana Point Harbor … and next to Strands Beach in Dana Point.
All the design work and order fulfillment takes place at my home in Dana Point. While all the printing happens at my husband's grandmother's home (which is nearby).
PRINTING MENTORS
One of my printing mentors would be Mark Barbor, the International Printing Museum Director. Not only did he give my husband and I a printing lesson at the museum. Even more, he has been helpful in getting me started. In addition to Mark as a printing mentor, artists such as Van Gogh and Kandinsky are inspirational.
FULL TIME FUN
Over the last several months, I have been printing full-time. It is a true pleasure in seeing my designs come to life!
CREATIVE PROCESS
How does the creative process begin? First, I begin drawing thumbnail sketches in pen and ink. Next, I take a photo of the design is uploaded in Adobe Draw. From here, I use the Apple Pencil to create the illustration. After this, I export the drawing into Adobe Illustrator and adjust the Pantone colors. Finally, I prepare the design file to send to Boxcar Press. The design file includes adding registration for the designs that are full-bleed.
PRINTING FEATS
One of my biggest printing feats is opening Helen Edna. Opening this store is something I have dreamed about for years. 
FIRST PRESS
A Golding Improved Pearl No. 11, which I bought from the International Printing Museum in Carson, CA.
BOXCAR PRESS' ROLE
Boxcar Press' customer service is impressive. They have a really fast turnaround, are always very polite, and willing to help with any questions you may have.
PRINTING TIPS
I have three pieces of printing tips. My first, If you are looking to save time … for card designs that are not a full bleed (and have a good margin around the design) I order precut and folded A2 Crane Lettra, from Astro.
My second tip, to achieve the perfect registration try overlaying your design with the printed design on vellum.
The final printing tip, if you are looking for Pantone ink colors to be spot on, and able to apply directly from the tube onto the disk, check out Southern Ink.
WHAT'S NEXT
I'm hoping to exhibit at the National Stationery Show for the first time! I also plan on doing more craft fairs and continue to play with designs for my line.
Immensely large round of thanks + appreciation out to Lauren of Helen Edna!