Letterpress has always been an ingenious outlet for creative and informative expression, and Hope Amico of Gutwrench Press is an avid subscriber to both. This California-based printer keeps the inspired gears turning each month via her community-involved postcard Keep Writing Project. We caught up with Hope as she let us in on the fantastic letterpress journey that has her smitten with printing.
FOR THE LOVE OF LETTERPRESS  I have always loved letter writing and storytelling. I have had penpals since I was 10 and have been self-publishing stories since high school. Learning the craft of letterpress was one more tool for me to express this. Postcards are my favorite thing to print, and my monthly interactive postcard subscription, the Keep Writing Project, is my reason to keep printing.
INK IN THE BLOOD I was already printing woodblocks and etchings. A friend had a little tabletop press and some type and let me print a few woodblocks with captions for a print show I had coming up. After a few terrible prints, I got enough work together to apply to school. I went to art school as an undergrad in my 30's because they had letterpress and papermaking equipment that I wanted to learn to use.
MY PRINTING ABODE I rent space from Painted Tongue Studios. They have a Heidelberg Windmill and a Vandercook 4 and a platemaker, which is about everything I need to print postcards. I print on the weekends alone. The other aspects of my work are so social I love having the quiet studio to myself. It is located about a mile from downtown Oakland but what I love is that it is about 6 blocks from my house, so I can usually get back and forth with just my bike.
PRINTING MENTORS Vintage postcards. I was an intern at Blackbird Letterpress and Kathryn taught me about patience, precision, and making good choices. I still write and read zines. I love collecting things, eclectic styles and experimenting.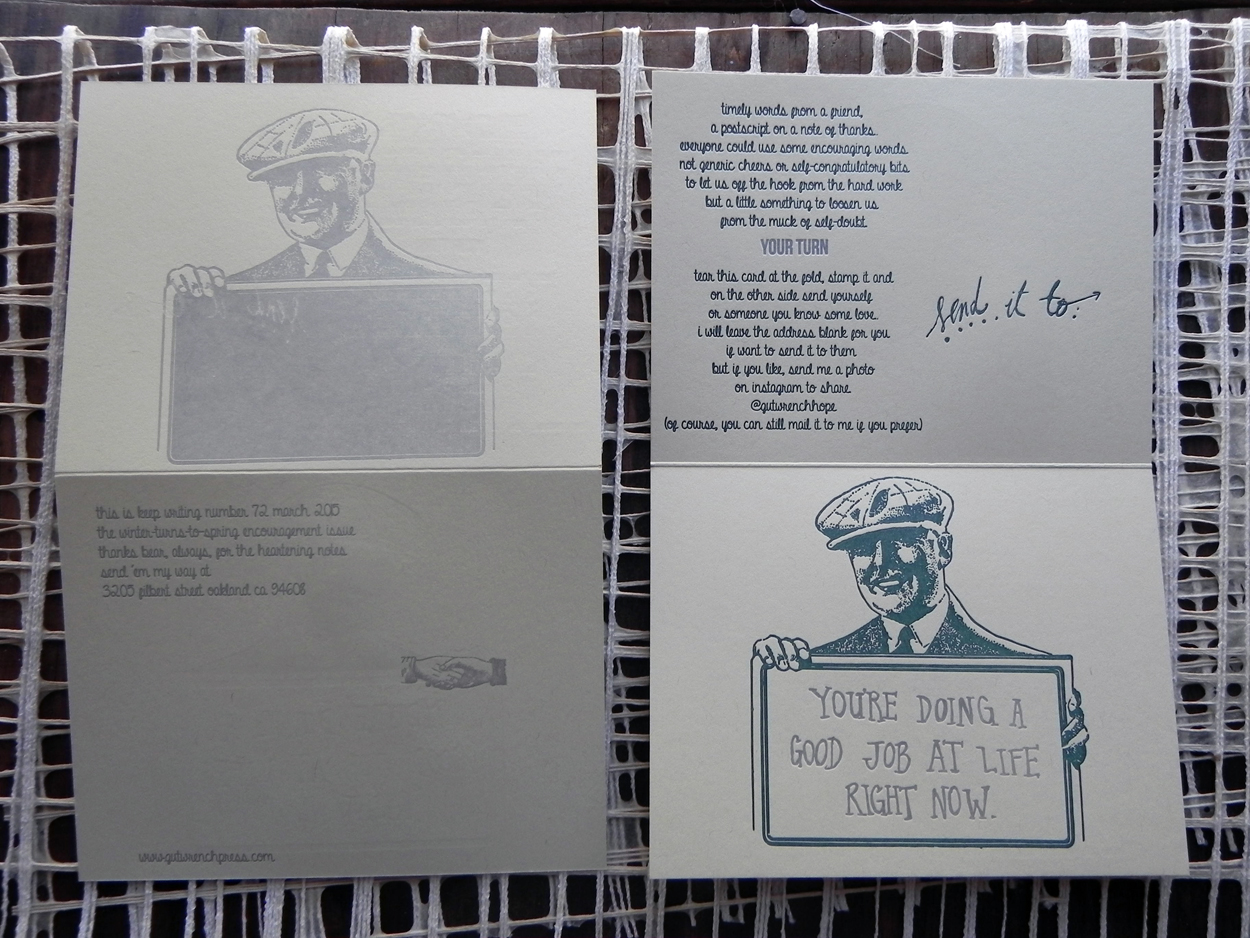 THE CREATIVE PRINTER I do it all [designing & printing]! Though sometimes I team up with illustrator friends who design a postcard for me, most of the time it is all me! I am also a part time yoga teacher, and work 2 nights a week at a restaurant. I would eventually love to give it up to just print and teach.
THE DESIGN PROCESS For the Keep Writing Project I come up with a design that has both a theme and a question every month. I keep a list of ideas in my notebook and draw from that, sometimes trying to match ideas with timely events or holidays. This year for December I printed a holiday fill-in-the blanks card which was a challenge and a lot of fun. Writing your own mad lib-like story is tricky. The image I create is usually based on function — either trying to convey a message or an excuse to try a new trick.
PRINTING FEATS Maintaining the Keep Writing postcard project since 2008 despite multiple moves and 2 long-term stays in Italy. During my second trip, I brought a gocco printer and a bunch of cards with text already letterpress printed on them. I added the images with the gocco while my roommates slept. It was a lot of trouble to print with the little press — I accidentally packed it on my carry on and almost missed my flight because I forgot about the exploding flash! But I love that I have this monthly challenge for myself and it is also part of my job.
I also printed a broadside for a bookstore in the city as a part of California Independent Bookstore day. It was designed in collaboration with John Waters, so when he read at the store later that month, I asked him to sign it for me. I told him I was the printer, but he was more interested in talking about how easy it is to find blue hair dye nowadays.
PRESS HISTORY I still don't own a press! I had 2 presses that were given to me because they had been flooded during Hurricane Katrina — both were tabletop presses, one for etching and one was a proof press. I gave them both away to friends who needed them. I've always been lucky enough to be able to share presses when I need to. I've also moved around a lot, and I think I have been hesitating to commit to a press until I think I might stick around for a few years.
BOXCAR'S ROLE I ordered my first plates from Boxcar! Two years ago I bought myself a base so I could use the windmill I had learned on to increase production and efficiency. It was a big step for me. I have been slow to move from passion project to full-time business, and I am en route. But Boxcar has been supportive in every step, with every question.
SHOP TIPS I got great advice once in school that stayed with me — find the thing that makes your work yours and push that aspect. This was something I needed to learn about process — that despite all my training in letterpress and love of craft, I am not a minimal or precise or neat printer, so I learned to work with those aspects that made my work unique. I can print very fine lines with super tight registration and I did that as I printed other people's work, but for myself I tend to keep it a little more loose. Also, staying true to my love of postcards has been a more difficult business choice but I love what I do so much, I am willing to find ways to make it work.
WHAT'S NEXT I want to print more yoga-themed cards, integrating my two favorite things. And maybe more collaborations this year. A few artists have asked and I love the idea of it.
Huge round of thanks to Hope of Gutwrench Press! Keep up the amazing work!