Matt Robinson, the Georgia-based printer behind Studio Four Three, finds inspiration in the life-cycle of design, the kinetics behind architecture, turning out custom-based letterpress work, and accessing solace in his C&P's. While sitting down with Matt, we found out that his love for letterpress flows strong as he mused about his newlywed bliss, his blossoming studio, and the mentors he's been proud to work alongside.
LOVE & LETTERPRESS Studio Four Three was officially launched on April 3rd a while back when my wife and I exchanged vows and said 'I do'. Specializing in custom letterpress invitations and stationery, we named our business Studio Four Three, which was chosen by the day we got married.
We initially met when I was asked by Lauren to design a logo for her blossoming photography upstart, and as they say, the rest is history. It wasn't but 9 months later that I proposed to my former client and future bride. We are now expecting parents, currently live and work in Alpharetta, Georgia with our two dogs, Elvis and Libby, and they are eagerly preparing for the arrival of our baby boy (who is sure to be creative).
BEAUTIFUL BEGINNINGS As far back as I remember, I always loved art and architecture and thought that one day I would be an architect. After entering college to study architecture, what I found I loved most was designing something and watching it come to life. Whether it was drawing something on paper and building a scale model of the design, I loved that ideas had a life-cycle of their own. I left school and worked for a print shop for a while and learned how to take my designs on the computer and turn them into a final printed product. The same thing I loved about school [was what] I ultimately loved about print media as well.
It was only a matter of time before I encountered my first letterpress machine and immediately became enamored with the antiquity and complexity of the large moveable cast iron gears and parts. I knew without a doubt in my mind that letterpress was exactly what I wanted to do.  That was several years ago and my love for letterpress grows stronger each day.
PERFECTION IN THE PEACH STATE We are blessed to operate out of our house; our garage hasn't seen a car in a long time because it's packed with all sorts of letterpress goodies.  Everything from presses, shelves full of ink cans, drafting and composing tables, paper cutters, etc. This space is fully dedicated to our love and passion for letterpress. We are located just north of Atlanta, Georgia and conveniently a few miles from both my parents, sisters, and my in-laws. With a little one on the way, being close to family was our biggest decision in relocating to the suburbs. As it stands, we have a 1923 10×15 C&P, a 1910 No. 2 Potter Proof Press, a 6.5×10 C&P Pilot and a old style Gordon Press on its way down from New Jersey.
PRINTING MENTORS While I have had an opportunity to meet some of the best printers in my area, I have one person I could call a mentor. Chris from Farmwood Press has helped me beyond what words can express. I have worked alongside him and he patiently helped teach me the basics of letterpress and allowed me to use his machines before I bought my own. I also spend a substantial amount of time researching other letterpress printers, watching videos, and reading blogs. A lot of what I know has come from self-educating and asking many people a lot of questions, but nothing compares to what Chris has helped teach me.
My wife is from Orlando, Florida and has stayed in touch with her childhood friends- one of whom recently got married.  My wife asked me if we could go to the wedding and I immediately said "yes, but only if we can go visit Mama's Sauce while we're there!"  She laughed and said "yes dear, we can go see their shop."  While the wedding was a lot of fun, the highlight of my long road trip was visiting the shop that produces so much incredible work that I admire and meeting the guys who have built the business from the ground up. These guys have been probably my biggest inspiration!
THE CREATIVE PROCESS I do design for my clients, which is one of the things I really love about my job.  While there are lots of printers that print other people's designs, I enjoy seeing what I work on come to life in the form of a final product. Our business works with a lot of brides and grooms (mostly brides though) so we focus a lot of our time on developing custom design solutions for their upcoming wedding. Everything begins with a very organic approach to their project: we listen to the client tell us about themselves and what they have envisioned for their wedding. Based on the discussion, we begin working on their design. Once everything has been approved, we get the files ready to send off to Boxcar Press and when the plates arrive, we go to print. Everything we work on is custom, from concept to completion, as it's all centered around their wants, their vision, and their budget.
DESIGNED FOR PRINT I went to a large art school and have been fortunate enough to cultivate friendships with some incredibly talented artists, architects, photographers, etc. and am constantly impressed with how talented they are! I have kept in touch with many of them over the years and am blown away by some of the work they're currently producing. While I design for my clients (and they often love what we are able to produce), I think comparatively I have a lot of growing as a graphic artist left to do. I believe that if I ever stop learning, I will become stagnant and that won't be a good thing. I print what I design, but I'm always inspired by what other people are producing.
FULL TIME FUN Thinking about what I want the future of the business to look like, I get a huge grin on my face because it brings joy to my heart to think about doing something I love so much for the rest of my life. I currently design and print full time; however, a majority of my mornings are spent writing and responding to emails, balancing books, and placing orders.
I do want to continue to grow the business and be at a point where we have a few people working alongside us designing, printing, and working on business development. I love all three aspects of the business but its difficult to print all the time if I am not generating projects and designing for clients, so my time right now is spread between the three areas.
PRESS HISTORY I guess in retrospect it's a funny story: I had a client who wanted her invitations letterpressed and her deadline was to design and print her project in less than a week (needless to say, she waited a little too late in the game to work on letterpress invitations!) and I couldn't find any company that could letterpress her project as quickly as I needed to have it back to her. This led me to think about buying a press so that I wouldn't have to rely on someone else to do something I needed done for my design business.
I bought a small Kelsey 3×5 on eBay and when it arrived, it was a nightmare!  It looked like it had been sitting outside for a few decades so I painstakingly restored it and brought it back to its original glory but realized that it was far too small to use for an invitation suite so I decided to sell it on eBay. I made quite a profit on that sale and I bought my second press, a 10×15 Chandler and Price new style platen press, and still had half of my profit left over! Like I said, I made quite a bit of profit. Since getting the C&P, we have been able to buy a few more presses.
PRINTING FEATS I'm really proud of my wife, Lauren, for sticking by me and encouraging me to do something I love.  There's nothing easy about working 70 to 80 hours a week, but its worth it if the job is something you love, and letterpress is definitely something I completely love.  Needless to say, I married my best friend and that's probably the accomplishment I am most proud of.
BOXCAR'S ROLE There is hardly a day that goes by that I don't visit Boxcarpress.com to either place an order for plates, or to tinker around and do a little research.
SHOP TIPS Learn how to use your press and what its capabilities and limitations are.  I have met a lot of people who look at the business of letterpress as a source of a making a quick buck, but profits often fall by the wayside if the printer doesn't understand what their press can and cannot do.  Develop and build your business organically; it takes time, effort and intentionality to grow so don't expect your venture to be profitable immediately. Our personal relationships with our clients are our most valuable commodity and their recommendation to their friends and family is the best form of advertising that money can't (and never will) buy.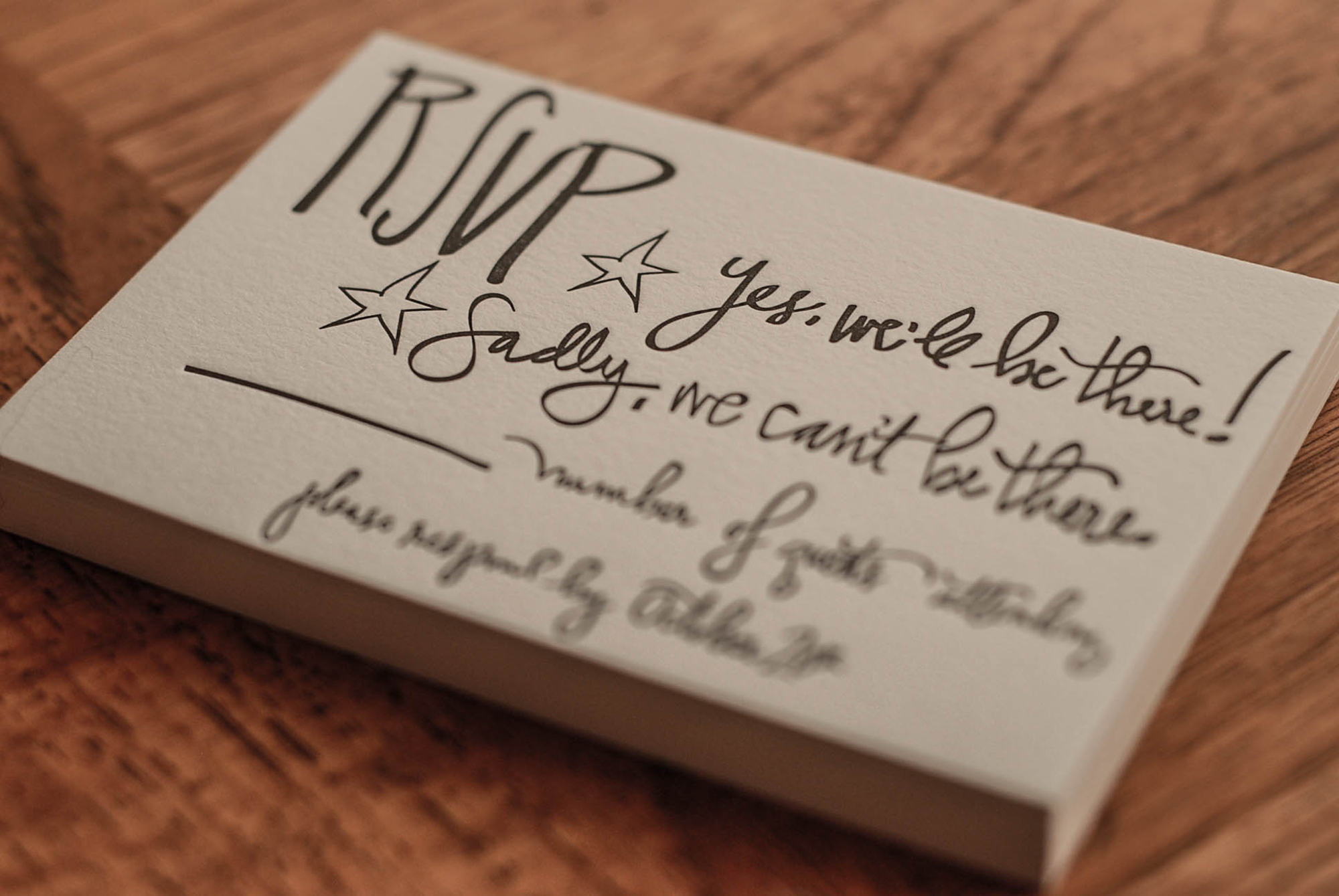 WHAT'S NEXT Well, now that 2013 is officially here, we are looking forward to the arrival of our son (Judah Woods), who is due in a matter of weeks!  We're incredibly excited to welcome this little guy into our hearts and will be devoting a lot of time to him. If there is anything else I could add, I think I would like to say that I hope he will follow in his father's footsteps (that's me!) and letterpress as well….or at least find something he loves and pursue it with passion. I have been looking online for an old 3×5 Kelsey to restore for him. (Who knows, maybe I will restore it, sell it, and buy him a Heidelberg Windmill with the profits, right?!). In regards to business, it is our hope and prayer that we have another great year and work with some incredible clients.
Big round of applause and congratulations out to Matt for letting us catch the beat on Studio Three Four!