When he showed up on the printing scene in 1962, Bill Paulus was armed with attributes that are a trifecta of the trade: common sense, passion, and a laser-focused 24 hour workday attitude. Fast forward a half a century later and you'll find that Paulus happily occupies a letterpress menagerie in the Atlanta, Georgia area. And life has never been peachier.
Read on to get the full story on Bill!
PASSION FOR PRINTING  I am Bill Paulus, born in 1950 in Zanesville, Ohio. I began my career in printing in the last days of June, 1962. Only have a high school education, according to establishment quid pro quo. In reality, 50 years of O.J.T. while attending the school of hard knocks.
INK IN THE BLOOD Like it or not, (and I did not like it.) I was conscripted by my mother and stepfather out of economic necessity.
LETTERPRESS MANCAVE I have a private letterpress shop, letterpress studio, or letterpress mancave (choose your preference) in the basement of my home located just a stone's throw (no pun.) from Stone Mountain Park in Metro Atlanta, Georgia. 
Equipment, or toys, to date: 1917 vintage 10 x 15 C&P New Series hand feed; 1930's vintage 10 x 15 Kluge Automatic; 1954 vintage 10 x 15 Heidelberg Windmill; late 40's / early 50's vintage Miehle Vertical V50; 1917 vintage Intertype linecasting machine; 1960's vintage Ludlow Typograph; 1920 vintage 34 inch Challenge Diamond power paper cutter; 1940's vintage Challenge floor model paper drill with round corner attachment; 1954 vintage Rosback auto stitcher; and a 1936 vintage 14 x 20 Baumfolder.
PRINTING LEGACIES The Late George Lilienthal, Donald Mathis of Zanesville, Ohio, and Ben Franklin.
DESIGNED FOR PRINT My forte has always been printing production in the areas of letterpress (my first love), offset, flexo, diecutting, embossing, and foil stamping.
FULL TIME FUN From 1962 until 2009, I was printing full time. During this time, a day variously consisted of 12, 18, 24, 36, 48, or 72 hours.
There were a couple of times I was printing one way or the other seven 24 hour days non stop. Take note: The word "work" has not been mentioned. I was having too much fun to classify what I was doing under the category of "work". Adding to it all, if I was moving printing equipment, well, that was fun in overdrive.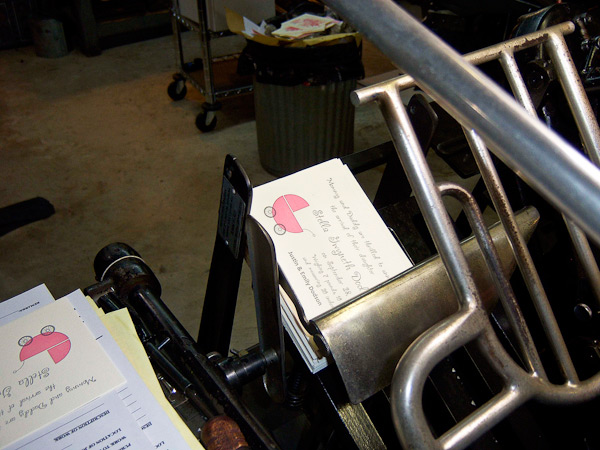 PRINTER'S PRIDE The many letterpress and offset printing production awards ranging from honorable mention to best in category presented by peers in the graphic arts industry.  Also, a period of 44 years of moving printing equipment without any kind of mishap.
BOXCAR'S ROLE  They have provided an alternative to corrosion prone magnesium plates, created a very useful web site, provided free equipment manual downloads, and, best of all, provided customer service that is second to none.
SHOP TIPS
Always have clean hands and a pure heart.
Safety is always the first priority. Period!
Never, ever lose a customer's order.
When moving printing equipment, never yank or jerk; be slow and methodical, using common horse sense, and never place your body or body parts in a pinch or crush zone.
WHAT'S NEXT As health permits: Keep on learning. Print. Connect the Intertype to the gas line and cast my first line of type on it. Print. Also build up the Ludlow and cast my first line of type on it. Print. And just for kicks and grins, seek out some of the still living pundits, who in the 60's and 70's were chanting " Letterpress is dead," and rub their haughty noses in the face of the letterpress renaissance. (Recreation?)
Big thanks to Bill for letting us take a sneak peak into the mind of a fellow letterpress aficionado!