From day one back in 2009, Jill Shepherd of Ruff House Art had an entrepreneurial gleam in her eye as she started her business out of the basement of her home in southwest Kansas. Fast forward six years later, and you'll find that Jill has expanded her letterpress company into a solid brick and mortar retail shop featuring the whirl of a 1915 Chandler & Price, the laughter of her daughter as she skirts through the shop, a full custom-invitation & wholesale everyday line, and of course, the warmth of Jill's smiling face as she greets you when you come into the shop. We caught up with Jill between press runs to learn about her inspiration, how she got started, and what made taking the plunge worth it at the end of the day.
ROOTED DEEP IN THE MIDWEST I grew up in a small, rural farm town in southwest Kansas and went on to graduate from the University of Kansas with a BFA in Graphic Design in 2004. I spent several years working in marketing & branding as a designer. Coming from a family of farming entrepreneurs, I had always daydreamed about owning my own business someday.
Due to the struggling economy, I got the opportunity to pursue that dream when I was let go at my corporate job due to downsizing in early 2009. Initially, I envisioned doing what I had been doing, marketing, but on a freelance basis. During this time, I was asked by several friends to design wedding invitations and I quickly realized that was way more fun than corporate marketing! So, I said goodbye to the corporate world and went all in to the stationery world. I grew my wedding line, eventually added a wholesale/everyday line, and most recently expanded again with a brick & mortar retail shop!
TRY, TRY AGAIN (AND REPEAT AS NECESSARY) At the start of Ruff House Art, I didn't envision it turning into a letterpress company. I had taken a letterpress class as an elective in college, so I was familiar with the printing process, but I didn't start Ruff House Art with a press from day one. About a year into it, I was gifted my first press by a friend's family. It had been sitting in a warehouse for 30 years and they weren't even sure what it was or if it worked. They asked if I wanted it and of course I jumped at the opportunity. It had been a while since my college class and I wasn't familiar with this type of press (platen). I restored it and taught myself how to use it. It was a lot of trial and error, a lot of frustrations, a lot of asking other printers for advice and doing research, but eventually I found my stride and felt confident enough in my printing ability to add letterpress to my wedding line. Shortly after, I decided to add a retail line, focused primarily around letterpress.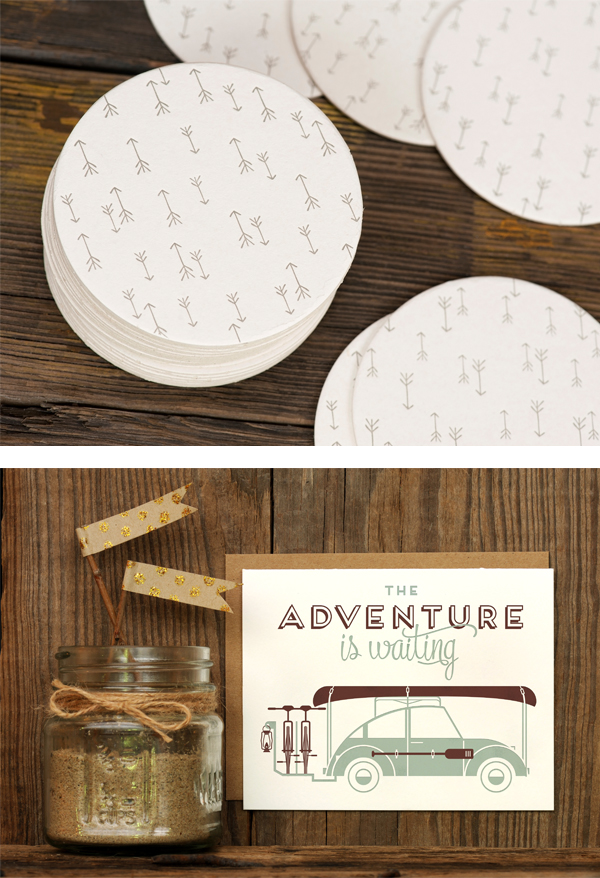 WINDOWS TO THE WORLD Up until this year, our shop as located in the basement of our home. In November of 2014 we moved our presses to downtown Lawrence and opened up a retail brick & mortar shop with a print/production studio in the back. We have big windows that look from the shop into the studio so customers can see the presses in action. It has been so fun to watch the community get involved and to hear how many people actually have some connection to letterpress. Whether they have taken a class, their fathers/grandfathers were printers, or they used to own a press. We also get asked on a regular basis if we actually use the presses or if they are "just for show" which always makes me giggle. When we are pressing, people gather around and watch which is so fun (and a little nerve-wracking!). My very first press is still the press that we use the most – a 1915 10″ x 15″ Chandler & Price.
A STUDIO WITH MANY PREVIOUS LIVES Lawrence is full of history and Mass Street (downtown) is the heart of the city. Our shop/studio is located in one of the oldest buildings in the city, built in 1858. The building was built by the Miller family who were print makers (how cool is that!) and it briefly housed the first post office in town. in 1862 it was taken over by the House Family and ran as a clothing store. It went on to house a Furniture Store, Daylight Donuts, and a brewery. It amazes me to sit here and hear about the people & stories that have passed through the door and it is so fun to now be a part of that history.
FAMILY AND LETTERPRESS COMMUNITY INSPIRED I am mostly inspired by my everyday life. My husband and our friendship, my daughter and her laughter and all the wonderful people I have met in the stationery industry. There are so many truly wonderful people in this industry and I love how it is more of a community that supports each other rather than a competition. I am driven everyday to make a positive impression on my daughter so that she will learn the value of hard work and determination, just as I did from my parents.
FULL TIME AND THEN SOME I feel like I wear nearly every hat that could be worn. I am the designer & printer for Ruff House Art. I am also customer service, sales, shipping, buyer, retail associate & mopper. When you own a small business you tend to learn how to do everything and be able to juggle that work load.
In my dream world, I would have way more time to design, and my line would be constantly evolving and full of wonderful things. But the truth is, I have to pencil in design time and sometimes that gets pushed to next week!
Ruff House Art is my full-time career. It has been my full-time job since day 1 in 2009, and I have been fortunate to have grown it over the years to be able to support myself & my family. It's tough, demanding and at times all consuming. This business (or any self-owned business I would presume) is not for the weak of heart. It takes dedication, hard work and lots of coffee. But at the end of the day, as I shut the lights off and lock the doors, it is all worth it – so worth it.
WHERE IDEAS ARE SPARKED As I said, I am inspired everyday by normal life. And often the start of a card or product is a seed that gets planted by something my daughter says or an experience I have had. Such as our "Eat Cake For Breakfast Card" – growing up, my mom would occasionally let us indulge a little at breakfast with a cookie or piece of cake or brownie.
I in turn do this with my daughter without even thinking, even though my husband about dies each time he sees me sneak a cookie to her at breakfast! So I thought, everyone should be able to eat cake for breakfast on occasion! A card was born. From the spark of an idea, I wrap up the design on the computer and send it off for the plates to be made and turned into a letterpress card.
THE COMPANY WE KEEP I am proud of so many things that Ruff House Art has accomplished over the years. We have been featured in some really great magazines alongside other great artists. And our garden cards were featured on the Today Show for Earth Day! I have also had the privilege and honor of working with some great national retailers such as Paper Source, World Market, Nordstrom & West Elm.
In addition, I have been nominated 2 times for the Louie Awards (once for our garden cards & once for classically printed wedding invitations). We took home the Louie in 2014 for Classically Printed Wedding Invitations. That award was even more special as it was won for the invitations for my husband and I!
BLAZING A TRAIL It's funny, in my mind, I feel like I am always just kind of "winging it" in my own way. Since I was self taught, I feel like I likely don't do things the same way other printers do. But who says there is a right and wrong way as long as it works! Since opening our public space, I do feel I have gained confidence in my skills & techniques, offering advice to others who are just getting started in the printing business.
A BIG TO-DO LIST The opening of the brick & mortar put a pretty big stall in the growth of my own wholesale line. It has been all consuming and demanding learning how to balance another facet of my business. But I do think things are smoothing out into a well oiled machine and I am really looking forward to getting back into the growth and marketing of my own line. Being in the shop everyday has also given me great insight into what the consumer is drawn to and really looking for. I am going to take that knowledge and grow my own line accordingly. I am really looking forward to a release of new cards and coming back to my own product line with fresh vision.
Huge round of thanks out to Jill for letting us take a fresh look into the wonderful world of Ruff House Art (and then some)!