There's nothing small about it; sisters-in-law Gina and Katie Vallecorsa of LittleOwl Lettepress are big on keeping their rollers inked. From helping plan each other's weddings, to acquiring a 3000 lb Heidelberg affectionately named Berkeley, to the thrills of printing their first 3-color invitation set, the labors of their love show in each detailed printed piece. Gina & Katie took a break to let us in on the whirling world of their custom letterpress home.
A CREATIVE TWIST We are sisters by marriage and have a love affair with stationery design, paper, and pretty much all things wedding related! We've both lived in Arizona our entire lives, even attending college at rival schools Arizona State and University of Arizona. Since graduating forever ago, Gina has worked in marketing for a home builder and Katie is a teacher.
IN THE BEGINNING Our letterpress start involved our two husbands and a C&P Pilot. We really had no idea what we were getting into, but luckily Mike O'Connor at Letterpress Central was there to help us on our way. We also follow quite a few people on their blogs and social media that we've never met. Looking at the work they post is always inspiring.
GREATNESS IN THE GRAND CANYON STATE You know the saying "you've put the cart before the horse"? We've lived that one! After spending 35+ hours printing a friend's entire invitation suite using our tabletop press we decided we needed to make a change if we were going to pursue a letterpress business. And this is where the trouble started! At the time we were printing on our tabletop press that resided in the dining room of Gina and Max's condo. We went ahead and bought Berkeley, our almost 3000 pound Heidelberg Windmill, and realized he would soon be on his way with nowhere to go. Even if there was room in the condo, there was no way to get him through a doorway!
So began the adventure of finding a home for Gina and Max in a great area with a detached garage or shop. After some searching, the stars aligned and we found a house that satisfied all our needs. The original backyard garage with nothing but studs and some outside paneling has turned into a fabulous semi-girly workspace that Berkeley calls home. If you could see our before and after pictures you would be amazed at the transformation! We are so fortunate to be able to walk out the back door and step right into our custom letterpress studio
THE CREATIVE PROCESS Neither of us went to school for design, but all of our current pieces we feature on our website and Etsy shop are our own creations. We're self-taught in Illustrator (we have the books to prove it!) and we tend to design things that we'd like to buy. We would definitely be broke if we purchased all the different invites we've printed since we started!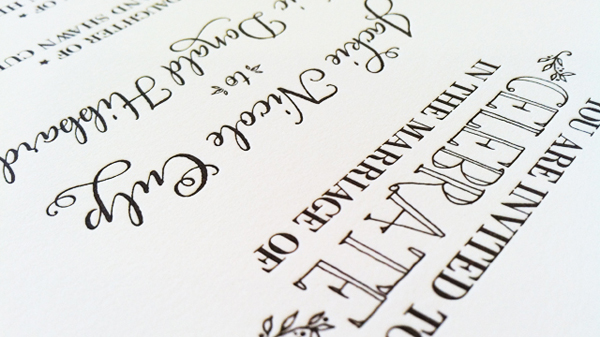 A LABOR OF LOVE We would love to say that we do this full time, but we're not there quite yet. Both of us have full time jobs, which means correspondence and proofing happens in the evening and printing usually takes place during the weekends. Sometimes those weekends feel very long, but they don't call it a labor of love for nothing! Running LittleOwl Letterpress full time is definitely one of our goals.
PRINTING FEATS Our first accomplishment has to be that we're still at it together! It's been a long road of trial and error and we are still enamored by the items we letterpress print. We think we're going to be doing this for a good long time! Another accomplishment was when we printed our first 3-color invitation set for a mock wedding shoot. The invite was designed by Purple Nickel Studio and it was amazing; mostly blind impression with a just a couple items, including the Phoenix skyline, in orange and gray ink colors. When we nailed that third run, it was an amazing feeling!
PRESS HISTORY We got married a year apart and had a great time planning our weddings together. It was at this time that each of us fell in love with all things wedding related, including paper products. Gina's husband, Max, found a 1910 Chandler and Price hand press and purchased it as a gift. We figured we'd found a new craft and set about learning how to use it. Gina took a 3-weekend workshop in Tempe and then came home to show off her new skills. The two of us started out printing some cards here and there for fun and that transitioned into friends asking us to create their wedding stationery!
BOXCAR'S ROLE Boxcar Press has been amazing to work with!  We've used Boxcar since the beginning with our Boxcar Bases & for our polymer plates and haven't looked back! One of our most popular invites gets sent in for a plate often and we always wonder if anyone sees it and thinks, "I've done a plate like this before. There's another one for LittleOwl!"
SHOP TIPS Read, read, and re-read your manual! It will become your friend!  Also, when frustration levels are running high, having good tunes coming from the speakers can work wonders!
WHAT'S NEXT Most of our business so far has been wedding related stationery and we're always working on adding more designs for brides. Currently we're designing greeting cards for the holidays and general occasions. We've recently added a corner rounder from the 1890's that we'll refurbish.  We're also working on a concept that we're calling Pen to Plate that will allow us to partner with graphic designers from all over. No rest for the weary!
Two rounds of applause and big thanks to Gina and Katie for letting us a get the big picture of LittleOwl Letterpress.