Across the globe, letterpress printing has captured the heart of many a printer, be they from Italy, Brazil, the U.K. and beyond. Each country has dipped its own pen and added to our collective letterpress history through the beautiful creation of presses and the ingenious pressman at the helm of these metal beauties. We reached out to some our printing colleagues to check out what unique international printing presses are founded in their country or rare presses they have had the honor to ink up. Some are of their own countries' origin in production and some are foreign-born masterpieces. Either way, the global letterpress community grows stronger as more of these special presses are inked up and shared with others.
Davide Tomatis – Italy – Archivio Tipografico  our latest press is a Schelter&Giesecke – Phoenix IV. This press is a sliding platen press, designed and produced in Leipzig at the beginning of last century (around 1905). The maximum printable format is 40 x 66 cm and its weight reaches 1600 Kg. It has 4 inking rollers that work in couples: one couple inks the form on its way down and the other couple on its way up. It's a very sophisticated inking system that we've only ever seen on this kind of press. It ensures a perfect inking of the form, as the active inking rollers are always evenly inked and don't carry back on the form the sign of the type they just inked.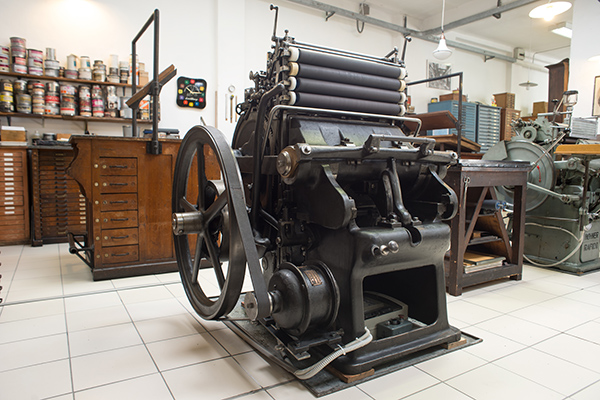 We acquired it in January 2015; our friend Luca of Anonima Impressori told us about a place near Bologna with an incredible collection of platen and piano-cylinder presses. We weren't in need of any new press but – as you can imagine –  we couldn't help ourselves. We immediately went there and what we found was a very big, dark, cold and humid warehouse with presses everywhere. We never saw such a large place before.
Most of the machines were quite conventional: Saroglia, Heidelberg, Nebiolo… but just around a corner, hidden by a Nebiolo Urania 70×100, Emanuele couldn't believe his expert eyes when he recognized his dream press: the Phoenix!
The Phoenix press series, produced by Schelter & Giesecke, are a particularly big and sturdy model of presses and one of the biggest ever built in the history of printing. As far as we knew the only working Phoenix in Italy was in Enrico Tallone's printshop; what's more, the model in the warehouse, was the biggest one of the series. No need to specify that seconds after the discovery a decision was taken: we had to make place for her in our printshop. We had a lot of work to do on her: she had no inking rollers, no engine, no cleaning system and she was covered in years and years of dust and dried ink.
The restoration was quite a long and difficult process; as we didn't have any manual or technical info we pretty much had to guess everything, from the size of the rollers to the right kind of engine. After a few tries we found the right size of the rollers and we were very lucky with the discovery of a super engine by our trusted and experienced electrician (a beautiful original AEG model). After that we engineered a cleaning system for maximum practicality of use.
We had to come up with an original solution as the machine wasn't originally equipped with any cleaning system: the printer had to dismantle the rollers after each use and clean them manually. Lastly, to look as beautiful and as majestic as she deserves, we restored the amazing details embossed in cast-iron on the body of the machine, as Schelter & Giesecke mark on the side of the press and the name of the model on the front and we brought them back to their original golden color.
Now the Phoenix press holds pride of place in our space: it's the most elegant, powerful and historically relevant press we've ever owned, and we're very proud for having brought her back into printing shape!
Marcelo Pinheiro – Brazil – Carimbo Studio The first press we had was a small tabletop one. We found it with a guy who buys and sells graphic equipment here in Brazil. He also had some metal type with it (in fact he was going to sell it to the junkyard and have all the type melt). Its original colour was black, but they had it painted with this green hammered textured paint, that helps disguise imperfections, but on the other hand is good for cleaning with solvents.
It is a Japanese press, manufactured by Osaka Printing Ink company (serial number L603) but we don't know much more about it.
Here in Brazil this kind of press is called 'socadeira' or 'prelo de soco' as you have to pull the lever to make an impression (punch = soco, in Portuguese). We are trying to get this press back to its glory days and we plan to use it to show people how letterpress printing works, demonstration and such, as it's very simple to operate (once you have already made all previous adjustments).
Another press we have in the shop is from a Brazilian manufacturer called Catu (meaning 'Very Good' in Tupi Guarani – Brazilian indians' language). I think that "Minerva" – like the Goddess of Wisdom and Arts – is kind of a generic name that all platen presses are called here and on Latin America as well. The company was founded by German immigrants and started producing printing equipment in 1946 – and they still make offset equipment nowadays. It's very common around here, but despite that, we can't find much information about it – we don't know when it was made and we don't have a manual. It was still working as a printing press when we found it, but people also modify it for die cutting, thus removing all the inking system and all rollers.
This model is often referred to as Minerva Catu 1/4 – as its printing size corresponds for a quarter of a 99×66 cm (Brazilian standard) paper sheet. We heard that its design is based on some German model, but we really don't know. It's a hand fed platen press and it has adjustments for rail height and printing pressure. We find interesting the lever for turning the flywheel on – and off, as it also works as a break. It has adjustable speed but we like to run it slowly and appreciate the work as we go!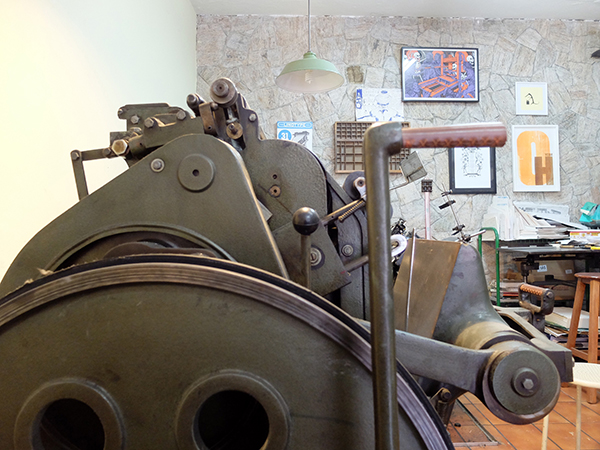 There are lots of these presses here in Brazil, but they ended up mostly used for finishing (die cutting, scoring, numbering). We have seen people painting Catus with all sorts of colors (black, white, red, etc.) but we like ours as it was made and its greenish industrial paint. But we made special leather grippers for the impression handle and the start / stop lever. It gives our press a much cooler look! Coincidentally, we ended up buying it from the same person that we bought our Heidelberg Windmill from, but it was totally random.
It weights over 2500 pounds (1150 Kg) and has a printing area of 13 x 19 inches (335 x 487 mm). On our Catu we have printed album covers for a French / Brazilian Music label and we made posters for Association Typographique Internationale  and for Englewood Letterpress Depot, besides several other projects. It is our press of choice when running larger pieces.
The Catus are always accompanied by two side tables to keep the paper sheets: on one side you leave the blank paper and on the other one you put the sheets that were just printed as you are hand feeding the press.
We find it easy to setup and it has a feature that I haven't seen on other presses: it is possible to adjust the parallelism of the platen vs. the form. This is sometimes useful when adjusting makeready. The maintenance is somewhat curious, mainly because of spare parts… Even with just one model, not all Catu Minervas have exactly the same design on parts and holes. It is said that if you disassemble 3 Heidelberg Windmills you will be able to reassemble the 3 machines again perfectly. But if you disassemble 3 Catus and mix all parts you won't get 1 single machine assembled back again!
There are other machines on the Catu family though. It has a younger sister: Catu Mirim (something like Small Catu) – as the name says, the printing size area is smaller. They also used to make cylinder letterpresses as well and that's something that we are considering adding to our roster, too!
Pamella Farrell – UK – Farrell Press We currently have three beautiful presses in studio, a 15×10 Arab Press c1894, an 8×5 No.1 Cropperette Press c1888 and an 8×5 Adana Press which were all lovingly restored by my husband.
I started out printing on the Adana, I'm mainly self-taught. I was the first letterpress printer in Ireland to reintroduce the craft to brides and grooms, offering letterpress wedding stationery in 2008 and the business has gone from strength to strength. As demand grew I knew I had to invest in a larger press. I searched throughout Ireland to no avail, I found out a lot of presses had been sold for scrap when litho printing became popular!
I then looked at the feasibility of importing a press from the UK or the US. I was lucky to stumble across a sale ad for the Cropperette and the Arab press. They were owned by a photographer in London, UK, who was moving house and found them while emptying his garage. He hadn't used them in over 20 years. Myself and my husband took the ferry over to the UK and drove to London in a van to collect them.
The Arab had to be taken apart as it was too heavy for us to lift, lucky they were designed to be "flat packed" and with the manual my husband (who is a construction plant fitter), knew what he was doing. A nerve-wracking journey home and a few days later, the two presses were up and running with thanks to my husband's skill.
"The Arab is claimed by some to be the finest hand-fed platen in the World. In terms of cost and weight, it out-performs other machines; and the fact it is designed to be dis-assembled and rebuilt makes it easier to trans­port than other, sim­ilar, presses." (source: http://britishletterpress.co.uk)
The Arab Presses were produced in the North of England and our Arab press is still painted the original blue with red accents and has a spoked flywheel which was later replaced by a solid wheel to reduce accidents.
The Cropperette is a very rare British press built in Nottingham by The Cropper Company, if you have ever heard the term 'to come a cropper', a common phrase in Ireland and the UK, it relates to printers catching their hands in the printing press! The Cropperette is the more beautiful press of the two and has been very hard to find information on. It's painted black with gold accents and a beautiful heart shaped foot peddle. It is lovely and free, very light to use with foot power where as the Arab is a very heavy press and difficult to operate by foot power alone. I have since added a motor to run the Arab press.
The Arab press is the work horse which I use daily, the Cropperette is reserved for smaller jobs like labels and business cards and is used quite rarely and the Adana has become redundant. I have toyed with selling it but just can't let go of my first letterpress.
Fabiano Santos – Brazil – Pergam Press The press is a Model "Minerva Catu" also known as "Catuzinha" here. I'm not sure what year it was manufactured, but I believe it is around the 1960s. The origin of the Catu press manufacturer company has been through a family coming from Hamburg, Germany, and they began manufacturing the machines here in Brazil around the 1940s.
Like the Windmill, it has all settings right at your fingertips, and it functions as an extension of our arms. It is very easy to adjust something on the press (according to the job being printed) because she "accepts" any setting. Even wire to hold up a few pieces of barnates tape for roller height adjustment. It is not widely used in Brazil. Some graphic design/print shops rarely use it for die cuts, but I have never seen anyone use it here to print other projects.
When I started looking for a machine to work with letterpress printing, I visited many old printers wondering where they had left their old equipment, and it was on one of these visits I met an experienced operator/printer who worked during the height of Minerva Catu. He had kept one of them in his garage. Since he had retired and no longer operated the machine, I bought it from him and now she has won a special place at our shop.
Corby – Singapore – Papypress Our press is a Super Ace on the machine with serial number 3361 on it. The labels are all in Japanese, and it's an 8" x 10" Platen. Is this machine good? Not really, it has quite a few silly features that I haven't quite figured out yet actually.
This is the ink fountain.The knobs, as you would already know, control the flow of ink. However this is not a cylinder inking plate. It is an ink plate that rotates like an Adana. That means I can't play with colors like one would do on a Vandercook. So why have knobs? Looks cool though.
This flywheel is like the tiniest thing I have ever seen. No bigger than 10" in diameter.
Sometimes when I want to print with a heavier depression the platen jams up and I would have to give it a manual push. But once you get the hang of it you'll know what to do. Nonetheless it's a nice "semi-automatic" machine to have around and not as bulky as a C&P. We use if for smaller cards that have images really close to the edge. By hand feeding, I can minimize gauge pin space.
Once we were at an old print shop looking for wooden stools to use in the studio (these type of wooden stools are always found in old print shops in Asia). In the corner of the shop I first saw the inking plate in the corner, when I asked if the machine was still around he pulled the cloth off and showed it to me. He said why would I want something like that? Why not buy a digital machine? Best deal I ever made.
Presses like these were common in our region, the more common ones were even more block looking. Space was always an issue in Singapore, and these machines were built with big motors and smaller flywheels. I guess deep impressions only came much later and it would have worked perfectly for "kiss" printing.
If you have a unique printing press you'd like to share & gush about, join in on the conversation and post it in our comments section!