Ashley Town of Bay View Printing Co. in Milwaukee, WI cultivates printing camaraderie amongst its 75+ members while artfully conducting the printing festivities of the by-day commercial and by-night whirl of workshops, co-ops and print parties. Ashley sat down with us to talk shop about how two and half beautiful years that have flown by since buying the shop (and taking the full-on plunge as full-time letterpress owner) to how teaching, supporting her family, and sharing the joys of letterpress have more in common than meets the eye.
A PRINTING COMMUNITY TREASURE A little about me…I'm a mother, a teacher, a wife and a super curious and anxious body that prefers to be in constant motion. At the shop, I love crossing items off of a to-do list, thinking of new ways to flex my creative muscles and try really hard to stay engaged in my community. At home, I love wrestling and reading books with my son, cooking together as a family and drinking local beers with my husband. Prior to owning the shop I worked as a designer and faculty at the Milwaukee Institute of Art & Design.
A little about my shop…it's amazing! Bay View Printing Co. is 100 years old this year and I'm incredibly lucky to have fallen into it 2.5 years ago. In 100 years of existence I'm only the third owner (first female – huzzah!). We have 8 letterpresses, 3 offset presses, a small foil press, an Intertype, and upwards of 350+ wood and lead typefaces all crammed into the basement of a once Protestant Church in the Bay View neighborhood of Milwaukee. Historically, the shop has always been very involved in the Bay View community and supportive of other local small businesses and organizations, but somehow relatively hidden and unknown to a large percentage of the public community. I lived in Milwaukee for 12 years as an active member of the art community before I had ever even heard of its existence. So, when I bought it 2.5 years ago my goal was to take that treasure chest and share it with the community, to make letterpress design and printing accessible to anyone and everyone in the community who has an interest. It's been about two years in the making, but it's happening! We teach one to three print-related classes a week, have a print co-op of currently about 75 members and people are making beautiful stuff within our walls on the daily. I like to say that during the day we're a commercial design+print shop and at night we're a print party.
THE LURE OF LETTERPRESS The tactility and the physical labor are what initially drew me to letterpress and what continue to do so today. I went to grad school at the School of the Art Institute of Chicago and spent most of my time in the writing department. I began investigating my personal memories and the lines, or blur rather, between truths, lies, memory and the construction of each. I was documenting really personal, gritty, hard memories on a daily basis and creating drawings/illustrations to accompany them. I ended up writing a book, but every time I printed proofs I knew something was off. The feeling of holding these stories, touching the letters and really feeling the experience or reliving those memories was completely gone. So I knew I had to print in a way that would allow for that. I needed the tactile quality that only letterpress printing can offer. And the physical labor and real work that went into typesetting and printing each and every page of the book just felt right. A cathartic experience that couldn't have happened any other way.
WISCONSIN'S OWN My little shop is located in Bay View, in my opinion the best neighborhood in Milwaukee. Historically, Bay View is the most diverse neighborhood in the city and there is a ton of community pride here. Neighbors still shovel for one another, have morning chats in the alley, and genuinely support one another.
Milwaukee in its entirety is also the perfect place to have a community print shop – the arts culture here is vast and growing and currently in love with craft and handmade goods.
MENTORS + INSPIRATION In terms of the letterpress community, I'm a baby so I'm constantly looking at and learning from other printers. Sometimes that means creeping on Michael Hepher's (Claw Hammer Press) process videos or drooling over Kathryn Hunter's (Blackbird Letterpress) linocuts on Instagram. Sometimes that means sitting down in the studio and pouring over all the boss babes and their work in my Ladies of Letterpress book. And sometimes that means calling Jim Baker (the previous owner of Bay View Printing Co) and begging him to come show me that little trick on the Kluge just one more time. Although, as I grow as a printer and a curious student the latter is being replaced by hours of tinkering on my own accord.
DESIGNED TO PRINT I'm a designer + printer + artist. Although in my opinion, anyone who prints is an artist. The decisions that go into creating perfect prints are most definitely artistic ones and the process itself is an art form. In terms of my process…I'm lucky enough to work with a lot of clients that have seen our portfolio of work or known someone we've worked with and they offer up complete creative freedom with their business, packaging, branding, wedding invitations, etc. etc. That means I get to make design decisions that embrace ideas that can only be realized through letterpress printing so the client truly gets unique work.
I just finished a wedding suite for a bride that saw one of our "Nasty Woman" posters in the shop during our consult and said, "Can I have that for my invites?!" She was talking about the inking technique which was me going nuts with 5 ink colors and a brayer. I thought, "for an entire wedding suite? That's insane. But oh so beautiful. YAAAS. Let's do it!"
FULL TIME FUN Yes. Most days the hustle is real. Trying to balance designing, printing, hosting print parties, teaching classes, keeping co-op members engaged, running the business and remembering that I have and love my family is a disaster of a balance but I'm also 100% living the dream. I hear my dad in my head on most days saying, "You can sleep when you're dead".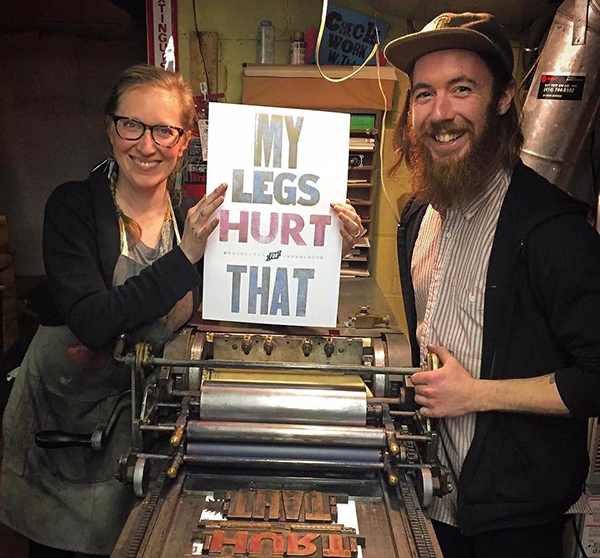 PRINTING FEATS The accomplishment I'm most proud of is raising my son, Oliver. And doing so while running a business. Neither one is an easy task and every day that he continues to grow into an awesome human is a notch on our belts. I'm also proud of the change and growth that Bay View Printing Co. has gone through in the past 2.5 years. When I made the decision to buy the shop someone said to me, "Don't buy that old man's shop – you'll be wearing his clothes for the rest of your life." That was really scary. Jim is an amazing person and a super talented printer, but had zero interest in design or teaching classes or anything of the things that I wanted to do. The bulk of his work was offset printing for local small businesses and crash imprinting banking forms. The idea of taking over a business whose current focus was completely opposite of what I saw myself doing was a bit terrifying. But here we are. Doing all the things. I maintain if you do awesome stuff, you attract awesome people.
I couldn't be more proud to work with all of the incredible Milwaukee folks that we work with in all the different capacities that we do.
PRESS HISTORY I guess my story is a little weird and atypical. Most folks that I've met or read about dreamt of acquiring a press for years before they found one or they spent a decade piecing together a type collection, whereas I was lucky enough (or crazy enough) to acquire the whole shebang all at once. But, the first press I fell in love with at the shop is our 8×12 C&P platen press. The model was manufactured in 1894, it's the oldest press in the shop and still my reliable little babe. But I'm currently in a love affair with our Vandercook No 4. There's something about hand cranking every print through the press that's really satisfying right now. Feels like work. Really beautiful work.
BOXCAR'S ROLE Ah man, thank god for Boxcar Press!! When I first started designing and printing wedding suites it was all handset type all the time. But we just grew so dang fast and the wedding work was out of control. Designing with all handset type wasn't sustainable if I wanted to continue to grow that part of our business. And then I found Boxcar and holy smokes did the doors fly right open. The idea that I can design digitally and send proofs back and forth to clients and then have polymer plates at my door days later and STILL get that sexy impression on paper that everyone is looking for…well, that's mind blowing. I remember the first time I printed with a polymer plate from Boxcar I felt like I was cheating. Ha! I still do sometimes, and there is still a part of me that needs to slow down and design with our type collection as much as humanly possible, but having other options is incredible.
SHOP TIPS Focus on continuing to listen to all the advice and filter what works for BVP Co. and what doesn't. I suppose that might be good advice for anyone, huh?
WHAT'S NEXT Keep on keepin' on. We're babies and we're growing our commercial print client base and our portfolio of wedding work and our assortment of classes and our print co-op community. We've worked really hard to get here and I think it's time to settle in for a bit.
Immensely huge round of thanks and appreciation out to the ever-brilliant Ashley of Bay View Printing Co. Keep up the awesome & inspiring work!