Sometimes the letterpress journey takes you by surprise. When we spoke to the incredibly talented Archie Archambault of Archie's Press, he hinted at the curious turns printing has taken him. From humble beginnings of learning the value of patience & process to his travel-bug that combines printing letterpress maps and exploring new cities. We caught up with Archie to spill the beans on the best kept secrets in the cities he's traversed through and what destinations lay on the horizon.
PRINTING IN PORTLAND My name is Archie Archambault. I'm a designer and letterpress printer in Portland, Oregon.
LOVE AT FIRST SIGHT I first learned letterpress during a short session in college. It was a really thorough 2 week course with Barbara Henry who was militant in teaching us the proper and methodical way to print. Being a rather messy person, I resented this at first, but in reality, learned the value of patience and process. I realized it was a passion when I figured out I could grow a business doing something with my hands.
OREGON AUTHENTIC The studio where I print, Em Space, is in a beautiful old factory building with white floors, white walls, more than seven presses, 10 type cabinets, a board sheer, two guillotines and all sorts of fun equipment that I don't know how to use. It's in a great location with coffee and food nearby to keep us going when we have late nights printing. We have two Vandercook 219's, a large C+P, a small treadle-powered C+P, three hand presses, a large sign press and a small sign press.
PRINTING MENTORS My printing mentors are: Rory Sparks (Director of Em Space) and Barbara Henry who taught me all the ins & outs of the process.
DESIGNED FOR PRINT I design minimalist maps that explain the major gestures and neighborhoods of cities. It has been a great blessing to find something that allows me to travel, design and print for profit.
THE CREATIVE PROCESS My process starts by visiting a city and meeting as many people as possible and exploring the city as thoroughly as possible. With feedback from the locals and hours on the computer, I create a conversation with the city until everything is in the right place for the utmost clarity. Although printing is only one aspect of the business, it can take up entire weeks at a time. I would love to get a Windmill so I can save my back a little. It really takes a toll on the body.
PRINTING FEATS I'm very proud to have finished 17 maps with plans to grow much more in the next year. I'm very proud to have built a great network in every city I visit and to have a completely self-sustained business that feeds me and helps me travel even more!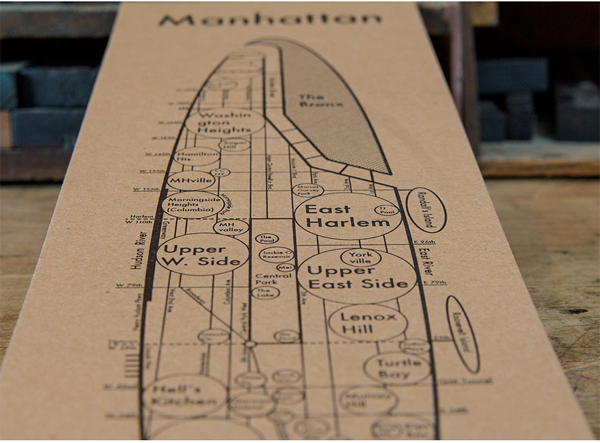 PRESS HISTORY The first press I used was an Asbern of all things. Asberns have this cool clutch thing on that gets the press into trip, and remains my favorite press to use. It also has a variable carriage so it's super-easy to adjust pressure. I still don't own a press, but as my business grows, I want to hunt down anything I can find. They're going so fast!
BOXCAR'S ROLE The first time I tried to order a plate from Boxcar, they immediately called me and told me what I was doing wrong. That was invaluable!
The whole process was so painless and the customer service impeccable. That makes my life as a printer much, much easier.
SHOP TIPS My best piece of business advice is to decide early on if you're interested in doing custom work or starting a product line. When people visit your website, they want to know what you do. Don't half-ass either of them. A product line can take a lot longer to get going and is much riskier, but can sometimes offer more freedom in the long run.
WHAT'S NEXT I'm going on several mapmaking tours over the next several months including: Milwaukee, Chicago, Detroit, Toronto, Philadelphia, Portland (Maine), Montreal, Baltimore, Indianapolis and Columbus.
Big round of thanks and applause out to Archie of Archie's Press for letting us get the full story!