We headed down under to catch one of Australia's letterpress printing powerhouses, Little Peach Co and caught up with Dave & Sara. The Woolloongabba, Queensland print shop boasts a cherished Heidelberg Platen, full-time printing passions, and a ridiculously inspiring clientele that pushes the creative boundaries of letterpress. The friendly duo chatted us up about old-fashioned printing, handcrafted printed goodies, and the hand-made celebration of letterpress. 
AWESOME IN AUSTRALIA DAVE: I come from a design background — from early days studying at Design College Australia to more recently working as an Art Director at an advertising agency — but during the past seven years I was moonlighting as a wedding invitation designer. It was only when I discovered letterpress printing that I made the full leap of faith with my wife, Cath, to open Little Peach Co. in November 2012. It's extraordinary that what began as an after-work hobby is now my full-time passion designing and printing handcrafted invitations, business cards, and custom stationery from scratch. I couldn't be happier to go to work everyday.
SARA: Joining Little Peach Co. was a very serendipitous experience for me. I have a background in communication, and had just returned to Australia after working in the States. I literally stumbled across the the studio on my walk home one day and thought – "Wow! It would be amazing to work there!" I popped in on a Monday with my CV and a smile to offer help with marketing and design, and things just built from there. I can't believe how much we've grown and how far we've come since then!
IN THE BEGINNING DAVE: When I discovered letterpress I was absolutely fascinated. I had already been designing wedding invitations for friends and family, but found letterpress online and never looked back. I saw vintage printing as an opportunity to use an ancient trade, which provides a real challenge with beautiful and tangible results. Working with the press is obviously quite laborious and time-intensive, but worth every second when you see and feel that exquisite letterpress detail.
Since letterpress is basically a dying art form, we wanted to add to the movement to preserve the craftsmanship of this extraordinary printing method. Lucky for us, we see Brisbane locals turning back to the old ways with a love for vintage goods and we're excited to contribute to the revival.
LETTERPRESS DOWN UNDER SARA: We currently lease an amazing 120-year old building on Stanley Street in Woolloongabba, Queensland. We feel lucky because having a storefront allows us to meet with clients in a creative environment and show them first-hand the beauty of letterpress and how it all works.
It's amazing to split our time between the front studio with clients and the back press room with Big Bertha, our 1965 Heidelberg Platen. We always like to welcome new visitors, so if you're in the neighborhood feel free to drop by for a coffee, chat, and studio tour!
PRINTING MENTORS DAVE: To be honest – I'm mostly self-taught! There were a lot of late nights working with the press and reading my tattered old Heidelberg manual. I've had a few experts over the past year offer guidance, but it's mostly involved heaps of research and a lot of trial-and-error.
DESIGN + PRINT DAVE: I'm originally a designer, and picked up the printing along the way. While we obviously print heaps of our own designs, it's been great to connect with local designers and bring their work to life. I originally thought we'd focus on our own stationery, but we've received so much interest from local designers and it's amazing to work with people who really value the printing method.
SARA: Since we sort of toe the line between "wedding world" and the design industry, we've really enjoyed partnering with our fellow event vendors and local creatives and dream up incredible ideas. In the past year we've contributed our letterpress stationery to several styled wedding photo shoots, collaborated with Brisbane-favorite Everingham & Watson to create letterpress soap boxes and business cards, and have an upcoming letterpress tarot card art exhibition event with one of our favorite cafes, Southside Tea Room. We truly hope to continue these types of collaborations in 2014 and beyond.
THE CREATIVE PROCESS SARA: To be honest, most of our day-to-day design inspiration for stationery comes from our clients themselves. You should see the big ideas our brides and fellow designers come up with! Their excitement is ridiculously inspiring and always leads us to create the most incredible finished products. Since we specialize in celebration stationery, it's wonderful to let each client sort of art direct their own invitations and bring out the individuality of each person in their final design.
DAVE: I think it's important to create a comprehensive creative brief whether it be for a client or one of our own jobs. Brainstorming ideas usually follows, allowing us to nut out all the good (and bad) ideas floating around in our heads. We then decide on the few best ideas we like and start designing.
FULL TIME FUN DAVE: Yes – running Little Peach Co. is definitely a full-time job. It's always challenging to focus on design and client meetings during the day, but I never mind returning to the pressroom at night for a late night with Bertha the Heidelberg.
PRINTING FEATS DAVE: Well, we're mostly proud to have made it through our first year as a full-time small business! We've received such positive feedback from our clients and the Brisbane community, and love leaving each client with a beautiful tactile product they can cherish for years to come.
PRESS HISTORY DAVE: An Adana 8×5. Definitely not commercially viable, but I learned so much from the hand typesetting and laborious process. Those were some fun early days printing with the Adana in my garage once the kids went to sleep!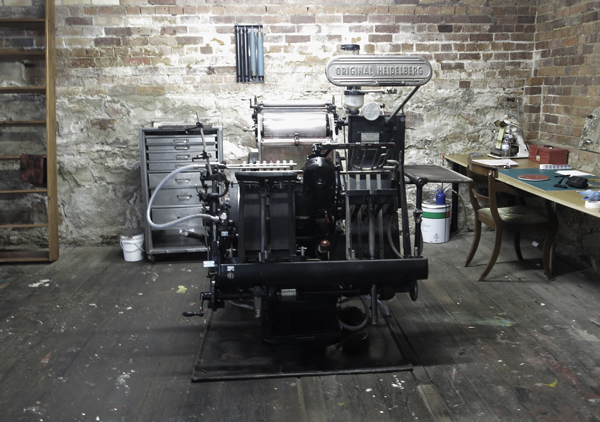 BOXCAR'S ROLE DAVE: Boxcar Press was an invaluable resource during my early days learning on the Heidelberg Platen. The online tutorials were incredibly helpful, and thank goodness for technology that they could reach me all the way here in Australia. I also use a Boxcar base to print with!
PRINTING TIPS DAVE: Obviously printing is a finicky process, but we've found that some of our most challenging print jobs have yielded the happiest clients. Especially when there are complications, our clients really appreciate total transparency and walking through the options. Finding creative solutions (and sometimes re-printing jobs – ack) shows clients your dedication to creating a perfect finished product. Also, take your time and don't try to take short-cuts while printing on the Heidelberg. It only leads to tears – trust me!
SARA: We also love providing a personalized consultation experience for each client. Our hands are pretty full with only two of us in the studio, but we prioritize customer service and working closely with clients to create a fun and friendly design process.  It's always terrific to show people our samples, really dig deep into what they're envisioning, and make sure they get to meet Bertha the Heidelberg. She loves to show off, and it's easier to appreciate the printing method if you can see her in action.
WHAT'S NEXT SARA: We're taking everything one day at a time, but dreaming big for 2014. We've been so consumed with client work during these past few months, so in early 2014 we hope to focus on our Little Peach Co. designs and expand our online shops with more letterpress greeting cards, tags, and prints. Many ideas are in the works!
DAVE: In the next few years we'll hopefully be able to grow and add in more presses and talented people, but ultimately our aim is to keep producing high quality design and print work for a wide variety of clients. At the end of the day, I started Little Peach Co. as a friendly local studio for beautiful hand-crafted stationery. We hope to stay true to our roots for many years to come.
Huge friendly round of thanks out to Dave & Sara of Little Peach Co for letting us get a sneak peek at their shop!