Trekking northwestward from the the sprawling Milan palazzos rests the quiet & serene city of Varese, Italy, surrounded by rolling fields of the awe-inspiring Italian countryside. Taking a closer look into the city, you'll find the vibrant camaraderie that flows from the & Type print shop. Claudio, Gabriele, and Simone, the founders of & Type, opened their doors for us, letting in the passionate and experimental energy that engulfs their letterpress and printing abode.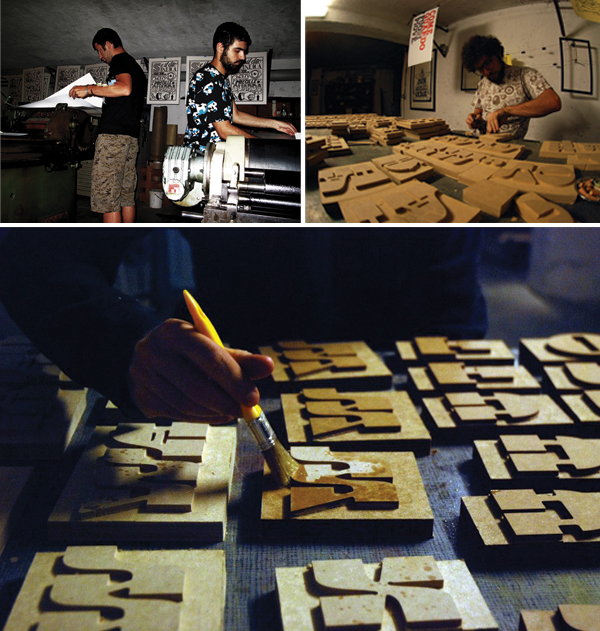 THE PRESSES We have four machines: 2 presses made by Saroglia (from Torino, Italy) 70×100 cm and 40×60 cm, 1 small manual press 23×32 cm, and 1 Nebiolo Ideale "a battuta" (as we say in Italian for "beat"), but this last one doesn't work.
SIZE OF PRINT SHOP 70 square meters… almost 750 square feet.
TYPE OF SHOP We are just a laboratory, but often it is enjoyed with friends, interested people, or guests that join us for different purposes like projects, workshops, or just for type love sharing.
THE LOCATION Near the Liberty train station (in Varese, Italy).
FAVORITE THING ABOUT THE SHOP Our machines, wood type, typography, lettering books, and our friendship. We are surrounded by several posters, books, and music that are good sources of ideas. Last month, a beautiful puppy arrived, which is such great company!
NUMBER OF PRINTERS IN SPACE We have three printers. We don't share the place with other people, but anyone is admitted to print with us or just to come enjoy with us. We prefer to be considered as only one mind because & Type is the mixing of the knowledge about letterforms of all of us.
MOST VALUABLE SHOP TOOL Pencil & hands.
FAVORITE INK Well, we always take time to figure out what color is most suitable for our purposes. We like to use typographic ink penetration, or rapid drying, that helps us to see details in our linocut matrix. Currently we enjoy finding and trying particular colors like metallic, fluorescent and glowing ones.  In our country, it is not easy to find all the colors we want; some of them are prohibited because of their chemical compositions.
SOLVENT OF CHOICE White spirit (turpentine), self-cleaning mechanisms, old towels and of course elbow grease. If you have some good cotton sheets, it's not hard work.
PLATE AND BASE OF CHOICE We mostly use furniture linoleum used by gauges, but we also like to work with wood, MDF and different kinds of rubber. If it comes up that we find some interesting texture materials, we love to try it.
OIL OF CHOICE For gearboxes: synthetic oil; for the lubrication of open parts: UV-40 or oil for sewing machines.
WHAT TYPE OF RAG DO YOU CLEAN UP YOUR PRESSES WITH Towels, sheets, pants, T-shirts, shirts – everything that otherwise should be in rubbish.
FLOORING MATERIAL Industrial concrete flooring.
FLOOR PLAN TIPS Work in an illuminated space.
PIED TYPE None.
ORGANIZATION ADVICE Clean up after printing and have a relaxation area with some comfortable chairs.
PRINTING ADVICE To center the matrix, we used to draw the matrixes' shapes on the print area with transparent paper, so we would know where to put every different color for posters.