Kate Guy is a London, UK-based linocut and fine printmaking artist. She incorporates bold use of flora, fauna, colors and her cat into her works. From early beginnings at the press in her family's workshops to enjoying where the creative process takes her, Kate shares how she is carving out her own printing path.
BOLD LINOCUTS, GRACEFUL ART I live and work in London UK, I trained as a graphic designer but now I am doing what I love most. I am a printmaker working with traditional techniques on paper and fabric. My main subject area is illustrated recipe linocuts. My unique system uses individual ingredients prints which I combine to make recipes, which I then turn into quality homewares. My designs are boldly graphic and colorful giving them a modern feel whilst also celebrating a strong tradition of print and quality in British manufacturing. My products are all designed by me and made in the UK, everything is printed on organic cotton using eco-friendly inks to be as kind to the planet as possible.
EARLY BEGINNINGS My father was a graphic designer and he bought a Victorian printing press in the 1960s which fascinated me as I was growing up. I first used it when I was 7 – see comments below.
I have built up a collection of wooden type which I use to create signs and posters and also combine with my linocuts. I guess my first proper project was at Art School in the 1980s where I really began my obsession with typography.
PRINTING IN THE UK I print in my studio in Camden, my favorite thing has to be the vibrant area and the light. The studio has windows all down one side and looks out over the rooftops of North London. When I'm printing on a larger scale I go to my mother's studio in Putney, South London. My mother is an artist and has our lovely old cast iron Victorian Albion printing press from 1857 at her studio as well as an etching and a lithography press.
LONDON LIVING My studio is in Camden, North London – famous for its trendy market and boutique shops. Once a mecca for punks and goths – you can still see a few around these days and the market still retains much of its original independent charm having (so far) resisted the chain stores and high street homogenization.
I also have the whole of London on my doorstep to use as inspiration, with its wonderful galleries and museums – most of which are free.
PRINTING MENTORS I love the work of the English linocut artists from the early 20th century – people like Edward Bawden, Eric Ravilious, and Cyril Power from the Grosvenor School. My father, although he died when I was only 9, is still a source of inspiration. It is thanks to him that we have our Albion press and I believe he instilled a love of the traditional techniques in me.
PRINTING FULL-TIME FUN Yes! Well… I do in theory, but I seem to spend most of my time these days doing marketing – I have just 'finished' my website. I was an Art teacher in secondary (high) school until 5 years ago when I quit following my dream of being a full-time printmaker and designer.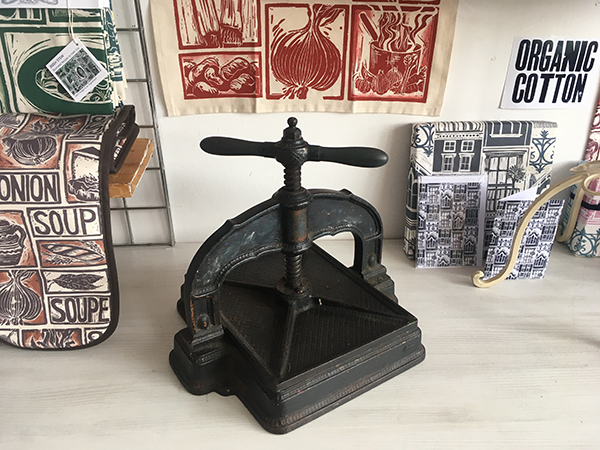 THE DESIGN PROCESS All my designs start with drawings, usually from life but sometimes I work from a photo. I have made a film about my process – from initial idea to the final edition of prints created during the recent lockdown (seen here: 'Lockdown Cat with Mexican Cushion').
PRINTING FEATS Too many to list here! (ha ha, no not really).
I have done lots of different things in my life; I've been a graphic designer, animator, illustrator, glass artist, teacher, and mother to name a few. Now I have the time to be the printmaker and designer which I think I was always meant to be.
PRESS HISTORY I grew up in a house with two studios – one for my mother and one for my father and a beautiful old Albion press. On this press, I made my first linocut and letterpress print aged 7, 'Ereh si a tac'. Basically, as a know-it-all 7-year-old, I wouldn't be told how to lay out the letters to go with my little linocut of a Cat…
You can read all about it on my blog.
The first press I bought myself was a Victorian book press which I found in a 'Marche au Puce' (Flea market) in the South of France.
BOXCAR'S ROLE I find your work and ethos inspirational and was delighted to be asked to complete an interview for you. Sadly I am a bit far away (London UK) to visit in person at this time. I also share your obsession with heavy antique printing equipment.
PRINTING TIPS Always keep your dirty area and your clean area separate and use folded paper 'tongs' to pick up your paper for printing. I always get very messy printing (one of the fun parts) usually with ink on my face and everywhere else, but there is nothing more annoying than a perfect print with a big old thumbprint on it!
WHAT'S COMING NEXT My plans have been very much affected by the pandemic. I had lots of live events planned, I had taken a stall with a demonstration area at shows across the South of England, a couple of these are still holding out but most have been canceled. I am hoping we will be able to be back to normal for this upcoming Christmas season.
I was also planning lots of printmaking teaching and workshops in my studio but…[unusual times have happened].