Rebekah Tennis of Wild Ink Press says it so simply, "The wonderful thing about printing for a cause is that you can spur others on to action as well."  Rebekah is one of our spotlighted printers who incorporate their creativity and presses in the art of doing good. These printers firmly believe that they benefit as much as their receiving charities in their enjoyment and satisfaction with making a difference.  Whether it's a global cause or a local one, these printers lend their talents and hearts and urge others to take on a non-profit to help out.
A few years ago, Smock launched a Change the World card series, where 100% of profits from card sales are donated to specific environmental charities. The latest card in the series is the Rainforest card, and 100% of the profits from this card are donated to the Amazon Conservation Association to help protect the rainforests. The cards are sustainably letterpress printed on Smock's bamboo paper, and are paired with 100% post-consumer recycled, FSC-certified kraft envelopes. Smock also offers Sunflower, a card that benefits the Pesticide Action Network; Fracking, a card that benefits Earthworks; and Fin, a card that benefits the Monterey Bay Aquarium Seafood Watch. Smock also donates 1% of sales to environmental organizations as a member of 1% For the Planet.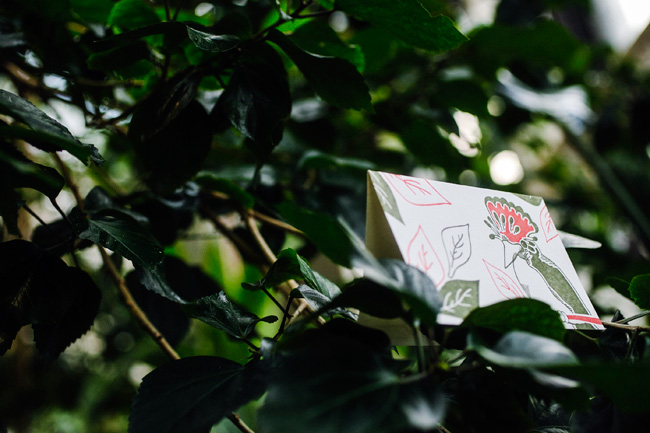 At Atlanta, Georgia based That Grace Restored, we collaborate with women who have been exploited in the commercial sex industry to make fine quality handmade journals and letterpress products with the purpose of seeing the women reach self-sufficiency and renewed personal dignity. Our product itself speaks to the healing and repurposing of each woman's life – we craft handmade paper out of used, seemingly unwanted scraps of paper and make them into beautiful, unique pieces.  Letterpress enhances the quality of our product while complementing the texture and character of the handmade paper.
That Grace Restored is a social enterprise of Serenity's Steps, a 501c3 in metro Atlanta that helps women step out of the sex industry. That Grace Restored was launched as an employment and vocational development opportunity provided through Serenity's Steps in October 2013. We currently employ two women at approximately full-time hours and two women on a contract basis. We print on a Vandercook 215, a Vandercook SP15, or a Chandler & Price Old Style platen press 8×12.
We are selling holiday cards currently. We keep our designs simple and elegant to allow the marriage of our printing and handmade paper to tell a story. Each product speaks to the beauty found in the imperfect. We use rubber-based inks. Our paper is soft and takes on beautifully deep impressions well without straining the relic machinery. By purchasing this product, our women have an opportunity to receive a fair wage as artisans and achieve goals through vocational development.
In the fall of 2011, Hurricane Irene swept through the state of Vermont, causing the water levels in all of the rivers to rise, and subsequent widespread flooding and massive destruction. A few months after the hurricane, Kelly McMahon of May Day Studio was driving though one of the hardest-hit areas, and was astounded that entire towns still seemed destroyed and abandoned, fields of flattened crops where thriving farms once were, and the amazingly new wide and deep rocky paths of the rivers. Many of Vermont's towns are built on rivers–which makes them lovely to live in, and terribly dangerous during high waters.
Kelly saw patterns in the destruction and out of this, designs were born, She started with small, simple sketches, thinking that a little card line or something would come of it…but the designs couldn't be contained! They are now 18″ x 24″ hand-carved linoleum blocks which she has turned into gift wrap and tote bags. She calls her design Field print, which represents Vermont's gorgeous fields of thriving crops.
It seemed a natural leap to think of the Vermont Disaster Relief Fund and donating 10% of her sales from these items to this organization particularly because it was founded by Vermonters, for Vermonters, in a time of great need.
She prints her wrapping paper on a Vandercook SP20 at Green Mountain Letterpress in Fairlee, Vermont, since her little Vandy SP15 isn't big enough. The wrap is printed from linoleum blocks, onto Mohawk text weight paper using Van Son inks. It's available online through her Etsy shop and in stores around the country. Her design has also launched a screen printed tote bag whose sales generate a donation to the Vermont Foodbank.
Working small and from your kitchen table can also reap donations to worthwhile charities. Tracy Oakley runs Bristol Letterpress from her studio (kitchen table…) at home, working on a vintage 8×5 Adana letterpress machine, which is gorgeous but sometimes temperamental.
Tracy sells through her Etsy shop, local shops, craft fairs and Cappuccino Cards. Cappuccino Cards is an online shop selling a fabulous range of beautiful artists cards and prints, all of which donate to charity. Helena Golunska, a good friend, runs this business – they set it up together, along with Bristol Letterpress, and so both are involved with each venture.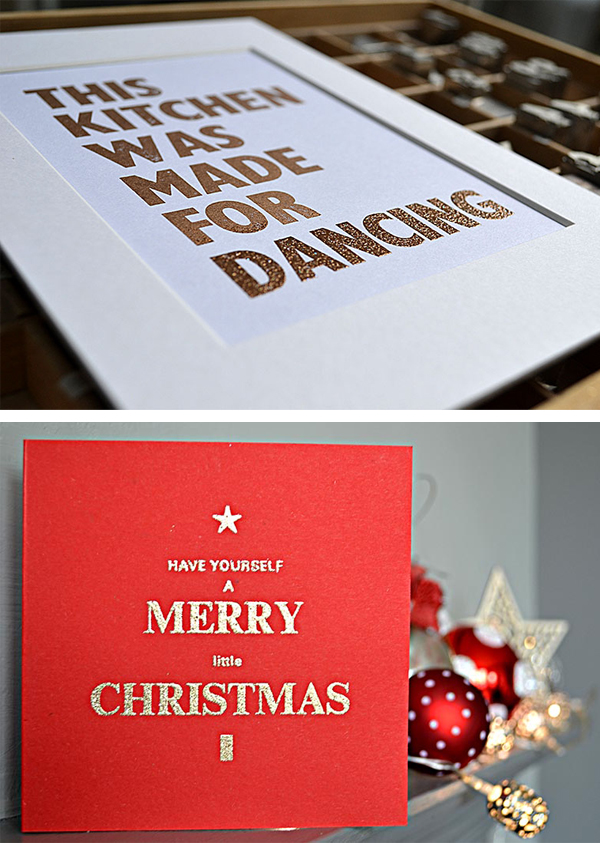 The letterpress Christmas cards printed this year are generating funds for Bowel Cancer Research and St. Mungo's – the more money the charities get, the happier they are. Bowel Cancer Research is a cause dear to our hearts as Helena and Tracy have both come into contact with the disease through close family and friends. St. Mungo's does some great work supporting those affected by homelessness – an issue that is particularly hard to deal with at this time of year when winter nights are cold and long.
When Tracy is not printing, she's quaffing endless cups of tea with her South West England based Home Working Collective – a group of like minded people who work from their residences. Many of their items are sold through Cappuccino Cards, which is based on the principle that every card you send, all year round, could make a difference to a great cause. Each card sold on the site donates a whopping £1 to charity (a third of the price) and the customer gets to pick from 12 well deserving causes. Prints donate 10% of the retail price – so everything you buy on the site does some good!
Over on the West Coast in California, Rebekah and Matt Tennis live their cause – Orphan Care. All three of their amazing children were adopted internationally, as orphans, so this cause is very personal and dear to their hearts. There are over 150 million orphans in the world. "Orphan" doesn't just mean a boy or girl who has lost one or both parents, but it can describe a child who faces the world without the provision, care and nurturing that a family provides. There are also many ways to help the orphan – not just adoption, but also fostering, feeding, mentoring and providing for health and education. She and Matt give each year to several wonderful organizations with services that include foster care, feeding, education and clean water for orphans in the birth countries of their children (Pakistan and Korea).
"People love to be generous, I've found, which is wonderful. So, instead of Matt and I just giving money towards orphan care ourselves only, we can do that, but we can also say 'here, let's do this together and we can raise even more and make a big difference.' It's been great to involve other people in the cause.", says Rebekah.
Rebekah's four card designs are very influenced by the cultural heritage of her sons. They are from Pakistan and Korea, so the notecards were inspired by an intricate wall pattern found in Lahore, a tile pattern from Islamabad, as well as a lovely Korean celadon vase pattern, and lattice wall from a temple. She has interpreted and hand-drawn the pieces, and printed them in cultural colorways. It's fun to have these pieces to show her boys their heritage. The notecards are sold as boxed sets of six and a little over $2.25 of each boxed set goes to orphan care – it adds up quick!
In their recently expanded and renovated digs — which used to be an old soda bottling plant — they print on three Heidelberg Windmills, old style Chandler & Price 10 x 15, a 1912 Golding Jobber, and a Vandercook Uni III.
---
Many thanks to these inspiring printers for sharing their cards (and causes!)! Are there some charitable letterpress cards that we missed? Share details with us in the comments section below!