Dee Cutrona of Maude Press is sustained daily by the artistic flavor of her community and the people she considers mentors. She recently welcomed us in for a peek at her studio and shared how she got her start in letterpress — as well as the path she's set herself on for the future.
BY ANY OTHER NAME Well, I suppose the first thing you should know about me is that my birth name is Christen and I can thank my sister for calling me "Christie Dee" the first time that she saw me. This, of course was shortened to Dee and here I am!
NECESSITY DEMANDS ACTION I first got involved in letterpress when I met a gal, Mable, in a design workshop. She was operating a letterpress studio and we thought, hey, let's start a greeting card line! And so we did, and we called it Dee&Lala. In a funny way, I learned letterpress out of necessity–we were selling cards all across the U.S. and abroad and printing all day to keep up!
LOCATION, LOCATION, LOCATION I print in a studio right in my neighborhood of South Pasadena. What's so great about the space is that I share it with a cake company, so the smell of baking cakes fills the air and it's a team of girls, so we have this nice camaraderie. My favorite thing about my studio is that it's nestled among traditional craftsman homes and tree lined streets, so my commute, whether by bike or car, is idyllic.
WALKABLE AND WONDERFUL SOUTH PASADENA is a hidden gem. It's like this magical little pocket of Arts and Crafts architecture, cafes, family friendly neighborhoods, lots of art, music, festivals, parrots — yes parrots — and small independent shops…including Annika Buxman's De Milo Design Studio & Letterpress [check out the profile we did on Annika's studio a while back]. It's an 8 minute metro ride away from downtown Los Angeles, so, in my opinion, it's the best of both worlds. We actually have a small museum up my street — Meridian Iron Works — wouldn't that be a great place to print!
SAGE ADVICE I considered Mable as my first printing mentor, and since that I've learned so much more. I do have a friend in town, who has a beautiful, very traditional, letterpress studio. I assist him with his printing as much as I can and consider him not just a letterpress mentor, but a life mentor. I also had design and style mentors in my Gramie and Grandad. They lived life to the fullest, did it with style and I am influenced by that philosophy daily.
INSPIRATION + THE CREATIVE FLOW I do not print full time. My days and weeks are equally balanced between designing and printing. I am planning to print more pieces for retail, so I'm anticipating more time at the press. As much as I appreciate the authenticity of working with type, I'm just so wired to be able to tweak and manipulate words and images digitally, so my process is more modern. I'm a digital artwork to photopolymer girl. When I first started Maude Press, I was working with magnesium dies, but I quickly switched back to photopolymer for the consistency and because the process isn't toxic.
I enjoy working with fun wedding couples like Sheila and Casey. They wanted chic and modern and since they wanted a map, we decided to play with layers, a pattern and die cutting to add dimension. So much opportunity to be creative!
PRIDE IN THE ROAD I'VE TRAVELED Launching Dee&Lala was a huge accomplishment. I am/was really proud of our brand and the illustration work that I contributed. A lot of that work was very personal to me, so it meant a lot that our line was so well received. I still have a stack of samples. I still truly love them, even after printing them over and over and over…
I am equally, if not more, proud of launching Maude Press. It has been a wonderful experience so far and now that I'm about 4 years in, I'm ready to take it to the next level. I love the custom side of what I do, so it's truly been a pleasure.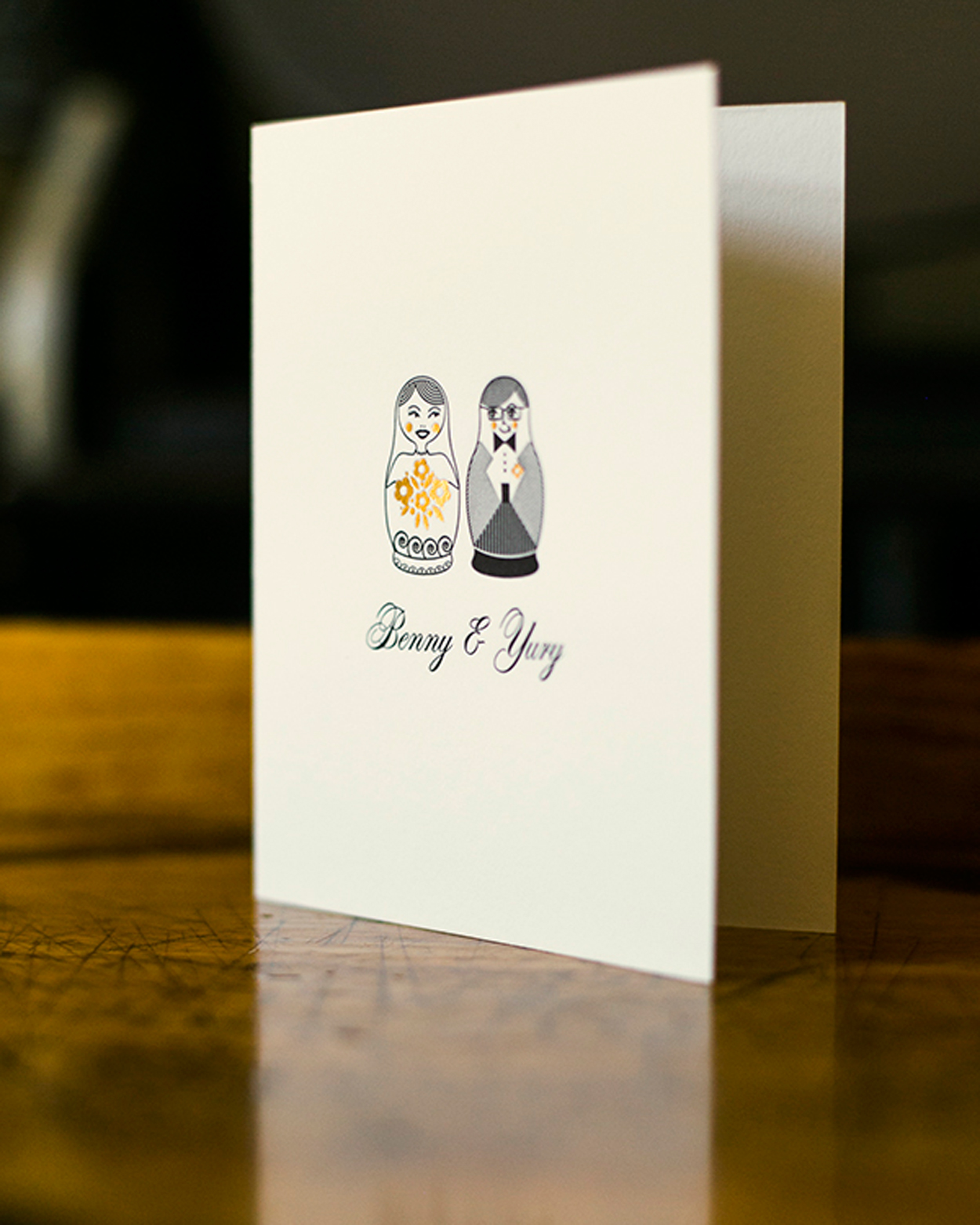 THE FIRST LADY AND NAMESAKE I wish I could list off a tally of presses, but to date, my only press is Maude, my 10 x 15 New Style Chandler & Price. She's a work horse, but I can't say I wouldn't mind a cylinder from time to time..maybe someday. Maude is named after a movie that is a personal favorite of mine — Harold and Maude.
MUTUAL RESPECT FOSTERS GOOD RELATIONSHIPS Not only is Boxcar super informative and amazing, you provide my plates and plant trees when I purchase enough! What I like most, though, is your true love for letterpress and the letterpress community.
SHARING FROM EXPERIENCE Acetate is my friend.  Not only is acetate great for packing, I actually tape it down to my platen to register my artwork. I tape the acetate to the platen, ink the form and print on the acetate and then I register the paper to the print on the acetate. It saves so much time and helps with those hairpin registration jobs.
I'm a fan of Van Son Holland Ink (rubber or oil), but if you want a good rich black ink, my friend introduced me to 'Sable Black SO 1 lb." from Graphic Supply, Inc. — it is THE best black I've printed so far. No need to add a little warm red to this black– it's gorgeous au naturale.
LEAPING OFF THE PAGES IN 2015 This is the year that I'm finally ready to produce more products for retail (mainly for my own site and a few local shops). Nothing major, no reps or stationery shows, just exclusive MP products to share with the world. I have pages of ideas that I just have to bring to life–it will feel like old times. Oh! And this year, hopefully, I will finally actually print my own stationery and if I'm really on a roll…holiday cards!!!
Thanks Dee for the glimpse into Maude Press. You are moving ahead full speed and you embody a quote from your favorite movie  "Try something new each day. After all, we're given life to find it out. It doesn't last forever."