Boxcar Press sat down with Florida native and letterpress maven, Isabel Ibanez of 9th Letter Press, to talk about her first jobs, how it took one business card to change her life, and why she won't back down from a good printing press find. 9th Letter Press plans to open up shop with a little shindig on October 27th, so if you're in the Orlando area be sure to stop by!
THE NINE LEVELS OF ISABEL I'm a Floridian/Bolivian hybrid who graduated from the University of Central Florida with degrees in English + History. I like giant cups of pumpkin flavored coffee, tall stacks of books, and heading to the cinema on an all the time basis.
Many people have been asking the significance regarding the name of my company. Well, here it is: the 9th letter in the alphabet is the letter "i". My first and last name both start with this letter and I was also born on April 9th. Nine has always been my number. Since I'm essentially starting a printing press business, I added "press" to the name as a play on what my company is and what my company uses to print. Voila!
BEAUTIFUL BEGINNINGS I was working for a magazine as an editorial assistant where I would often get to observe the design process. It seemed like modern day art to me. I left my writing gig in order to go back to school to study graphic design so I can learn a little more about "modern day art". In my very first class, my teacher handed out business card samples and one of them happened to be letterpress.
The effect was instantaneous. I absolutely loved it. From there, I was very proactive with my education and got an internship and a mentor. Both helped me pave a way to starting my own printing shop.
SERENDIPITY IN THE SUNSHINE STATE Oh, man. I have something of a nostalgic personality and I knew I wanted my studio to reflect that. When it came down to searching for the perfect place, my heart was set on the Winter Park area. It's quite charming and old school. Lots of brick roads, quaint houses built in the early 1900s and the like. Our studio is decorated in a turn of the century feel. I wanted to mix the aesthetics of old New York style + the industrial revolution, creating a space where Edith Wharton would feel like she could step in for tea. On top of that, I knew I wanted to make the printing process accessible to the public. Not many people get to see a letterpress in action. The layout in our studio has our press out in the open juxtaposing our retail section. A client could come in and see their project getting printed while drinking coffee and checking out our newest paper products.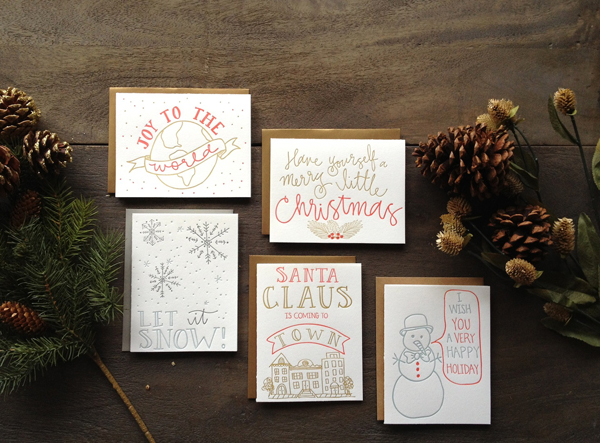 PRINTING MENTORS I interned at Mama's Sauce, and afterward was mentored by Gary Johanson. Both have been valuable experiences.
THE DREAM JOB I am the designer + printer. 9th Letter Press is my full time job, thank goodness.
PRESS HISTORY I first started out with a tabletop but quickly moved to getting a 10 x 15 Chandler & Price. I searched long and hard for the right press and finally found a C&P in Seattle. Of course, I wasn't a huge fan of the zip code that press lived in. A C&P weighs 1800 pounds or some such, which made my stomach turn whenever I thought about how on earth I was going to move the C&P across the continental United States. But then by some miracle, Sheli (my partner in crime) and I found a C&P 15 minutes down the street from my house. The owner had been printing as a hobby and was looking to downsize from living on a paved street to living on a boat. The rest is something of a blur but within a week I was the owner of a C&P, the very press I had my heart set on!
PRINTING FEATS Honestly, I think my proudest moments have been recognizing that what I was doing wasn't crazy. We all face a moment when we're about to commit to something seemingly scary and we wonder for a minute if we've lost our minds. Was I really about to start a business in this economy? I never thought "working" could be so much fun. With each new thing that gets printed + designed and is well received by friends, blogs, retailers, etc., it further confirms that I've found my niche. I can't believe I get to do what I do. I guess I wasn't as crazy as I thought.
BOXCAR'S ROLE Boxcar is chock full of the nicest and most helpful people I've ever met. I can't tell you how daunting it seemed to me to find a place where I could outsource my plates, buy ink, and receive excellent customer service. Boxcar has all that plus the added bonus of being super encouraging. Who doesn't need a little pep talk here and there?
SHOP TIPS That timeless anecdote about no man being an island is completely true. Having a major role in so many areas in your business will take its toll, particularly if you're wanting to go at it alone. There are resources everywhere, especially if you're brave enough to ask for help. You'll be surprised and moved by how much people are willing to give — whether it be proof reading an important email, hanging shelves, or packaging greeting cards, help looks like a lot of things and can come from anywhere. Just ask.
WHAT'S NEXT Growing up, I loved perusing the aisles of Barnes + Noble to see the newest journals, calendars, planners, and wrapping paper. 2013 will have me designing + printing some of my favorites things, and I couldn't be happier to explore other paper products.
Extra heap of thanks to Isabel for letting us get a sneak peek over at the wonderful workings of 9th Letter Press!