Michigan is a swirling eddy of vibrant creativity and a full force of passionate people. From the endless cherry farms in Traverse City, the delightful scents of pasties cooking in the breathtaking U.P, and of course, the energetic letterpress work of Anna Tomlonson of Ginger Tree Press from Kalamazoo. Working with a keen know-how of typography and a fiery passion for detail & craftsmanship, Anna stops for a minute between runs to let us in on the loves and labors of letterpress.

1-2-3 TYPOGRAPHY I have a BFA in Graphic Design from Western Michigan University. I thought I wanted to go into Interior Design, but a freshman foundation design class and a lecture on typography by visiting designer Wolfgang Weingart prompted me to apply for the Graphic Design program instead. It was the idea of typography that is what first drew me to graphic design and, later, to letterpress.
GIVING SOME LOVE TO LETTERPRESS A few weeks before picking up the press, I took a letterpress workshop at the Kalamazoo Book Arts Center, which is located just down the hall from my current studio space and has been a great resource. In the workshop we learned the basics of setting type, locking up a form, and proofing a design. My Chandler and Price was quite different than the presses we worked with in the workshop and when I started printing on my own, I only had a vague idea of how my press ran, which I gathered from taking the press apart to move it.

It was a combination of Elementary Platen Presswork by Ralph W. Polk, Boxcar Press' videos, and a good deal of trial and error that helped me amass what printing knowledge I have.
As I became more comfortable with printing, it felt more and more natural. I have always been very detail oriented and I have fallen in love with the problem solving that printing on a hundred year old press requires. In my design work I have also always been most interested with the substrate, in fact, it was the basis of my bachelor's thesis. Having such a close relationship to paper choice and printing technique is one of the things I find most exciting about letterpress.

MUCH ADO IN THE MITTEN My studio is in a building called the Park Trades Center, it is an old warehouse that was converted to artist studios in the early 80's. It is right downtown and participates in Kalamazoo's Art Hops, a monthly event where downtown businesses host area art work and artists open their doors to the public. It has proven to be a great marketing tool.

INSPIRED BY CRAFTSMANSHIP While I don't have any one particular printing mentor, I am always inspired by printers whose focus is craftsmanship.
CREATIVE GEARS IN MOTION I always start a design on paper, creating a word list before I even start sketching. If I am working for a client, I am trying to find a direction that is appropriate for their particular project. If I am working on a project for myself it helps to narrow down my focus and create guidelines for the project. I have found there is nothing more challenging than a project with no restrictions – it is hard to do anything when you can do anything.
DESIGN + PRINT Since my background is in design, I often think of myself as a designer first and printer second. My work falls into three categories: non-letterpress design work, letterpress for fellow designers, and most often, seeing the job from ideation and design through printing.

FULL TIME FUN? I don't print full time, yet. I also do the food ordering for a local gourmet food and wine shop. Half of the week is pure studio time, and the other half I like to print after work with a chunk of cheese and a glass of wine.
LADY LUCK I found my first press very much by chance. A friend of my dad's was trying to sell his parents' house, which had a complete print shop in the basement. They were struggling to find someone willing to buy everything and, preferring not to turn it into scrap, they were looking to give it away. At that point owning a press was more of a long-term fantasy than short-term goal, but it was an opportunity I couldn't pass up. To say moving the press was a struggle is putting it lightly. Thankfully, I have some dedicated friends who spent a 17 hour day with me, in mid-August, hauling as much as we could out of that basement and back across the state.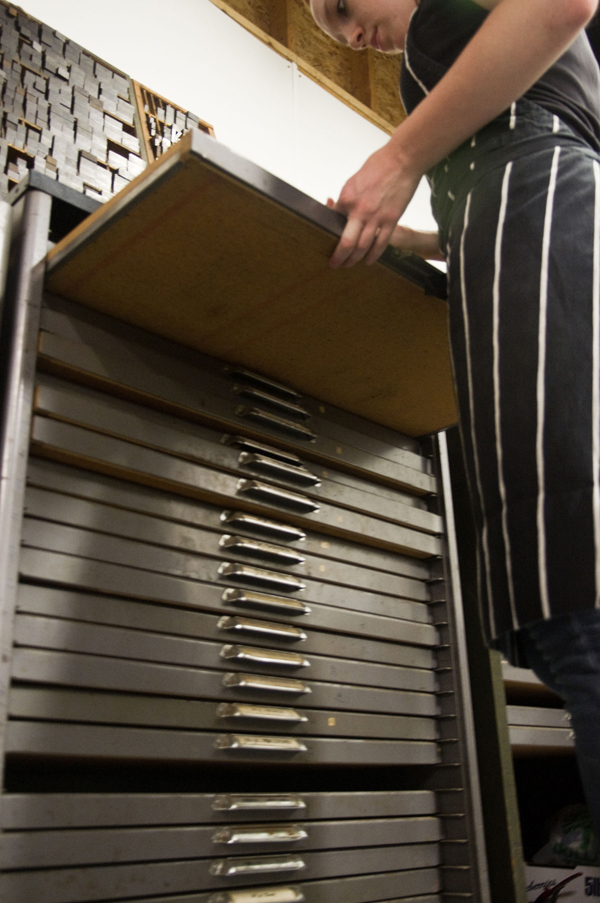 SHOP TIPS Find mentors and ask for help, both in business and in printing. While there is something to be said for figuring things out for yourself, building a network and learning from other people's experience is an invaluable asset.
WHAT'S NEXT Next on the list of skill sets to teach myself is die cutting. An old blueberry box full of dies was one of the treasures that came with the press, and I'm excited to put them to use. I am also planning my first workshop for this fall and starting on designs for a full holiday collection.
Huge thanks to Anna for letting us getting a sneak peek at Ginger Tree Press!