In the sunny spacious hills of California, Alissa Bell can be found enjoying her new printing space. She let us take a well-timed tour of the new digs, and offered up some great advice, heaps of laughter and curious answers as we meandered around her brightly lit space.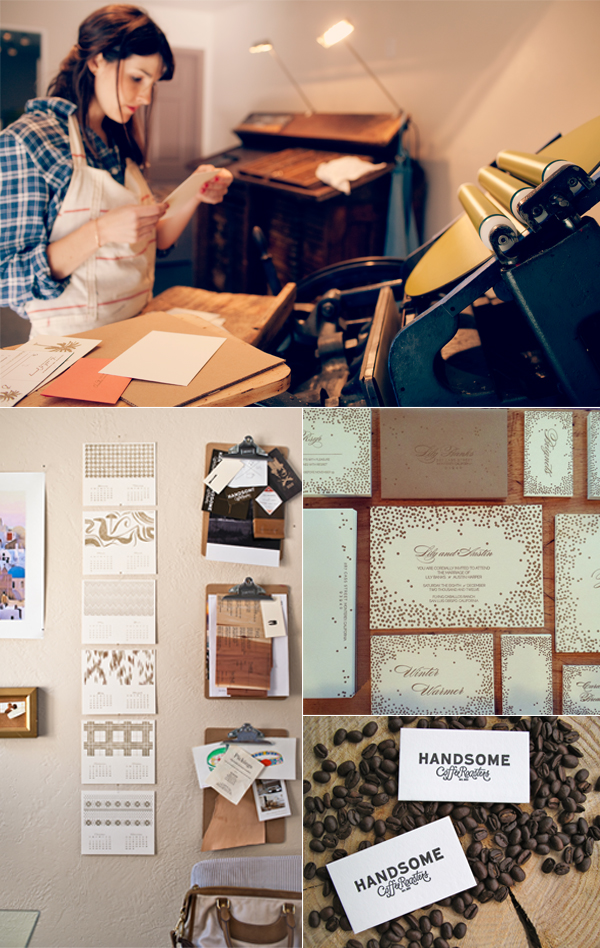 THE PRESSES I have a Chandler & Price 12×18 press from 1919.
SIZE OF PRINT SHOP 500 sq. ft.
THE LOCATION My workspace, located in the hills just outside of Salinas, California, is in a "casita" with views of old oak trees and Steinbeck country.
FAVORITE THING ABOUT THE SHOP I moved into this new space just 2 weeks ago and already I am feeling more inspired and refreshed.  I love the high ceilings and big windows…they bring in lots of natural light.  My dogs keep me company while I am printing. Barley likes relaxing by my feet, but Blue is scared of the press while its running so he sits outside. I also have a cow-skin rug… just in case I forget that I'm in the countryside.
NUMBER OF PRINTERS IN SPACE This is a one girl commercial print shop!
MOST VALUABLE SHOP TOOL My iPod. I nerd out to Ira Glass and other podcasts while printing. I love learning and printing at the same time.
FAVORITE INK Van Son rubber based inks. However, I've been playing around with the Van Son oil based metallics. I am enjoying gold 871… I printed 2013 calendars in gold on black paper stock. It looks and feels so glamorous.
SOLVENT OF CHOICE I use California Wash. Fellow printer, Robert from The Paper Crane in Half Moon Bay, recently shared a tip that has shaved a few minutes off my cleaning process. He suggested after the initial cleaning of the ink disk, reapply cal wash to the disk. Run the press and allow the rollers to run over the cal wash… removing extra ink and also breaking up the ink on the rollers further before taking a rag to them. I find this little tip very helpful!
PLATE AND BASE OF CHOICE I have a Boxcar deep relief base and use Boxcar KF152 plates.  My studio has only been in business for 1 year and I've been using this system since day one.
OIL OF CHOICE Motor Oil from the hardware store
WHAT TYPE OF RAG DO YOU CLEAN UP YOUR PRESSES WITH I am often making trips to ACE hardware to purchase this handy square box of old t-shirts.  They are perfect for clean-up.
FLOORING MATERIAL Stained concrete
FLOOR PLAN TIPS Since this space is 2 weeks new, I am still working out the equipment arrangement.  One new item being added to the floor plan is a platform/stool.  For this move, we (and by we I mean strong men and a forklift) got the press on a pallet and I think I will keep the press on it permanently just in case of a future move.  I'm going to build a platform for me to stand on so I am at a safe height to work.
PIED TYPE First born. Type A. I love to clean… I can't help it!
ORGANIZATION ADVICE I have a filing system for my clients' polymer plates.  I use the plastic sleeve from Boxcar to help separate different projects and clients so I don't loose my marbles (or the plates) during a reorder.
PRINTING ADVICE The word "no"… I am so excited about what I do and want to share with each person who shows interest. Sometimes, though, being able to say "no" due to time constraints, comfort level, or the intangible bad feeling about a project would save me a few headaches.