We recently contributed pro bono printing to a really great cause supporting the nearby Woodstock Farm Animal Sanctuary. Designed by our good friend Tara Hogan of Ink + Wit, we were honored to be a part of this great collaboration.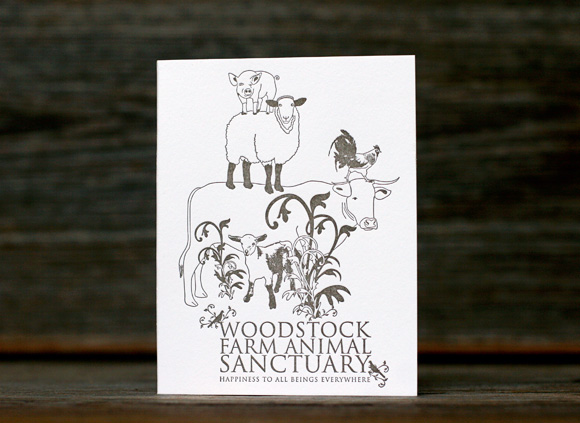 Tara shares, "I first met Jenny Brown, founder of Woodstock Farm Animal Sanctuary in 2008 at the Bust Holiday Craftacular in Manhattan. Anyone that knows Jenny will tell you she loves herself some craft fairs! Jenny stopped by my booth not knowing that I was devoted to yoga nor did I know she was a yogi herself and animal lover. But, we quickly clicked and found out we share the same interests. I had been thinking about working with a farm sanctuary for a while to help raise money for the animals. At that time, Jenny and the farm had a goal to build a separate medical facility to operate and treat the animals. They had been working in very small quarters for some time.
I came up with an idea to design a limited edition  letterpress print for them. Printed by Pistachio Press, 50 prints were given to the farm for full profit and the rest sold by INK+WIT with 5% donated to the farm. WFAS also made the design into an organic cotton t-shirt with 100% profit donated.
WFAS has since built their medical facility made possible by the donations of many giving people. They continue to support the animals and hold various event with artists like Moby, Chrissie Hynd, and many more. They hold jamborees and wonderful opportunities to visit and help out on the farm. They have my heart and then some. Recently, I was asked by Jenny to take the existing print and shirt design and create a letterpress folded note card they could mail to their donors. Boxcar Press generously donated their time and energy to print the card and they turned out beautiful. Thank you Boxcar for helping a very great cause so close to my heart!"
Thank you, Tara, for allowing us to be a part of this great project. We admire everything Woodstock Farm Animal Sanctuary is doing and are happy to do our part to help out!