Letterpress printing is beautiful, timeless, elegant–but Lean? We took a step towards making our letterpress shop run like a Toyota assembly plant today (Toyota pioneered "lean manufacturing") when we invited Syracuse University Professor Pat Penfield to give us 5S training. The 5S means that we'll Sort, Set in Order, Shine, Standardize, and Sustain the equipment and materials in our shop in an effort to reduce waste. This entails things like removing unused equipment from the shop floor, ensuring tools needed are close at hand, spending time every day putting things back in order, etc.
Professor Penfield teaches green supply chain management in SU's Whitman School of Management, and we met him last year when we invited him to perform a sustainability audit of our company. Our intention was to make sure our environmental claims had "teeth" so that we weren't simply greenwashing our company. During the audit he applauded our company as one of the "greenest in Central New York," which made us proud, but he also mentioned that really ought to focus on cost savings and efficiencies–things that will reduce our downtime and our operating costs (not to mention our "sustainability"). Boy did I agree. I know downtime. Sometimes it takes twenty minutes just to locate a 1/2″ open ended wrench, or a couple things that when wedged together will loosen a 1/2″ bolt. That kind of wasted time, multiplied by twenty employees, adds up and makes operating a successful business more difficult–especially in today's economy. It also can make one very grumpy. I've seen a lot of letterpress shops so I know that we're not the only ones who could use a little S5 training! So Pat volunteered to train us on procedures to make our shop more efficient and less costly to operate. Later this year, he'll be bringing his management students down to our shop to help us too, so that they can learn from our experiences. I was amazed at how everyone in our company welcomed Pat to our shop and took to heart his message of efficiency. Not only will this help our company, but it will also make working here more pleasant.
So today we got started with Sorting and Setting in Place, the first two S's in 5S. After three hours with seven brave people, we had acheived a zenlike organization around our large paper cutter and our print shop manager's desk. Offcuts were organized, random press parts were labeled then shelved, and lots of boxes of junk are on their way to recycling. I know that I was able to part with scraps of paper and obsolete Polar 107EL wiring harnesses that have been hangin' around since we moved in this cutter four years ago. Although it's only about 1/8 of our shop, it was a great start. Here's before:


…during:


…and after:


Thanks to the brave "5S Seven" who tackled this first cleanup project!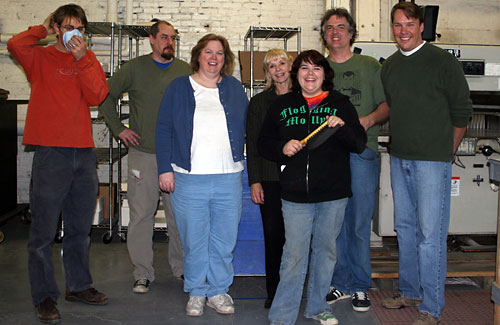 I hope to keep everyone posted here on our progress. Maybe it will serve as an inspiration for you to clear out some of the clutter in your shop? Or has anyone else implemented lean manufacturing/six sigma methods in their shop? I know that many of us are notorious pack-rats–letterpress equipment probably wouldn't be around if it were six sigma-ed twenty years ago!–but for those of us who make a living with letterpress, this is a terrific time to try to minimize costs and make letterpress printing as efficient as possible.